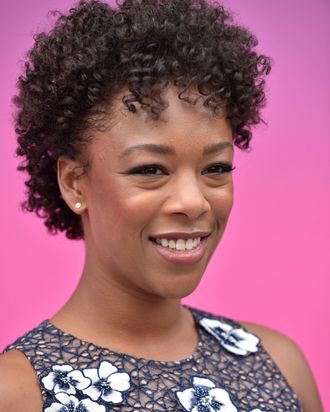 Samira Wiley.
Photo: Bryan Bedder/Getty Images
Spoilers ahead for episode eight of The Handmaid's Tale.

"Jezebels," the eighth episode of The Handmaid's Tale, includes a scene that readers of Margaret Atwood's novel have been anticipating: the return of Moira. The latest episode of the show returns from its detour across the Gileadean-Canadian border with Luke to focus back in on its heroine June, a.k.a. Offred, as she navigates an increasingly complex web of relationships. She continues her nighttime rendezvous with Nick just as Commander Fred demands more intimacy, and the situation gets trickier when Fred smuggles June — with Nick at the wheel — into Jezebel's, an off-the-books club filled with all kinds of illicit activities like drinking, smoking, and sex work. That's where June discovers that Moira didn't escape from the Red Center after all — she was caught and has become a prostitute at Jezebel's.
"We really see what living in Gilead has done to Moira, how it has really gotten into her spirit and she seems a shell of herself," Samira Wiley said during a press junket. "One of the things she has to do is sit there and explain to Offred her truth now." Wiley said that the scenes where Moira and June reconnect were the hardest ones for her to shoot thus far in the show's first season. "It was the end of the day; we had to get the scene really quickly," said Wiley. "Moira looked Offred in her eyes and said things to her that she maybe doesn't necessarily even believe, but she has to say for her own survival. That was a difficult one."
While we haven't seen a deep dive into Moira's backstory as a radical lesbian feminist, Wiley certainly knows that she's one of the most compelling figures in Atwood's book. "Moira is the most badass character in the book," Wiley says. "She's someone who will not sit down. She's someone who will not shut up. If someone does anything that she feels like is wrong in her eyes, she's going to be the one on the front lines to protest against that."