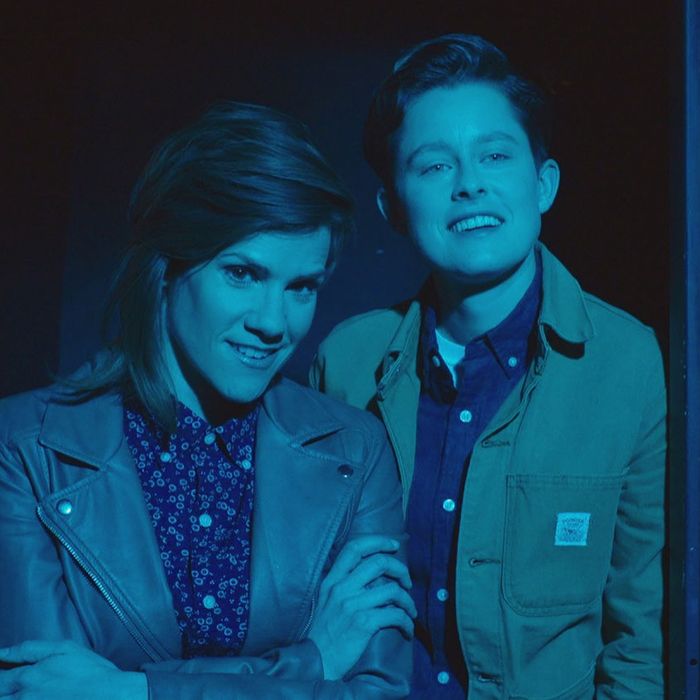 Seeso's Take My Wife.
Photo: Comedy Bang! Bang!
Does NBC see a future for Seeso? It doesn't necessarily seem so. Vulture has learned that Evan Shapiro, head of NBCUniversal's all-comedy streaming service, is leaving the company this week. Seeso, for the foreseeable future, will be run by Maggie Suniewick, president of NBCU digital enterprises, instead of operating semi-independently. (Shapiro had been reporting to Suniewick since October.) A source with knowledge of the situation says it is business as usual over at Seeso and that the moves won't effect 2017: New programming will still premiere through the end of this year, productions aren't shutting down, and the company is still signing up new subscribers. Moreover, Seeso recently unveiled summer premiere dates for a number of shows and premiered the pilot for new a series, There's … Johnny, at the Tribeca Film Festival.

But beyond the near term, the future of Seeso is decidedly unclear. Multiple sources indicate the service is, for all intents and purposes, on its way out. Already, agents and managers Vulture spoke with say they're now having a hard time getting people at Seeso to return calls. For now, NBCU is only confirming Shapiro's departure.

"Evan has created a slate of remarkable comedy programming, and put together an incredibly talented team. We're proud of the work we've done together and wish him all the best," Suniewick said in a statement to Vulture. But while NBCU is currently insisting no decision has been made to end Seeso, its demise would fit with the company's recent efforts to eliminate or remake smaller segments of its video empire. Already this year, NBCU has pulled the plug on two linear cable channels (Esquire and crime-centric CLOO), while converting Oxygen from a female-focused network into a channel devoted to true crime. While the three moves are not all directly related to what's happening at Seeso, taken together, they seem to suggest NBCU is trying to focus its energies on fewer, bigger properties.
Indeed, it could be that NBCU's enormous size may have doomed it from the start (assuming the service does eventually go away). As an article Shapiro posted on Twitter last week suggests, it appears the issue stems from the difficulty of running a start-up, as Seeso was set up to be, inside a larger company, since huge corporations by their nature are averse to the disruptions and experimentation necessary for success. Industry sources suggest Seeso had attracted a paid subscriber base in the low hundreds of thousands. For a barely year-old start-up, that's not bad, but even if Seeso was bringing in millions of subscribers, it still would be small for the media giant. Some TV business insiders suggest NBCU's top brass just wasn't up for the effort needed to build this particular business.
This reading is apparent when you consider the quantity and quality of Seeso's programming. It has only been 14 months since launch, and the service has released over 30 original series and 30 stand-up specials. Building off existing fan bases — particular among the comedy-podcast elite — Seeso released a variety of well-regarded shows like Amy Poehler, Matt Besser, Ian Roberts, and Matt Walsh's The UCB Show, Kulap Vilaysack's Bajillion Dollar Propertie$, and Dan Harmon's HarmonQuest. They eventually got their first big critical hit with Take My Wife, Cameron Esposito and Rhea Butcher's sitcom about their lives as engaged comedians who host a comedy show together. Seeso was also responsible for a diverse, unique lineup of stand-up specials, three of which made Vulture's list of best of 2016. The Paul Reiser–created There's … Johnny, set behind the scenes at Johnny Carson's Tonight Show in the 1970s, was intended to be the service's biggest swing yet. As one source noted, if NBC really was interested in launching Seeso as an independent platform, they would've seen how it performed before downsizing the service. Other industry sources noted NBCU barely promoted Seeso, even on the NBC broadcast network's on-air comedies.
It could just be that NBC saw Seeso less as a business to build than a test of the viability of a larger direct-to-consumer streaming service, à la Netflix, filled with a larger array of NBCU content. There have been rumors for months that NBC, Fox, and ABC are getting closer to following CBS's lead and launching their own so-called "over the top" (OTT) subscription services. If NBC is nearing such a move, Seeso could be seen within the company as a distraction from a larger mission.
To be clear, as noted above, NBCU has not made a final decision about the service's fate. Suniewick, who's overseen Seeso as Shapiro's boss since October, will make a final call and assess what makes the most sense moving forward. In turn, there is no word what will happen to Seeso's shows and stand-up specials if it does in fact shut down. We'll have to wait and see, so check back later.
Josef Adalian contributed to this report.

*The story originally credited Bajillion Dollar Propertie$ to Scott Aukerman, the show's executive producer, whose production company is behind the show.