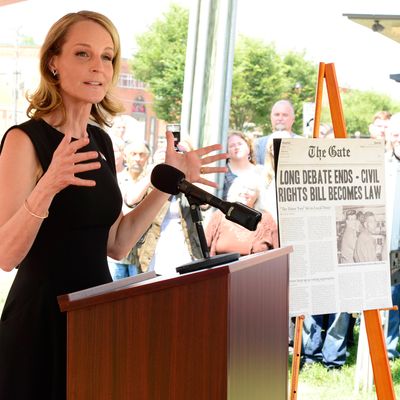 Helen Hunt as Governor Eamons.
Photo: Brownie Harris/FOX
In its eighth episode, Shots Fired takes a moment to pause and focus on the characters and their relationships, which have been weathered, if not imperiled, by the dual murder investigation and the local unrest associated with it. On one hand, it seems like an odd time for a quieter, character-based episode, since the last installment ended with the shocking arrest of Pastor Janae for the murder of Joey Campbell. But "Rock Bottom" is surprisingly compelling, even though it mostly just checks in on the people of Gate Station to take their temperature before a final act that will likely change the town forever.
That's not to say "Rock Bottom" doesn't deal enough with the aftermath of Janae's arrest, which acts as the catalyst for most of what takes place. Preston and Ashe arrive to question Janae, who denies any involvement in Joey Campbell's death. What she does admit, in so many words, is that she ordered "the Hands" — holy henchmen somewhat similar to the Guardian Angels — to rough Joey up so he'd stop selling weed around the Houses. Janae also mentions a burglary at the church, which she suspects was actually committed to cover up the planting of the gun. That news sparks interest from Ashe, who just thwarted a burglary by fighting off a mysterious intruder trying to steal Jesse Carr's cell phone from her hotel room.
Preston and Ashe's latest break in the case is the murder weapon, which they promptly take away from the sheriff's department, lest it conveniently go missing. The gun's serial number is filed down, but Ashe believes she can have someone pull the serial numbers from deeper layers of the steel a file can't penetrate. But to accomplish that, she has to reach out to her ex, Javier, who is still understandably upset with her for seducing him as a means of blackmailing him into dropping his custody dispute. Their video chat is interesting, revealing that Javier is also law enforcement and their shared passion for "getting the bad guys" is likely what brought them together in the first place.
That scene is one of several standouts for Sanaa Lathan, whose work has really grown on me as the season has progressed. Lathan is undoubtedly a fine actress, but when Ashe is talking tough — which is most of the time — there's a certain cop-show hamminess to her performance. But Lathan shines when Ashe's vulnerable side emerges, as in the scene when she records an encouraging video message for her daughter in case her work in Gate Station impacts the custody hearing. That seems likely following another epic scene from "Rock Bottom," when Ashe takes her revenge on Lieutenant Breeland. A tense verbal confrontation boils over into physical violence when Breeland attacks Ashe, then finds himself outfoxed when Ashe manages to handcuff Breeland to a chain-link fence. She can't control her rage, and she's furious at herself about it. Had Preston not come along to intervene when he had, Ashe doesn't know if Breeland would have left that alley alive.
Ashe's battle royale with Breeland gives rise to the moment Shots Fired has been working up to all season, as Preston and Ashe finally give in to their romantic feelings for each other. Series co-creator Gina Prince-Bythewood, who wrote and directed the episode, shows yet again why she's the woman to call if you want a sex scene shot correctly. It's not easy to craft a titillating love scene while you're coloring inside the lines of broadcast standards, but Prince-Blythewood makes it look easy, and the Preston and Ashe pairing feels like a satisfying step forward just because the scene is so well-executed. Never mind that Gate Station is basically crumbling as these two horny goats finally give in to their will-they, won't-they urges.
Preston and Ashe aren't the only characters who get a chance to connect on a deeper level. Alicia Carr stops by to check on Shameeka Campbell after hearing about Pastor Janae's arrest. The two grieving mothers bond over old cell-phone videos of their sons during happier, simpler times. Meanwhile, Deputy Brooks gets some face time with Shawn Campbell, who has been missing since he abruptly ran away in the last episode, and convinces him to return home. The new normal has also returned to the Beck household, where Joshua was living by himself after his angry outbursts led Kerry to flee with the children. Kerry's mother (the always welcome Lorraine Toussaint) tells her she has a good man, and urges her not to ask Joshua about what actually happened with Jesse Carr so he won't doubt her loyalty. Naturally, she ignores that good advice and asks him anyway, and Joshua insists the shooting was self-defense as he originally claimed.
That moment will likely come back to haunt Joshua, who's still on video bragging about his newfound ability to "shoot crackers," and taking an aggressive approach to Jesse in the moments leading up to the killing. Once the case against Pastor Janae crumbles, Sheriff Platt will be back on the hunt for a fall guy, and I wouldn't be surprised if he finds a way to pin Joshua to both killings despite multiple eyewitnesses now saying Arlen Cox shot Joey Campbell. (The gun found in Janae's possession belongs to Cox, who's panicking since neither he nor Platt know how it might have gotten there.)
Arguably the biggest and most consequential relationship in Shots Fired is the one between the Gates County Sheriff's Office and the community it polices. Breeland orders his deputies to sweep the city and write up every traffic infraction, no matter how small, so the department can fill its coffers with ticket fines. If the less-fortunate members of the community can't afford the exorbitant fines, they get hauled away to jail, not unlike the abuses found after the Department of Justice discovered evidence of biased policing in Ferguson, Missouri. As much as I'm hoping Preston and Ashe get to the bottom of the murders (then get married and have babies), I hope Shots Fired also gives some hope for the future in terms of how the community moves forward once the DOJ leaves town.