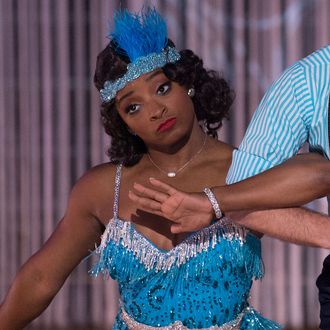 Biles.
Photo: Eric McCandless/ABC
Even on national television, there's no escaping a man's directive to smile. On Monday night's Dancing With the Stars, host Tom Bergeron asked this season's perpetually cheery star Simone Biles why she didn't smile in response to some of the judges' positive comments. Biles promptly reminded him of her résumé: "Smiling doesn't win you gold medals." The comment was applauded both in the audience and online, but in a post-show interview with Entertainment Tonight, Biles was still prickly about the incident. "You don't know which wild card of sexy or happy they want you to bring, and you almost have to read their minds and find it," she said of her season-long difficulty in connecting with the judges.
While ET expected Biles to be angry, she said the negative feedback and Bergeron's comments mostly just saddened her. "I had tears in my eyes. I almost ran to the bathroom at one point, but I pulled it together," she said. "I am trying and I am being honest. But if they don't see that, I don't know what else more I can do." Biles's opponents in next week's semifinals, Fifth Harmony's Normani Kordei and her partner Val Chmerkovskiy, also backed her up. "She kept it real and sometimes the truth hurts," Chmerkovskiy said. "Smiles don't get you gold medals and I agree with her as an athlete and I side with her." Watch Biles's clapback below.