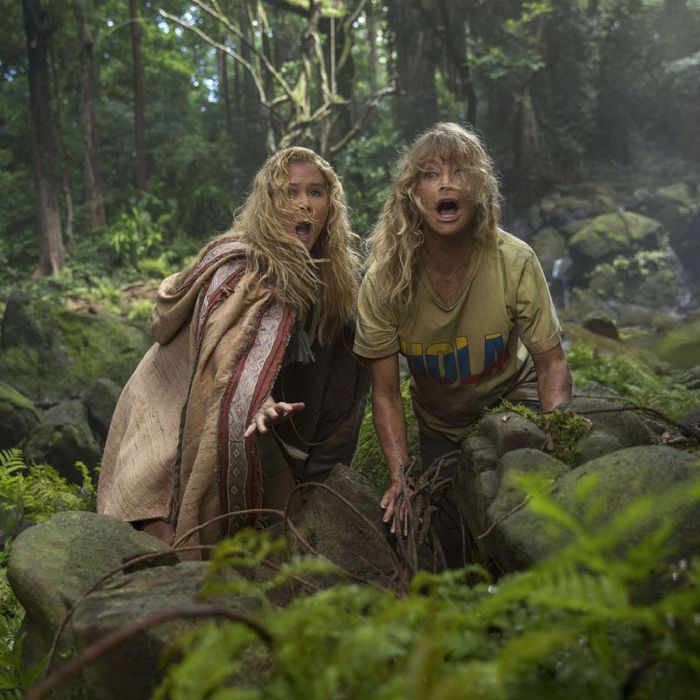 Amy Schumer and Goldie Hawn in Snatched.
Photo: Justina Mintz/20th Century Fox
Male-dominated fundamentalist cultures keep their women under wraps, literally, while male-dominated secular cultures make broad exceptions for hot women. But for sexual equality to thrive, women of all shapes, colors, and sizes need permission to disrobe and humiliate themselves in the same way as ungainly male clowns — who can be as gross as they like and still have legions of fans. And so we have Amy Schumer and bless her.
I will, however, withhold my blessing from the punningly titled Snatched, which is strenuous, dumbed-down Schumer. She plays Emily, an emotionally voracious 30-something screwup whose musician boyfriend dumps her before a planned vacation to Ecuador, and whose mom, Linda (Goldie Hawn), routinely undermines her with sentiments like, "You still have at least two years to meet someone." Linda is a virtual shut-in, but Emily has an extra, nonrefundable ticket to South America and begs her to "put the fun in nonrefundable."
Most of the jokes center on Emily's flagrant inability to be elegantly feminine. She farts. She's caught by a hot date washing her private parts. Meanwhile, a bartender assures her that she is safe from sexual slavers because they're only interested in attractive women. Nabbed by a kidnap kingpin, daughter and mother escape into the Amazon jungle, where the question becomes: Can this woman who's a failure with men gain self-respect by saving her mom?
It's a mighty uncomfortable premise, but I don't fault Schumer for pushing the lines of taste and correctness. I do fault the director, Jonathan Levine, who made the relatively relaxed 50/50 and The Wackness, for his whack-you-over-the-head pacing. At least the script by Katie Dippold has a ribald point of view — unlike her last effort, the bland Ghostbusters remake, which had no controlling idea whatsoever.
Christopher Meloni has a terrific bit as a gung ho Amazonian adventurer and Ike Barinholtz — as Emily's neurotic mama's-boy brother — winds himself up and gets laughs through sheer energy. It's nice to see meaty parts for Wanda Sykes and Joan Cusack. But I'm not sure about Hawn. A youthful twitterer, she has developed an expressively croaky voice, but nothing about her reads "nervous, agoraphobic cat lady." She's no longer a jumpy clown — she doesn't need the humiliation.
*This article appears in the May 15, 2017, issue of New York Magazine.