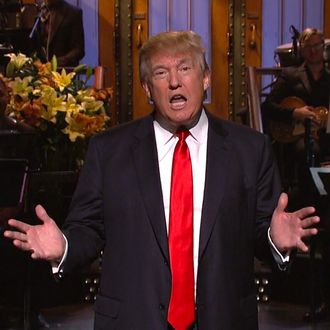 Picture this: It's November 2015. Donald Trump is leading in the polls for the GOP primaries, and Ben Carson is polling right behind him. Then the king of free publicity gets a bit more, and makes a much derided appearance hosting Saturday Night Live. Critics claimed the gig would help humanize Trump and normalize his radical views, and while we can't say for certain that that's what happened or that SNL is to blame, Trump did go on to win the GOP nomination and then the presidency. But now that we're here, SNL would like to say it's not their fault Trump now has the nuclear launch codes. In an interview with The Hollywood Reporter, some members of the SNL team defended having the then–presidential candidate host in the show.
"I always think it's so funny when people talk about the idea that we somehow introduced him to America or that our show or Jimmy Fallon has humanized him," castmember Colin Jost told THR. "[Trump's] been on the cover of every tabloid consistently for 30 years. When he hosted last season, the worry was, 'Would he have burned out by the time he even came to host?' That was Lorne's concern more than the concern of, 'How will this help him?'" SNL writer Bryan Tucker agreed, adding that back when Trump hosted, his victory seemed almost unthinkable. "People had different opinions about him being there at that time, but during that week, he was in second place in Iowa, behind Ben Carson. He was definitely a national phenomenon, but he was not imminently going to be president."
Jost did say that, at times, SNL's current election-induced upswing has him feeling a little weird: "Politics right now is probably the closest we've come to a full-blown national phenomenon as anything in a long time, and anytime people are paying more attention to politics, it's good for our show," Jost said. "But you almost feel like a war profiteer at times because we've benefited from a situation that's so tough." Oh, the nostalgia for the days of fall 2015, when a Trump presidency seemed impossible.