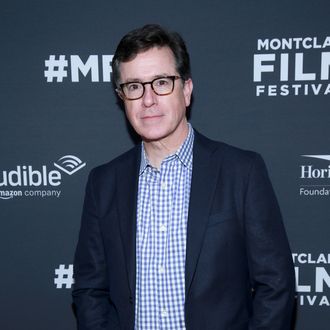 Stephen Colbert
Photo: Paul Zimmerman/Getty Images for Montclair Film
During tonight's Late Show, host Stephen Colbert responded to the controversy that's broken out over his Monday night quip about President Trump, Russian President Vladimir Putin, and the phrase "cock holster." Some Trump supporters have been vocal in their objections to the joke, saying it crossed a line in terms of acceptable attacks on the president. But Colbert's remarks have also come under fire for what some saw as a form of homophobia, since the host's joke suggested … well, it's pretty obvious what it suggested. During a taping of tonight's show, Colbert made it clear he had no regrets about dissing Trump. The language he used and what it implied? For that, Colbert did seem to wish for a do-over. Read Colbert's statement, provided to Vulture by CBS, below. A CBS rep also said the topic of the joke came up briefly at the start of Colbert's interview tonight with The Big Bang Theory star Jim Parsons.
Welcome to "The Late Show." I'm your host, Stephen Colbert.

Still? I am still the host?

I'm still the host!!

Now, if you saw my monologue Monday, you know that I was a little upset at Donald Trump for insulting a friend of mine. So at the end of that monologue I had a few choice insults for the president in return. I don't regret that. He, I believe, can take care of himself. I have jokes; he has the launch codes. So, it's a fair fight.

So while I would do it again, I would change a few words that were cruder than they needed to be. I'm not going to repeat the phrase, but I just want to say for the record, life is short, and anyone who expresses their love for another person, in their own way, is to me, an American hero. I think we can all agree on that. I hope even the president and I can agree on that. Nothing else but that.

Update: Watch Colbert make the remarks at the start of his monologue below.