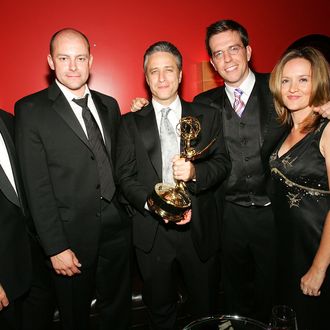 Stephen Colbert's shoulder with Daily Show pals, Rob Corddry, Jon Stewart, Ed Helms, and Samantha Bee in 2005.
Photo: Ethan Miller/Getty Images
While Stephen Colbert might be finally leading the late-night rating wars, the Late Show host remembers where his successful career began. According to Deadline, on Tuesday, May 9, Colbert will mark his 20th anniversary of making folks laugh before bedtime with his old co-workers Jon Stewart, Samantha Bee, John Oliver, Rob Corddry, and Ed Helms. Colbert joined The Daily Show in 1997 and served as a correspondent until his conservative blowhard alter-ego, also named Stephen Colbert, got his own spinoff on Comedy Central. Bee and Oliver also have their own notable politically charged late-night programs, while Corddry and Helms have ventured more into television and movies. The report didn't mention an appearance by Colbert's "Even Stevphen" partner, Steve Carell, but that won't stop us from hoping.