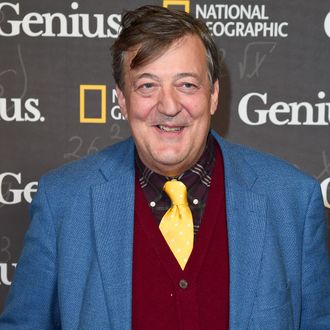 Stephen Fry.
Photo: Eamonn M. McCormack/Getty Images for National Geographic
Stephen Fry is being investigated for allegedly committing blasphemy, according to a report by the Irish Independent. The allegations stem from comments Fry made about the concept of gods on The Meaning of Life, a show airing on Ireland's state broadcaster, RTÉ, in 2015. Answering a question about what he would say upon meeting God in heaven, Fry said, "The god who created this universe, if it was created by god, is quite clearly a maniac, an utter maniac, totally selfish. We have to spend our lives on our knees thanking him. What kind of god would do that?" Per the Irish Independent, an unidentified member of the public made a complaint at the time, arguing that Fry's speech constituted criminal blasphemy. "I told the Garda that I did not want to include this as I had not personally been offended by Fry's comments — I added that I simply believed that the comments made by Fry on RTÉ were criminal blasphemy and that I was doing my civic duty by reporting a crime," he explained. After hearing nothing about his complaint, the man followed up with the police, who then took his statement and now say they have launched an investigation.
Fry's prosecution is unlikely, given that there have been no cases of blasphemy brought to the courts since the law's enactment in 2010. If eventually convicted, Fry would at maximum face a €25,000 fine.