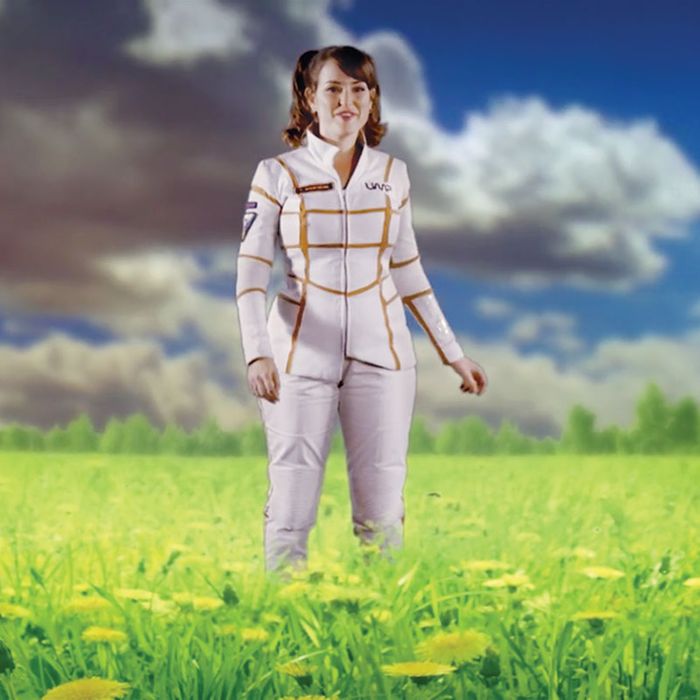 Milana Vayntrub in Other Space.
When Paul Feig got the chance to make a TV series for Yahoo Screen — the tech giant's now-defunct streaming-video platform — the Bridesmaids and Ghostbusters director felt as if he'd been given Hollywood's rarest gift: money, and control over how to spend it. "I jumped at it," says Feig, whose sci-fi comedy Other Space debuted in April 2015. "Start-ups are the greatest places to be involved with because they don't have all this baggage about what works and what doesn't. So there's a lot of creative freedom." And Yahoo, Feig says, "had real money they wanted to spend. The whole situation was intoxicating."
The buzz wore off quickly. In January 2016, following $42 million in losses, the parent company announced it had shuttered Yahoo Screen — canceling Feig's show, the sports comedy Sin City Saints, and Community, which had migrated from NBC for its sixth season. "I'm thankful Yahoo gave me a chance, and I'd work with them again," says Feig, "but we just sort of languished. Nobody knew the show existed. Apparently, Yahoo had some sort of algorithm they wanted to use to market the show online and it didn't really work." So, in February 2017, Feig posted the entire series online at a site of his own devising called shareotherspace.com. "I'm as proud of Other Space as I am of anything I've done," he says. "I just want people to see it."
Feig's experience represents both the enticing promise and the newfound anxiety associated with Hollywood's reorientation toward a streaming distribution culture. Netflix, Amazon, Hulu, and other outlets are facilitating what every film and TV producer ultimately wants: more film and TV getting made, with more money available to make it. But the path these projects take in their way to finding audiences — or not — can be a little discomfiting for their creators. "I grew up in the '80s and '90s, and movies are something you went to a theater to see," says actor-producer Macon Blair, whose Sundance Prize–winning directorial debut, I Don't Feel at Home in This World Anymore, began streaming as a Netflix original on February 24. "So there is a certain leap of faith when you're not doing a theatrical release that Netflix's algorithms are going to work and put the movie in front of people who will want to see it. But I was totally onboard with that because Netflix was the only place that was going to take a leap of faith with me and allow me to make the movie I wanted to make."
These opportunities can often take different shapes even among different streaming outlets. Amazon Studios, for example, routinely partners with theatrical distributors to release films in theaters before moving them online to Amazon Prime Video (a tactic used with Manchester by the Sea and the upcoming The Big Sick). Netflix, by contrast, generally streams its films exclusively through its service, with no preceding theatrical release. "Every filmmaker's dream scenario is to have their work released onto 2,000 screens," says screenwriter and director Chris Sparling, whose thriller Mercy was a 2016 Netflix release. "For most of us, that's not in the realm of possibility. A streaming release is."
Even for those higher up the Hollywood food chain — Sparling's and Blair's films were modestly budgeted — streaming affords opportunities that are drying up elsewhere. Producer Todd Garner partnered with Netflix to release last November's Kevin James action comedy True Memoirs of an International Assassin, the comedian's first streaming foray. (James also co-stars in April's Netflix Adam Sandler vehicle Sandy Wexler.) "When you're making middle-budget comedies," says Garner, who co-produced James's Paul Blart movies, "you're in a position where, realistically, that movie is not going to make a half-billion dollars, which is where the studios' expectations are. Netflix and Amazon are filling in the gaps. I'm sure there are people who think their movies got lost in the streaming shuffle, but whenever something doesn't do well, people blame the marketing or the distribution. That's not new to streaming."
But what is new — undeniably — is the sheer volume of streaming content all competing for viewers' attention. Community creator Dan Harmon, whose show, like Feig's, ended when Yahoo Screen went dark, says, "If I'm hiring writers, I'll meet with ten, and seven of them have a show on Amazon that I've never heard of. It is rather shocking to load up Netflix or whatever and see so much content that you didn't know about." For Harmon, all the competition is a good thing. "Networks spend ungodly amounts of money promoting their shows in order to hedge their bets. It's a bogus system." In comparison, he says, "streaming is a more honest lottery. I'll take that over the strange, corrupted jousting tournament of the old way."
Indeed, the only sourness Harmon harbors about his streaming experience is self-directed. "Yahoo paid us to make a show, they believed in us, and now they're not doing TV anymore. I feel guilty about that." Not so guilty he won't try again: He's working on an upcoming sitcom for YouTube Red about the world of eSports, and the second season of Harmon's show HarmonQuest is scheduled to arrive this summer on streaming provider Seeso — though recent upheaval at Seeso has put that outlet's long-term future in question.
At bottom, Harmon argues, the platform is beside the point. "No matter who's paying to make your show or who's watching it," he says, "the only inner peace you're going to get as a creative in Hollywood is if you're making the things you want to make. Even if those things wind up sealed in a box and thrown in the ocean."
*This article appears in the May 29, 2017, issue of New York Magazine.