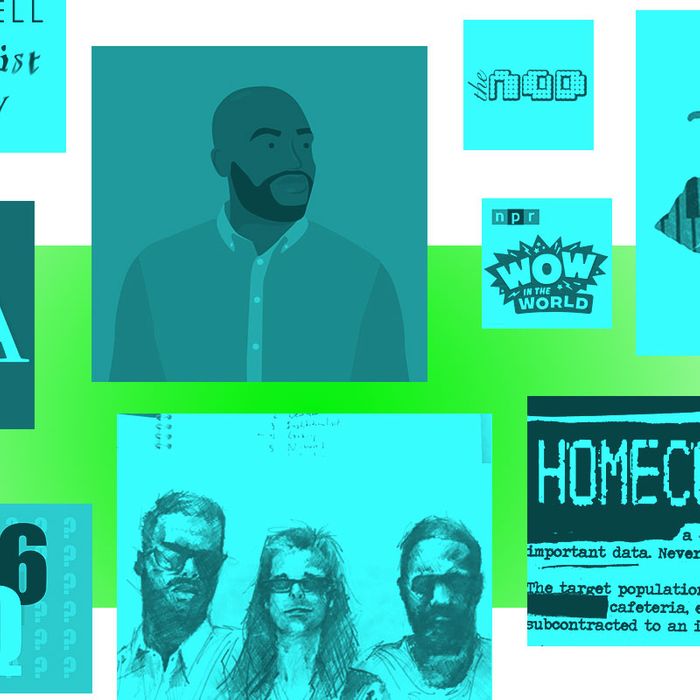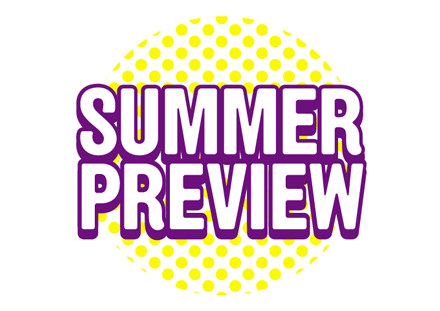 Now more than ever, the podcast universe is an expansive, eccentric, and exciting place. If you've finished listening to S-Town, it's time to get ready for a summer season that's heavy on new shows and brand-new seasons. To help you prepare for the season to come, Vulture assembled a list of the most anticipated podcasts that'll light your headphones on fire.
The 2nd Imaginary Symphony, Night Vale Presents (May 10)
The Night Vale Presents team continues to astonish with its affinity for the surreal and its distinct ear for world-building. The 2nd Imaginary Symphony is designed as a spinoff of the charming Orbiting Human Circus (of the Air), which wrapped its first season back in January, and it's meant to fill the gap between seasons. As with Orbiting Human Circus, 2nd Imaginary Symphony is created, written, and directed by Neutral Milk Hotel's Julian Koster, who continues to vividly display his peculiar penchant for the vaguely nostalgic, the French, and the strange.
Wow in the World, NPR (May 15)
Do you have young children? Do you like Guy Raz, the amiable host of such fine podcasts as the TED Radio Hour and NPR's How I Built This? Well, then, this project is most certainly for you. Billed as the first children's program in NPR's 47-year history, Wow in the World is a science podcast that's meant to do all the things that great pieces of science journalism do — inspire wonder, imbue comprehension, impress a sense of worldly weight — but it's created for kids ages 8 to 12. Raz will be joined by co-host Mindy Thomas, with whom he already collaborates on another kid-friendly audio production, SiriusXM's Breakfast Blast Newscast.
Classic Showbiz, Stitcher Premium (May 17)
Comedy nerds, this is for you: Classic Showbiz is being pitched as You Must Remember This, but for the comedy world. (Man, I love You Must Remember This.) Hosted by Kliph Nesteroff — the author of 2015's The Comedians: Drunks, Thieves, Scoundrels who most recently worked on the History of Comedy documentary series for CNN — this podcast mini-series seeks to chronicle the seedy underbelly, forgotten heroes, and other salacious characters of comedy history. It also boasts Marc Maron as executive producer, which will be a good enough reason for some to tune in.
Revisionist History, Panoply (June)
The first season of Malcolm Gladwell's Revisionist History was, in many ways, peak Malcolm Gladwell. It combined the best elements of his work (brisk and breezy social analysis, rendered fun and accessible) with an aesthetic production that accentuates his persona (dulcet narration, twee soundscapes, zingers delivered with a scalpel), while gleefully pressing buttons that likely aggravated those who already have issues with his oeuvre. The show returns for its sophomore season sometime in June, and we should expect more of the same.
Invisibilia, NPR (June 1)
When Invisibilia first debuted in early 2015, it was an instant hit, drawing 10 million downloads within its first month and carrying forward the momentum left behind when Serial wrapped its first season just a month earlier. The show solidly falls within the tried-and-true genre of podcasts that examine the hidden world of things that make us who we are, and at its best, Invisibilia often ends up being a series of wonderfully empathetic meditations on the limits and boundaries that give definition to what makes a human being. Vulture has learned that hosts Alix Spiegel and Hanna Rosin will return for the show's third season next month, and I'll be keeping my ears perked.
The Sam Sanders Project, NPR (Week of June 15)
Sam Sanders, a reporter who formerly served on NPR's politics desk, was a breakout talent when he anchored the NPR Politics Podcast during the 2016 presidential election season. Endlessly warm and gifted with a strong ear for the moment, Sanders drew a strong enough following to earn him a shot at his own show. Though it isn't entirely clear what shape the podcast will specifically take, it will nonetheless feature Sanders in conversation with a variety of people — journalists, artists, listeners — spanning a wide array of subjects. A talk show, essentially, or as much of a talk show that a podcast can be.
Ear Hustle, Radiotopia (June 20)
Radiotopia, home to such beloved podcasts as 99% Invisible and Song Exploder, has long built a house style that expertly balances a deeply personal sound, a strong social-mindedness, and a punk-rock spirit. This summer, the independent podcast collective welcomes a new show to its ranks: Ear Hustle, which will tell stories of life within prison from the perspective of those who actually live in them. It's being produced by a core trio consisting of Earlonne Woods and Antwan Williams, who are both currently incarcerated at San Quentin State Prison, in collaboration with the artist Nigel Poor.
30 for 30 Podcasts, ESPN (June 27)
ESPN's excellent documentary series finally delivers its audio adaptation next month. The first season will play out over five episodes, and the story lineup is said to include a reexamination of the Dan versus Dave saga from the 1992 Barcelona Olympics; the colorful history behind the infamous "Yankees Suck!" cheer and the creation of one of the most popular bootleg T-shirts in sports history; and the story of how 20 ordinary women from the United Kingdom answered the call to become Arctic explorers two decades ago. I am, to be candid, incredibly excited for this one.
36 Questions, Two-Up Productions (July)
Two-Up Production's follow-up to their sleeper 2015 audio fiction hit, Limetown, has been a long time coming. Written by Brooklyn-based duo Ellen Winters and Christopher Little, 36 Questions is set to be a full-length musical about a couple trying to save their marriage by answering the series of 36 romance-inducing questions that went viral a couple of years ago. Creating musicals for the podcast format is a no-brainer, and though it's been tried a couple of times in the past, this budding genre hasn't quite broken through yet. Will 36 Questions realize its potential? We'll find out.
Stretch and Bobbito, NPR (July)
New York DJs Stretch Armstrong and Bobbito Garcia are themselves core elements of hip-hop lore. In the 1990s, their late-night radio show, broadcast on WKCR, was the gatekeeper of gatekeepers for up-and-coming hip-hop artists. The program is credited with elevating the early careers of Nas, Biggie, and Jay Z, among others — a fact that was most recently celebrated in the 2015 documentary Stretch and Bobbito: Radio That Changed Lives. It's been almost two decades since their show went off the air, and it seems that the DJs are coming back for a new era at an unlikely home: NPR.
The Nod, Gimlet (July)
For some, Brittany Luse and Eric Eddings are best known for their work on For Colored Nerds, their twice-monthly conversational podcast that the duo independently launched in 2014 to tackle topics at the nexus of black art, media, and culture. Both Luse and Eddings are now producers at Gimlet, with the former having once hosted Sampler, the company's podcast about podcasts, and the latter currently working on Mogul, an audio documentary about hip-hop executive Chris Lighty. Now, it would seem that their homegrown project is being absorbed into the Gimlet family. The Nod, which launches in July, sees Luse and Eddings sharing the mic again, now with presumably more resources at their disposal.
Homecoming, Gimlet (Mid-July)
Gimlet's experimental audio drama was a fascinating though somewhat messy attempt to deliver a character-driven mystery while spinning out a whole new language for the genre. It wasn't always successful, but the podcast was an utterly entertaining experience, one that was elevated by the performances of its star-studded cast, led by the trio of Oscar Isaac, Catherine Keener, and David Schwimmer. The podcast returns for its second season later this summer with plenty more big names: Alia Shawkat, Michael Cera, Mercedes Ruehl, Chris Gethard (who is basically omnipresent in the podcast world), and Spike Jonze.