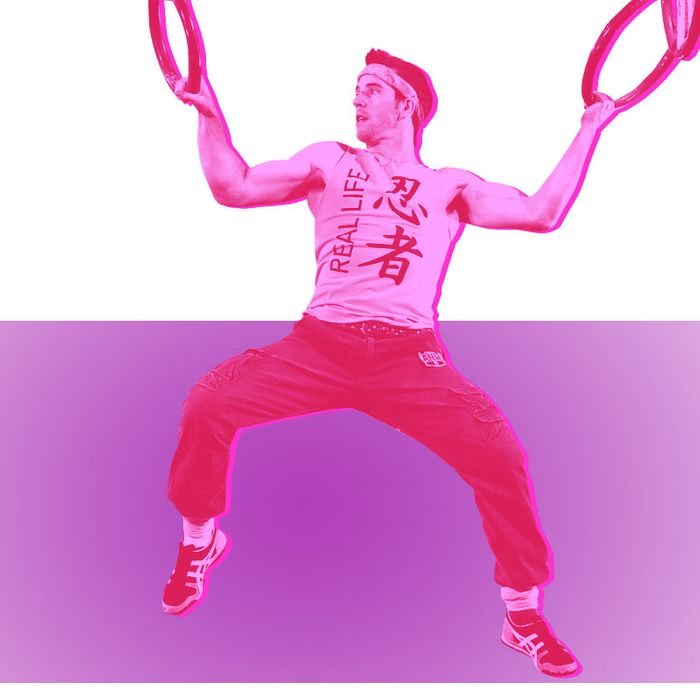 Photo-Illustration: Vulture
Summer: It's the season for getting outside and showing off your toned, super-fit body.
Or, wait: Is it actually the season for sitting on a sofa underneath an air-conditioning vent while watching other people with toned, super-fit bodies engage in feats of strength?
Based on the programming on TV's major networks in the coming months, the latter sounds more accurate.
Two things that reliably attract audiences to real-time television, generally but especially in the summer, are sports and competition shows. Look at the top-rated broadcast and cable offerings within the coveted 18 to 49 age group for just about any week during the summer of 2016 — let's go with June 27–July 3, 2016 as a random example — and you'll see that it's dominated by series that fit in this category: America's Got Talent, American Ninja Warriors, episodes of The Bachelorette and Big Brother, which both technically involve competition in addition to people acting the fool on national television, and the Olympic trials. ABC's roster of game shows, NBC's Spartan: Ultimate Team Challenge as well as other traditional sporting events like the NBA playoffs, Major League Baseball's all-star game, and the actual Olympics, also performed well at this time last year. As a consequence, this summer we'll see even more reality-based fare that involves winners, losers, and, often, obstacle courses that enable amateur athletes to climb, sprint, and/or fall on their butts.
Both American Ninja Warrior and Spartan: Ultimate Team Challenge will return to NBC in June. The John Cena–hosted American Grit, in which teams of military veterans and people with absolutely zero oorah test their physical stamina and fortitude, will be back for season two on Fox this June as well. The reboot of Battle of the Network Stars, the original TV pseudo-Olympics, will get going on ABC starting June 29. Dance shows — a subcategory of the "let's get physical" competition genre — will be represented this summer by the long-running So You Think You Can Dance on Fox (it will air opposite American Ninja Warrior) as well as Jennifer Lopez's World of Dance, starting later this month on NBC. Even some scripted fare — specifically, Netflix's GLOW, based on the Gorgeous Ladies of Wrestling — will involve body slams and muscle strains.
But perhaps the most ridiculous and improbable addition to this burgeoning area of television is Candy Crush, a CBS game show based on an app that exercises literally nothing but the index finger, yet has been transformed for TV into a mix of electronic-sweet-treat bursting and obstacle-course-style challenges. If the sneak preview of this series is any indication, it's going to be part this commercial for Candy Crush Saga, part American Ninja Warrior, part The Wall, with a tiny bit of Saved by the Bell nostalgia tossed in. (It is hosted by Mario Lopez.) It's the kind of concept that makes you ask, "Good lord, what will they think of next, a major motion picture based on emojis?" To which the answer is: yes! The Emoji Movie opens July 28, less than three weeks after Candy Crush premieres on CBS. (Can't get enough of pop-culture entities based on the crap that's on your phone? Then don't miss Beat Shazam, the Jamie Foxx–hosted game show on Fox that's basically Name That Tune That Promotes the Shazam App.)
Why are there so many physically oriented game and reality shows like this? Because, as noted above, many of these kinds of series have proven to be popular, which means that, inevitably, the networks will make more of them. As much as we all talk about what's on streaming platforms and how we all binge-watch shows on our own time, using our individual devices — which is true, by the way — there is also still a market for programs that can be turned on and viewed, either actively or passively, by younger viewers as well as adults. As I said in this piece last year, during the summer, when kids are out of school and parents grow even more desperate to occupy them, there may be a heightened desire at the end of the day to switch on a half-hour or hour of TV that's instantly engaging, untaxing, and more or less friendly to all age groups.
As for the physical element, that goes back to what is, for many Americans, an almost Pavlovian interest in watching sports of almost any kind on TV. We love watching other people put their bodies to the test while we sit there, allowing ours to atrophy. It's one of the principles on which this country was founded. (Okay, it's not, but we're living in a post-fact world.) These shows also provide escapism in its purest form, and that's something we're conditioned to crave in the summer, and that some may crave even more this summer in particular. Switching over to cable news, the default setting for TVs that are switched on at all times, or to a terrific but disturbing episode of The Handmaid's Tale, is not necessarily the ideal way to take one's mind off of current events for a bit. But a silly show in which TV stars play Tug of War or a bunch of randoms climb ladders in order to swipe a supersized version of the Candy Crush app while being offered moral support by A.C. Slater? That's both a mental-health break, and one that specifically makes us feel like we've gotten a bit of a workout even though all we've actually done is sit on our butts. Physically oriented competition shows allow us to imagine that we, too, could be ninja warriors. But they also enable us to engage in what may be the most time-honored summertime tradition of all: being totally and utterly lazy.