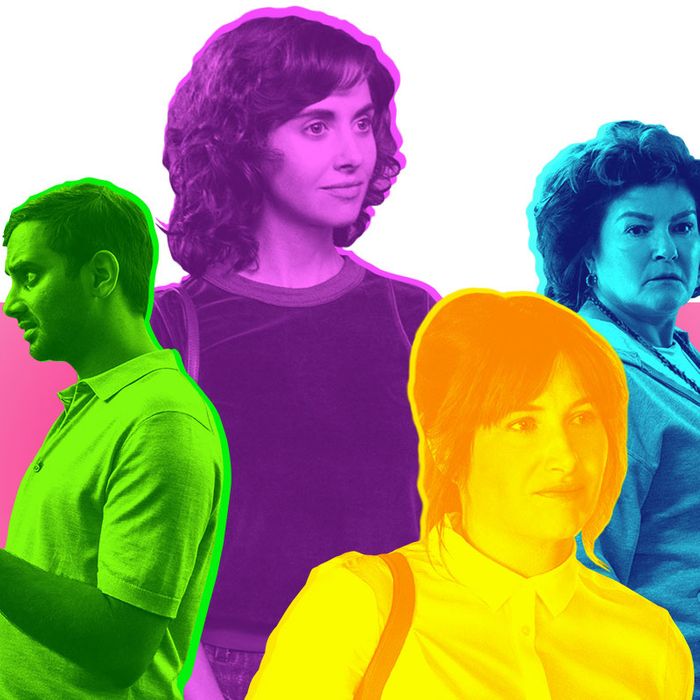 Photo-Illustration: Maya Robinson/Vulture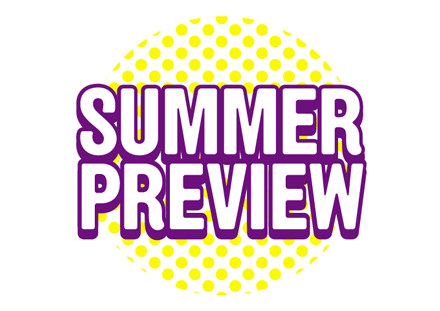 It's been quite a while since the summer airwaves were dominated by reruns or silly filler programming. And thank goodness! These days, the months of May through August offer a solid lineup of returning TV favorites and promising new shows, and there's enough out there to satisfy even the most picky of small-screen palates. Below, Vulture lists the premiere dates for summer TV in 2017 — and we've highlighted a few favorites that are particularly worth your time. Happy watching!
Master of None, May 12, Netflix
The second season of Aziz Ansari's semiautobiographical dramedy starts out with a very Italiano bang, with Dev (Ansari) fulfilling his dream to live in Italy and learn how to make bellissima pasta. Soul-searching, ill-fated romances, and a whole lot of meals across two continents ultimately ensue.
I Love Dick, May 12, Amazon
Jill Soloway is back with an Amazon series all about the female gaze. In I Love Dick, a married couple named Chris and Sylvère (Kathryn Hahn and Griffin Dunne) temporarily relocate to the artsy confines of Marfa, Texas, where Chris finds herself lusting after her husband's professor, Dick (Kevin Bacon).
The Keepers, May 19, Netflix
Will The Keepers be the next Making a Murderer? Netflix's newest true-crime series tells the story of a Baltimore nun, Sister Catherine Cesnik, who was murdered 50 years ago under very suspicious circumstances. Now, a group of investigators are hell-bent on solving the murder and finally bringing justice to Sister Catherine's family and friends.
Twin Peaks, May 21, Showtime
After 25 years, Agent Dale Cooper has returned to the infamously quirky Pacific Northwest town of Twin Peaks. The show promises a bunch of familiar faces, but besides that, David Lynch hasn't revealed much of anything about his hotly anticipated revival. Theorize away about if Bob is still inhabiting Coop's body.
I'm Dying Up Here, June 4, Showtime
For those who dream of pursuing stand-up, you'll want to watch I'm Dying Up Here, the newest dramedy from Showtime that explores Los Angeles's gritty, complex comedy scene in the 1970s. Jim Carrey is an executive producer, so you know it comes with a comic icon's seal of approval.
Orange Is the New Black, June 9, Netflix
The series' fifth season picks right up after the very dramatic events faced by the Litchfield inmates in the previous finale, and will take place over the course of three days. Will Daya end up shooting that sadistic officer? Will Piper stay out of trouble? Only time will tell.
Claws, June 11, TNT
Niecy Nash finally gets the fierce leading role she deserves with TNT's dark comedy Claws, which follows a group of five Florida nail-salon employees tangled in a life of crime and violence. Let's just say their salon isn't just doling out gel manicures and French pedicures.
Glow, June 23, Netflix
The Gorgeous Ladies of Wrestling are here to rock your world with their body slams and funky '80s outfits. This Netflix comedy finds Alison Brie as a struggling actress in Los Angeles who gets involved with the squad with the hopes of revitalizing her career, despite being unaware that pro wrestling is a lot harder than she expected. Shocker!
Game of Thrones, July 16, HBO
Cersei is the queen. Danaerys is sailing to Westeros. The end is near.
Marvel's The Defenders, August 18, Netflix
What happens when Jessica Jones, Daredevil, Luke Cage, and Iron Fist walk into a New York City bar? They kick some major ass … and get their own supergroup Marvel television show. If you enjoyed their individual shows, you'll get a kick out of this big team-up.
The full summer 2017 lineup:
Friday, May 12
12 a.m. Anne, Netflix
12 a.m. I Love Dick, Amazon
12 a.m. Master of None, Netflix
Wednesday, May 17
9:30 p.m. Downward Dog, ABC
Friday, May 19
12 a.m. Unbreakable Kimmy Schmidt, Netflix
12 a.m. The Keepers, Netflix
8 p.m. 12 Monkeys, Syfy
Sunday, May 21
9 p.m. Twin Peaks, Showtime
Tuesday, May 23
12 a.m. Casual, Hulu
Wednesday, May 24
8 p.m. Dirty Dancing, ABC
Thursday, May 25
8 p.m. Love Connection, Fox
9 p.m. Beat Shazam, Fox
Friday, May 26
12 a.m. Long Strange Trip, Amazon
Monday, May 29
9 p.m. Whose Line Is It Anyway?, The CW
10 p.m. Still Star-Crossed, ABC
Tuesday, May 30
12 a.m. House of Cards, Netflix
9 p.m. Animal Kingdom, TNT
Wednesday, May 31
8 p.m. Kingdom, DirecTV
9 p.m. The Carmichael Show, NBC
Friday, June 2
12 a.m. Flaked, Netflix
Sunday, June 4
9 p.m. Fear the Walking Dead, AMC
10 p.m. I'm Dying Up Here, Showtime
Monday, June 5
8 p.m. Shadowhunters, Freeform
9 p.m. Stitchers, Freeform
10 p.m. Daytime Divas, VH1
Tuesday, June 6
10 p.m. The Profit, CNBC
Thursday, June 8
10 p.m. Queen of the South, USA
Wednesday, June 7
8 p.m. Nightcap, Pop
Friday, June 9
12 a.m. Orange Is the New Black, Netflix
8 p.m. Dark Matter, Syfy
10 p.m. Wynonna Earp, Syfy
Saturday, June 10
10 p.m. Orphan Black, BBC America
Sunday, June 11
9 p.m. American Grit, Fox
9 p.m. Claws, TNT
Monday, June 12
8 p.m. So You Think You Can Dance, Fox
9 p.m. Superhuman, Fox
Tuesday, June 13
9 p.m. Face Off, SyFy
Wednesday, June 14
10 p.m. Blood Drive, Syfy
Friday, June 16
12 a.m. The Ranch, Netflix
Sunday, June 18
9 p.m. Grantchester, PBS
Monday, June 19
9 p.m. Preacher, AMC
Tuesday, June 20
10 p.m. Queen Sugar, OWN
Thursday, June 22
10 p.m. The Night Shift, NBC
10 p.m. The Mist, Spike
10 p.m. The Gong Show, ABC
Friday, June 23
12 a.m. Glow, Netflix
11 p.m. Playing House, USA
Wednesday, June 28
12 a.m. Okja, Netflix
10 p.m. Younger, TV Land
Thursday, June 29
9 p.m. Battle of the Network Stars, ABC
9 p.m. Big Brother, CBS
10 p.m. Zoo, CBS
Friday, June 30
12 a.m. Gypsy, Netflix
8 p.m. Killjoys, Syfy
8 p.m. Masters of Illusion, The CW
Wednesday, July 5
10 p.m. Snowfall, FX
Sunday, July 9
9 p.m. Candy Crush, CBS
9 p.m. The Defiant Ones, HBO
Monday, July 10
8 p.m. Penn & Teller: Fool Us, The CW
9 p.m. Will, TNT
Tuesday, July 11
8 p.m. The Fosters, Freeform
9 p.m. The Bold Type, Freeform
Wednesday, July 12
9 p.m. Salvation, CBS
10 p.m. I'm Sorry, TruTV
Thursday, July 13
9 p.m. Hooten & the Lady, The CW
Friday, July 14
12 a.m. Friends From College, Netflix

Sunday, July 16
9 p.m. Game of Thrones, HBO
10 p.m. The Strain, FX (final season)
Monday, July 17
10 p.m. Loaded, AMC
Tuesday, July 18
10 p.m. Being Mary Jane, BET
Friday, July 21
12 a.m. Ozark, Netflix
12 a.m. Last Chance U, Netflix
Sunday, July 23
10 p.m. Ballers, HBO
10:30 p.m. Insecure, HBO
Monday, July 24
10 p.m. Midnight, Texas, NBC
10 p.m. Somewhere Between, ABC
Friday, July 28
The Last Tycoon, Amazon
Room 104, HBO
Sunday, July 30
11:30 p.m. Rick and Morty, Adult Swim
Top Gear America, BBC America
Friday, August 4
12 a.m. Wet Hot American Summer, Netflix
Sunday, August 6
8 p.m. Sharknado 5, Syfy
Friday, August 11
12 a.m. Atypical, Netflix
Friday, August 18
12 a.m. Marvel's The Defenders, Netflix