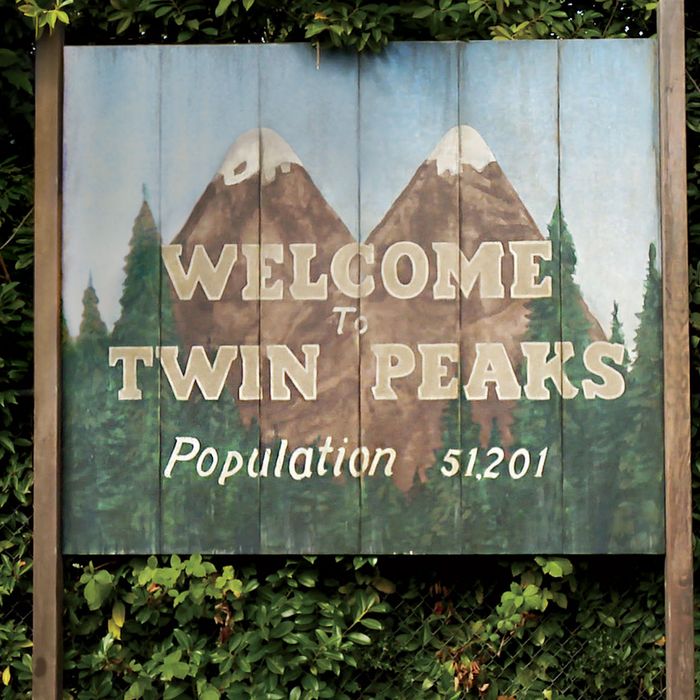 Photo: Courtesy of SHOWTIME
Before the owls swoop down on Showtime's Twin Peaks revival this Sunday, it's no surprise that a lot of people are rewatching the show. Or watching it for the first time. Unless they already watched it back in the day, as it jumped between time slots on ABC. Or two years ago on Netflix, or ten years ago on DVD, or 20 years ago on a bunch of VHS tapes. The point is, Twin Peaks fandom is vast and spans decades. But for newcomers and longtime fans alike, there is a whole bunch of Twin Peaks trivia that'll surprise you. Here are 21 things that might change the way you think about David Lynch and Mark Frost's iconic series.
1. The show's two-hour pilot was also fashioned into a feature film that aired in Europe. The biggest difference between the two versions? The footage at the end of the European cut featured a deadly showdown between Killer Bob and Mike. Lynch would later use the movie's "Red Room" sequence in the show, and expand Mike's role for actor Al Strobel.
2. The population of Twin Peaks, as written on the sign in the opening credits, was supposed to be 5,120. ABC executives were allegedly worried that TV shows in rural settings didn't attract viewers, so they added another digit onto the end so the population swelled to 51,201.
3. Frank Silva, who played Killer Bob, was a set dresser who worked with Lynch on Dune and Blue Velvet. Initially, he wasn't meant to appear in Twin Peaks at all. While he was decorating Laura Palmer's bedroom, Lynch caught a glimpse of him crouching at the foot of Laura's bed and decided to film it. Later, while shooting a scene for the pilot where Sarah Palmer has her vision, Lynch accidentally caught Silva's reflection in a mirror. Instead of reshooting, Lynch kept it and cast him as the killer — and the shot of Killer Bob at the foot of the bed became iconic.
4. When casting Laura Palmer, Lynch decided to hire a Seattle actress to simply play dead. That actress was Sheryl Lee. When filming the home video that Laura made with Donna Hayward, however, Lynch realized that Lee actually could act. He created the role of Laura's identical cousin Maddy Ferguson so Lee could be on the show full time.
5. Each episode was not originally given a title, just a number. The German broadcaster decided to name them, and the episode titles now tied to Twin Peaks ("Traces of Nowhere," "Rest in Pain," etc.) are translations of those German ones.
6. Speaking of Germany, Twin Peaks didn't perform very well when it aired on broadcaster RTL Plus (now known as RTL), because a rival station spoiled that the identity of Laura Palmer's killer. A German media outlet called it "the worst spoiler in their country's history."
7. In the book Reflections: An Oral History of Twin Peaks, producer Jules Haimovitz alleges that when the show was airing, financier Carl Lindner called him up to find out the killer's identity. As Haimovitz's story goes, Lindler was asking on behalf of President George H.W. Bush, who was asking because Mikhail Gorbachev wanted to know.
8. Audrey Horne, the siren played by Sherilyn Fenn, was supposed to get her own spinoff movie where she moved to L.A. to become an actress. According to Fenn, that idea eventually became the basis Lynch's acclaimed movie Mulholland Drive with Naomi Watts.
9. Josie Packard, played by Chinese-American actress Joan Chen, was originally supposed to be an Italian woman. The role would have been played by Lynch's then-girlfriend Isabella Rossellini, who dropped out of production before the series began. "David had asked me to be part of Twin Peaks, and I very much wanted to be, but there was a little bit of concern about the time," Rossellini said at the time.
10. Agent Dale Cooper's middle name is Bartholomew, making his initials D.B. Cooper, the same as the infamous plane hijacker.
11. Hank Jennings's prison number is 24601, the same as Jean Valjean from Les Misérables.
12. Richard Beymer, who plays Ben Horne, and Russ Tamblyn, who plays Dr. Jacoby, starred together in the West Side Story movie. Beymer was Tony Wyzek and Tamblyn was his best friend Riff Lorton, the leader of the Jets.
13. David Lynch and composer Angelo Badalamenti created the show's theme music in just 20 minutes on an electric keyboard. "You just wrote 75 percent of the score," Lynch told Badalamenti at the time.
14. Russ Tamblyn is the father of Amber Tamblyn, the star of Joan of Arcadia and Sisterhood of the Traveling Pants.
15. Robyn Lively, who played the seductress Lana Budding, is the older sister of actress Blake Lively.
16. Peggy Lipton, who plays diner owner Norma Jennings, is the mother of actress Rashida Jones.
17. David Lynch's son Austin plays Mrs. Tremond's creepy little grandson in season two. (He's the one who does the magic trick with the creamed corn.) The same character is played by Jonathan J. Leppell in Fire Walk With Me.
18. Warren Frost, who plays Dr. Hayward, is the father of series co-creator Mark Frost. He reportedly filmed scenes for the Showtime revival before his death earlier this year at age 91.
19. Warren Frost and Grace Zabriskie, who played Laura Palmer's mother, played the parents of George Costanza's ill-fated fiancée, Susan, on Seinfeld.
20. Michael J. Anderson, who plays the Man From Another Place, formerly worked as a computer-systems technician for NASA.
21. Actress Diane Keaton directed the 15th episode of the show's second season. It is especially weird.