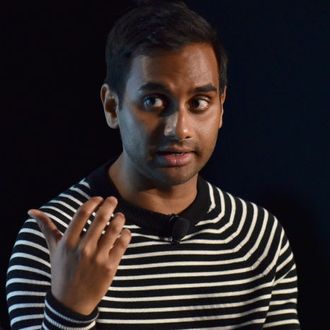 A tense man.
Photo: Bryan Bedder/2017 Getty Images
Aziz Ansari can't think about whether or not there will be a third season of Master of None, so have a little consideration and don't bother him about it, alright?
"The worst time to ask me or [co-creator] Alan [Yang] about whether we're doing a third season is right after we finished the second season," Ansari told us at the Vulture Festival. "Even just hearing the words 'season three' stresses me out. And being asked that in interviews stresses me out. I immediately think of a year of very hard work. Now we've just finished the season and now we have other things we want to do. I love the show, and it's the best job I have ever had to make a show with my best friend, and my whole entire immediate family."

The comedian clearly wasn't answering in the coy, wink-wink-who-knows-but-of-course-way that many actors do. Instead, it really seemed like it could go either way.
"If we didn't do a third season, yeah, I'd feel bad that we wouldn't get to keep going, but I also wouldn't want to do a third season if it wasn't as inspired as what we did," he added. "And the reason we took a break between season one and season two was so we could make something that was really a step up. I wouldn't want to have it be a step back and make it not as cool as exciting. I think we need some to refill the notebook."
He says he would really like to just be able hang out for a while, find some more jokes, and then see how they feel. "If I had my druthers — whatever druthers are — any time the notebook was filled up and me and Alan felt like we had a few, we would call up Netflix, and say, 'Okay, let's do it,' and make a season three a few years from now," he added. "Then maybe we would make another one when we were, like, 60 years old. We talk about that, about creating a new season of Master of None when we're 70 and all the things we think about when we are 70."
Truthfully, he said, he really needs more stuff to happen to him before he can write another season: "I need to live my life a little bit, maybe get in a serious relationship, have a kid, something, and then maybe figure it out."