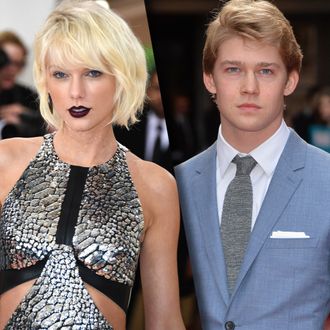 Taylor Swift and Joe Alwyn.
Photo: Larry Busacca/Getty Images/Anthony Harvey/Getty Images
Last night, like a bear emerging from a long winter sleep, a piece of Taylor Swift news stumbled back into our lives. The Sun, which first reported that Swift was linked to Tom Hiddleston last summer, revealed that Taylor is now dating 26-year-old British actor Joe Alwyn, and has been for the past three months. According to rumors, they sneak around London in disguises with "military-like security," so as not to be seen. Also, she's renting a house near him in North London! Also, he still lives with his parents!
Now, this is all a lot to process, so let's address the most important question first: Who the hell is Joe Alwyn? Well, Alwyn is a young, dimply British man with three films to his name so far: Ang Lee's war drama Billy Lynn's Long Halftime Walk, the Julian Barnes adaptation The Sense of an Ending, and The Favourite, which isn't out yet, but is a costume drama with Emma Stone, and the reason Stone was in London and couldn't make it to that one high schooler's prom. (Are Swift and Stone still close? Is that really what this all means?)
So, did Taylor actually see Billy Lynn? According to paparazzi photos from last November, yes, she did. Still, as Taylor has gone reclusive recently, we're not sure how she felt about the film's use of ultra-high-frame rates and HD cameras, or the fact that it features a fake Beyoncé. Billy Lynn made a paltry $30 million at the box office, and only $1.7 million in the U.S., so Taylor's presumably in a tiny club of people who actually went to see the movie. What did she think of it? Did she think Vin Diesel should try out more dramatic roles? Did she like Garrett Hedlund's compelling turn as Billy's commanding officer? Is she secretly into satires of Iraq War–era American excess? Has she read The Yellow Birds? Of course, maybe Taylor just read a few profiles that claimed Alwyn was Hollywood's next big thing and went from there — or, there's the possibility that this is a real, actual, beautiful human connection.
Anyway, congrats to Joe Alwyn, who is as yet unverified on Twitter, and to Taylor Swift, whom you might be able to find in London, if you look underneath enough giant scarves.