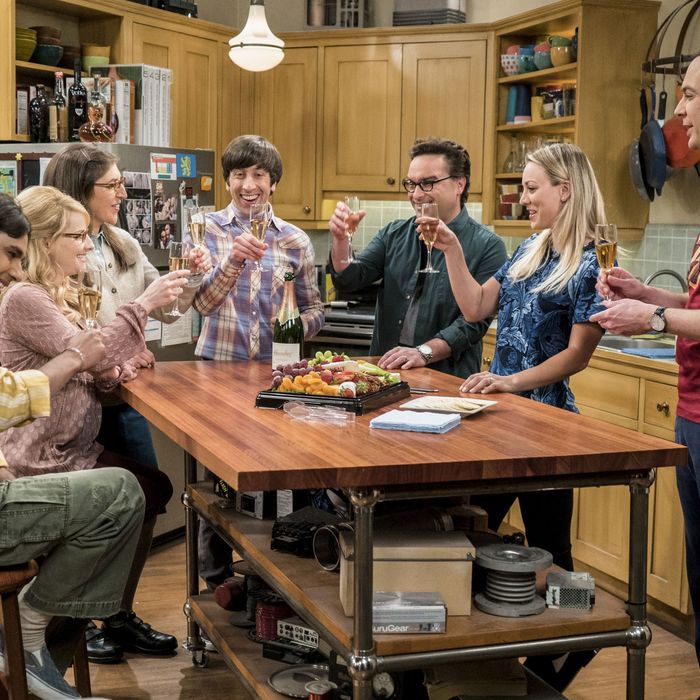 Kunal Nayyar as Raj, Melissa Rauch as Bernadette, Mayim Bialik as Amy, Simon Helberg as Howard, Johnny Galecki as Leonard, Kaley Cuoco as Penny, Jim Parsons as Sheldon.
Photo: Monty Brinton/CBS
Remember when Amy Farrah Fowler wanted as much of Sheldon's attention as he could muster? Well, she's finally got it. As her live-in boyfriend tucks into a bowl of the very special oatmeal she made for him, he tells it to her plain: He doesn't know how he ever got along without her.
But Sheldon's forgetting something. Just as Amy gets exactly what she wants from Sheldon, she gets something she wants from her career, too: a prestigious fellowship for a summer research project at Princeton. As in, several months on the other side of the country, sans Sheldon. Can he and their relationship survive Amy's absence? Will it make him "strange and eccentric," spurring him to Howard Hughes–ian behavior like collecting his own urine in bottles?
And most important: Since this is the penultimate episode of season ten, what twist do the TBBT writers have in store for next week's season ender? By the end of this installment, Amy has packed her bag (the one Sheldon purchases for her in a relatively romantic gesture) and is off to the other coast. Sheldon, who initially threw a selfish hissy fit about Amy's impressive opportunity, will almost certainly take a minute to adjust to his temporary living situation. After all, he's solo for the first time ever.
It's a good scenario for the whole of Shamy. Amy, like a lot of people who spend so much time worrying about and focusing on another person, is secure enough in her relationship with Sheldon that she seems … well, not relieved, but certainly appreciative of this chance to focus on herself and her work. She's ready to enjoy some getting-to-know-herself time, the exact kind of personal time she probably had gobs of pre-Sheldon, but which has become rarer now that they are co-habitating across the hall from Penny and Leonard.
Sheldon has not only never lived alone, but more important, has never had to manage his day-to-day existence while living on his own. Sure, Penny and Leonard are right across the hall, but as Sheldon said himself, he's come to depend on Amy's company and loving (and almost superhumanly patient) care. This, if he chooses to make it so, is a chance to become more independent and more comfortable without the constant presence of another person. Because as much as Sheldon thinks of and about himself, he isn't totally comfortable with himself.
It's also a chance for him to prove he can deal with change. The titular story line in the episode revolves around Leonard, Howard, and Sheldon going to their lab one day and finding out the government has taken over their gyroscope project. Air Force Captain Williams (Dean Norris) informs them their services are not required for the project to move to the next phase, meaning Sheldon lost his big work project and proximity to his girlfriend all at once.
The last time Sheldon faced this much change and uncertainty — at the end of season seven, when Penny and Leonard wanted to live together, the university wouldn't allow him to change his area of study, and Stuart's comic-book store caught on fire — he abandoned Amy and his friends and went on a months-long train trip. This time, he has no choice but to stay behind and hold down the fort while Amy's off on her own months-long adventure.
Still, that can't be all that's meant to play out from this long-distance-relationship story line. What might happen in the finale? Could Sheldon fail miserably on his own and ask Amy to return? Could the end of the gyroscope project lead to a sabbatical that lands him in Princeton for the summer? Or maybe Amy's absence will send him on a trip to Princeton with Meemaw's engagement ring in his pocket? Here's hoping whatever the payoff is, it's worthy of what is a good setup.
As for the other changes in the group, Raj moves out of Sheldon's old bedroom in Penny and Leonard's apartment … and into an apartment above Bert Kibbler's garage. Feels like a lateral move, though a little more time with Bert wouldn't be a bad thing. It also feels like Raj will be even more removed from the action than he has been for most of season ten, which most definitely would be a bad thing.
THEOR
-EMS
• One very promising sign that Sheldon is approaching change with a positive attitude: He initiates non-birthday coitus with Amy and he doesn't even call it coitus. (He calls it "frenzied lovemaking.") To begin after they remove their clothes and fold them neatly, of course.
• Howard tells Captain Williams that the Air Force takeover of the gyroscope project is upsetting. "I'm sorry to hear that," Williams says. "As you know, the primary focus of the United States military is feelings." Sheldon: "If that's sarcasm, please save it for our enemies."
• Sheldon's appreciation of his favorite, plain oatmeal: "Mmm, tasteless."
• The luggage salesman assured Sheldon that the suitcase he purchased for Amy can survive a plane crash. "So perhaps you should fly inside it," he tells her.
• Chuck Lorre Vanity Card No. 559: A photo of the prime-time TV schedule from March 6, 2006, in which an episode of The Apprentice was defeated in the ratings by a CBS comedy. Or, as Lorre writes, "Defeat terrorism and crazy dictators? He couldn't even defeat Two and a Half Men."