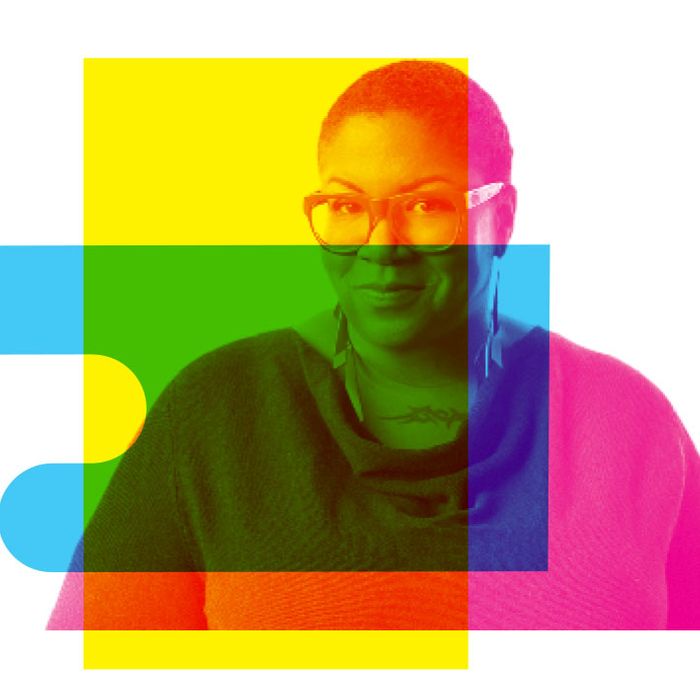 Samantha Irby: funny, ribald, not Roxane Gay.
Photo-Illustration: Eva Blue/Art Handler
It is not uncommon for people in Chicago to approach essayist and Bitches Gotta Eat blogger Samantha Irby. The Chicago Tribune once said she "may well be the most talented, inappropriate woman" in the city for her searing, ribald storytelling at live-lit reading salons like Paper Machete at the Green Mill Cocktail Lounge. But recently, at the Write Club — an event that pits writers head-to-head in a series of battles — a woman approached the 37-year-old to tell her how much she loved her work. "I said, 'Thank you, I'm glad you liked my book about butts,' " Irby says, self-deprecatingly referring to her 2013 memoir–essay collection Meaty, which Vintage Books is reissuing in 2018. "She looked at me like, 'What? Aren't you Roxane Gay?' I was like, 'No, girl. Roxane is not going be at this little literary fisticuffs competition telling shit jokes.' "
Irby and the prolific Gay, the best-selling author of Bad Feminist, are friends and mutual fans but resemble each other only in that they're black women with tattoos who both have written movingly about body image and race. "But she's tall! And has hair!" says Irby, who shaves hers close, stands five-eight (Gay is over six feet tall), and wears thick tortoiseshell glasses. "Now Roxane is being associated with someone who was talking about the inside of her vagina," she says, laughing.
Incidentally, Meaty is not about shit jokes or butts, and neither is Irby's new essay collection, We Are Never Meeting in Real Life — which is not to say those topics don't regularly appear. The essays in We Are Never Meeting, as with Meaty, compose a memoir of the life of a sardonic, at times awkward, at times depressed black woman with Crohn's (an inflammatory-bowel disease) and degenerative arthritis. Irby has always felt a sense of dislocation, whether in the diverse but predominantly upper-middle-class Evanston, where she grew up in Section 8 housing with her much older sisters and mother, or hanging at coffee shops with her "stoner" friends ("Mellow hippie white kids with dreadlocks and black kids into alternative rock," she says).
Her acerbic, raw honesty on the page — often punctuated with all-caps comic parenthetical asides — unflinchingly recounts experiences such as the humiliating intrusion of explosive diarrhea on romantic and borderline-romantic interludes. One tale involves her desperately constructing a makeshift toilet out of snow. Another story evokes the shock and grief of being informed, the day before her 18th birthday, that her alcoholic father was missing (he was later found dead of hypothermia). At the time, Irby was living in rural DeKalb, Illinois, as a freshman at Northern Illinois University. She dropped out months later, following her mother's death from complications of multiple sclerosis. "It just felt like overcoming an insurmountable hurdle to return," she says. "I would have graduated and had no home to go to."
Lest there be any concern that We Are Never Meeting in Real Life (which she dedicates to Klonopin) is a sequel to a book and a popular blog that many readers outside the Chicago area haven't yet read, she cleverly introduces herself in the first essay, "My Bachelorette Application," which is literally just that. She describes her weight as "Lane Bryant model? But maybe on her period week"; her age: "35-ish but I could pass for 47 to 52, easily"; and reveals that she was arrested for shoplifting as a teenager. "I have that disease that a lot of poor people who claw their way out of the miserable depths of poverty suffer from, the one that makes you want to blow your paycheck on all the special things because never before in your life could you ever have anything even remotely fancy or expensive." Then there's her torturous love life: narcissistic men who are "boring and lazy … I do not have the energy to be in a relationship with someone exceptionally good looking."
Recent events would indicate she has found that energy: While most of the sexual encounters in her stories center on men, last year, Irby married her female partner, Kirsten Jennings, and left her longtime job running an animal hospital's reception desk in Chicago to join her wife in Kalamazoo, Michigan. "I now live in a house that's run like a house — in the old days, like a year ago, if I ran out of peanut butter, that's it. Here, there's four jars in the pantry."
In December 2015, Irby published an online essay for Cosmopolitan titled "Black Girls Don't Get to Be Depressed" that went viral. ("Depression was something that happened to white people on television, not a thing that could take down a strong black woman," she wrote.) It drew a tremendous response from young black women — as well as from a few white male readers who claimed it was "reverse-racist" to characterize depression as an affliction associated with white people. "I don't get trolls enough to have built up a callus and tell them to fuck off," she says. "Some shit just sort of sticks with me — and that did." Then, out of nowhere, she discovered an open letter addressed to her on Tumblr from New York City's First Lady, Chirlane McCray, who wrote, "There's much I recognize in your essay … the trauma of racism is real, and can create severe emotional pain and distress that has a destructive effect on our minds and ability to cope." Irby felt validated, to say the least. "My head exploded," she says.
McCray is hardly Irby's only famous fan. She met Janeane Garofalo after they both performed at Paper Machete and Irby asked if she could give her a copy of Meaty. "Janeane was like, 'I don't do social media or tweet or email, so you're never going to hear from me again.' And I was like, 'Just knowing you would read it is supercool.' " Months later, she started getting tweets from people she'd never met who said Garofalo had given them copies as a gift. Other recipients of Garofalo's generosity included Broad City's Ilana Glazer and Abbi Jacobson — and now Jacobson, Irby, and Inside Amy Schumer writer Jessi Klein are adapting Meaty into a TV series for FX.
"My writing has been my saving grace," says Irby, who is now doing it full time. She started writing to "impress a dude — and here I am now, married to a woman. However you get there." She laughs. "Most bad things I don't write about right away. I gotta get a little perspective and reframe it. Even if I'm wallowing — like my mom's funeral," she says, recalling a story of how the pastor kept confusing the names of her mother, Grace, and Irby's sister, Carmen. "But," she adds, "if you can't laugh at it, it eats you up — especially during all the years I didn't have access to therapy. I can find the humor in anything if you just give me a few days."
*This article appears in the May 29, 2017, issue of New York Magazine.