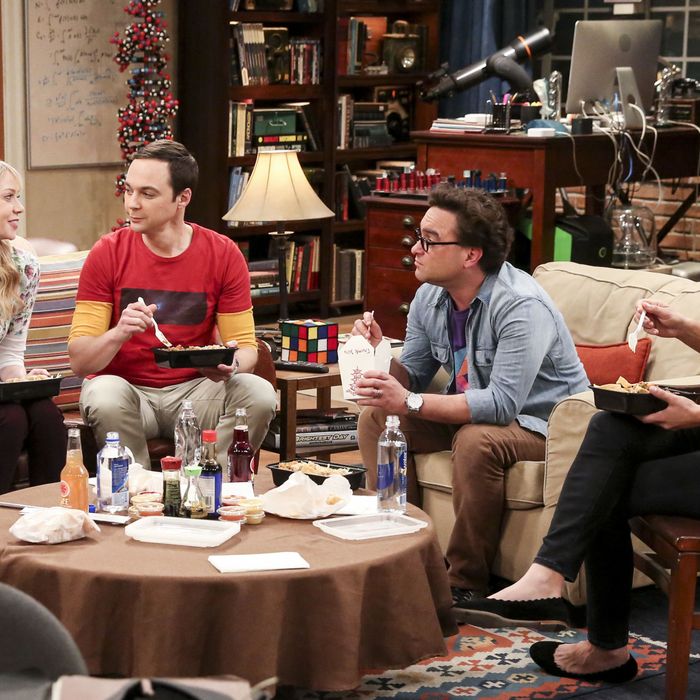 Kunal Nayyar as Raj, Simon Helberg as Howard, Riki Lindhome as Ramona, Jim Parsons as Sheldon, Johnny Galecki as Leonard, Kaley Cuoco as Penny.
Photo: Michael Yarish/CBS
Betcha didn't see this one coming! Or maybe you did. For those of us who've stuck through some long, plotless stretches this year, the tenth season finale of The Big Bang Theory offers a mighty big payoff: Sheldon asks Amy to marry him.
More accurately, after being kissed by another woman in his office, Sheldon excuses himself, walks out of the workplace, takes a cab to the airport, flies to New Jersey, watches SpongeBob SquarePants in-flight, takes another cab to Princeton, and arrives at Amy's apartment on the Princeton campus. When she opens her front door, he — on bended knee — holds out his beloved Meemaw's ring and asks Amy for her hand in marriage.
This proposal feels too long in the making on one hand and too soon on the other — for Pete's sake, they had coitus for the first time just a year and a half ago! — but it's a giant leap forward in story line opportunities. At the very least, Shamy's engagement makes it easier for TBBT fans to stick with the series until the very end, even though the finish line is no fewer than 48 episodes away.
Bridezilla Amy! Groomzilla Sheldon! The meeting of Sheldon's mom and Amy's mom! (And Sheldon's siblings, assuming the writers remember that we know he has some.) One or both of them could get further job offers that extend their time apart, too. Howard went to space and Leonard spent months away on a research boat, so isn't Sheldon due for a high-profile honor of his own?
There are just so many possibilities here. They could hire a wedding planner who proves hilariously difficult. Sheldon could decide he wants to wed on the anniversary of Star Trek and/or Star Wars and/or Firefly, or that he'll be married only if Stephen Hawking or his on-again, off-again frenemy Wil Wheaton performs the ceremony. They could do a destination wedding or honeymoon, preferably arriving to either via train. Professor Proton (Emmy-winning guest star Bob Newhart) could return in ghostly fashion to offer Sheldon advice on being a good husband. Amy could drive her bridesmaids — Penny and Bernadette, duh — crazy with excitement about and/or obsession with the big day. (See above: bridezilla.)
I'm cool with whatever Shamy decides, wedding-wise, as long as it's not an elopement to Vegas (Penny and Leonard did that), a tasteful little affair in the park (again, Lenny did it), or getting hitched up on the roof (Howard and Bernie).
Of course, there is just a soupçon of a budding buzzkill on what was otherwise a perfectly romantic, big-gesture proposal: The season ends before a shocked Amy Farrah Fowler (Fowler-Cooper?) gives Sheldon the official "I do" to his "Will you?" But there's no way she's gonna turn that down, right? Right?!
THEOR
-EMS
• The other woman who kisses Sheldon in his office and sends him off on a plane to Jersey: Dr. Ramona Nowitzki (guest star Riki Lindhome), the former grad student who had a mad crush on Sheldon and followed him around back in season two, pre-Shamy. Since she spurns Raj's flirtations with extreme prejudice, it would seem her attempts to make a love match in this neck of the woods are done.
• Raj, after Nowitzki tells him he can't sit with her at lunch: "I could have made her very happy." Leonard: "You kept walking, I think you did."
• A panicked Amy to Penny and Bernie, after finding out about Sheldon's reunion with his old pal Nowitzki: "I've been smacking that ketchup bottle a long time! All she's gotta do is tip it over and point it at her fries."
• Will there be fallout from that kiss? When Amy finds out about it, I hope her focus is that it made Sheldon think of nothing but spending the rest of his life with her. In other words, please don't turn this into some ridiculous story line wherein Amy realizes Sheldon needs to have the experience of dating other people before he's ready to settle down with her. One, so cliché. Two, Sheldon doesn't like change, he's made this clear. Still, the way A.F.F. stood there at the door without reacting at all to Sheldon's proposal is concerning.
• Raj super-duper needs a life in season 11. His big accomplishment in this season finale is posting a YouTube video of himself flossing his teeth. He claims it's a tutorial. I claim it's a cry for help.