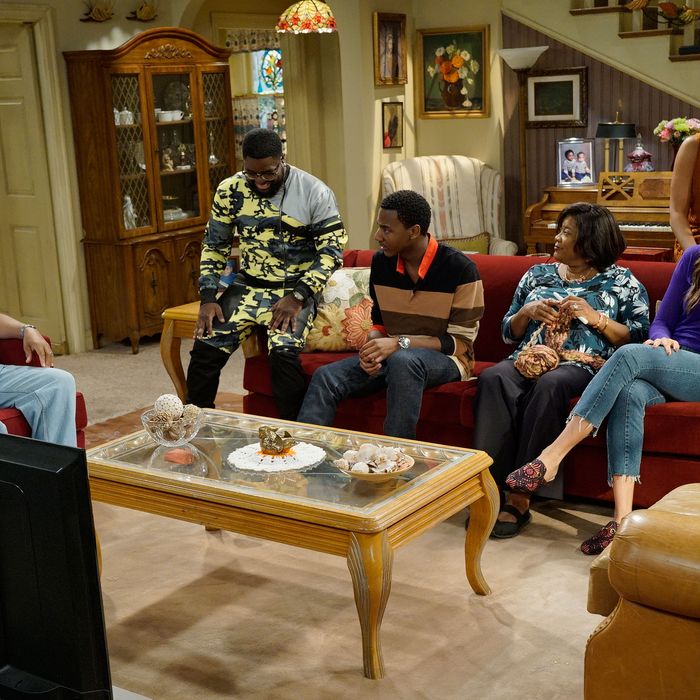 From left: David Alan Grier as Joe Carmichael, Lil Rel Howery as Bobby Carmichael, Jerrod Carmichael as Jerrod Carmichael, Loretta Devine as Cynthia Carmichael, Tiffany Haddish as Nekeisha Williams, Amber Stevens West as Maxine North.
Photo: Chris Haston/NBC
The Carmichael Show, Jerrod Carmichael's refreshingly old-school NBC sitcom, returns for a third season tonight, and what a pleasure it is to see the cast and crew settling into such a confident groove. The series is a hot-button comedy strongly modeled on the collected works of Norman Lear (All in the Family, Good Times, Maude, The Jeffersons). Carmichael is too young to have watched any of these programs during their original airings; he discovered them in repeats and became fascinated with them because, during his own childhood in the '90s, network sitcoms had largely moved away from the sort of topic-driven, let's-fight-it-out material that Lear and his collaborators specialized in.
What's most remarkable about this series is that it never feels like a fetishized nostalgia act. It faithfully replicates old-fashioned sitcom conventions and nudges them one step further, toward theater. It's shot with three cameras in a stage-type environment, with a live audience, and on shooting days they run through each episode twice, like a play, with a one-hour break in between for last-minute rewrites and tinkering. The process gives The Carmichael Show a looseness and spontaneity that you don't normally encounter in any kind of network sitcom, either the three-camera, studio-audience variety or the single-camera, "little movie" kind. It's closer to community theater, not in the sense that it's amateurish (it isn't; the ensemble cast is superb) but in the sense that it deals with and speaks to issues of community, asking how certain terms should be defined, where boundaries are, and whether common ground between verbal combatants is possible.
Tonight's return consists of two episodes airing back-to-back. The first, "Yes Means Yes," deals with rape and sexual consent. Maxine (Amber Stevens West) and her boyfriend, Jerrod (Carmichael), fight it out with Jerrod's family members after one of Maxine's friends posts about the issue on social media. Jerrod's brother, Bobby (Lil Rel Howery), who has hazy memories of a tryst from the night before, frets and blusters. As usual, Jerrod's parents, Joe (David Alan Grier) and Cynthia (Loretta Devine), take a more conservative, even reactionary position, although Cynthia's gender, as well as her Edith Bunker–like sensitivity to others' distress, make her a less purely comical foil here than Joe. The second episode finds Jerrod getting into a dispute with a veteran about the politics of the war on terror; Joe intervenes as only he can, trying to repair things while offering Archie Bunker–level nonsense explanations for what the war was about. An upcoming gem finds Joe's mom (Marla Gibbs) kicking things off by announcing that she has Alzheimer's and would rather kill herself than fight it. This sounds grim, but The Carmichael Show presents it with such good humor that you laugh in affirmation and empathy no matter what angle you're approaching this painful subject from. When grandma announces she has Alzheimer's, Joe reminds her that she already made the announcement six month ago.
Previous seasons have dealt with racism, gun control, and whether it's possible to separate artists from their art (a.k.a. the Bill Cosby/Woody Allen episode). Memorable episodes this year explore women's body issues, ask whether it's ever appropriate for a white person to use the N-word, and revisit gun violence from a different angle — personal and public reaction to tragedy. The show carries itself with a no-big-deal confidence, exploring subjects organically, as you would in a real conversation, and always rooting its one-liners in the psychology of its characters. As always, Jerrod acts as sly pot-stirrer, busting out with observations that you might not expect the character to make if you had tuned in to the show for the first time and mistaken the lead actor's smooth charm for evidence that he's playing a reactive sitcom Everyman. This is one of the most honest, least-talked-about series on TV.