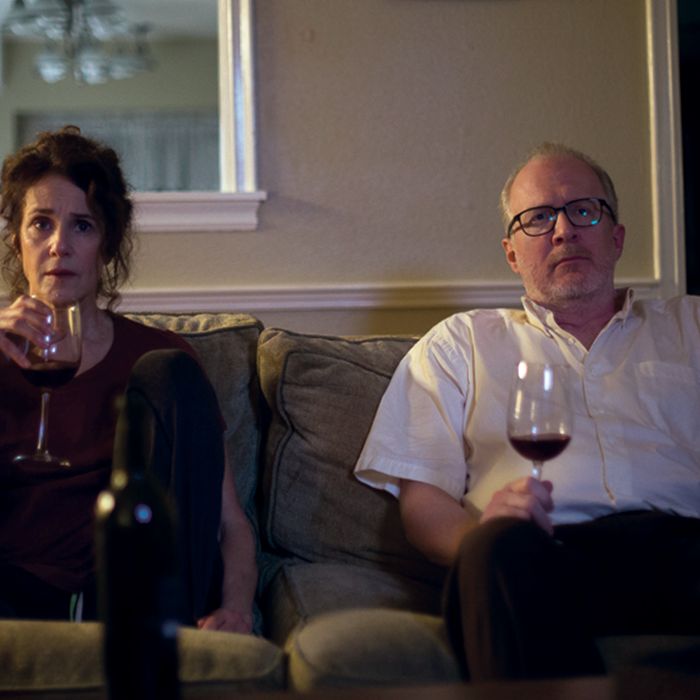 Debra Winger and Tracy Letts in The Lovers.
The best way to experience the dry comedy The Lovers is as a goof on Harold Pinter and his portentous silences and prodigious amounts of subtext. Debra Winger and Tracy Letts play Michael and Mary, a husband and wife who have each taken lovers for whom they've promised to leave their spouses. At home, they sit and stare ahead and eat and drink and robotically exchange information, so estranged that their conversations are a painful series of banalities. This is in contrast to their meetings with their respective lovers, which are High Drama. Lucy (Melora Walters) throws tantrums while Michael stammers and lies and keeps saying, "Soon … soon." Robert (Aiden Gillen) is a hotheaded writer who makes mighty romantic declarations while Mary squirms. Then the couple returns home and goes back to silence and subtext, which must be a relief.
Writer-director Azazel Jacobs has made a very smart movie about a very dumb idea, which is that Michael and Mary would begin to find each other a blessed — and sexy — alternative to the histrionics of their lovers. I was never convinced, not knowing enough about what drove them apart to accept their awkward coming back together. But it's fun watching Winger and Letts gaze helplessly at each other with crazy indecision. Letts — who blew me away as George on Broadway in Who's Afraid of Virginia Woolf? and was one half of an amazing, grueling duet as a college dean in Indignation — is a shade too comfortable with theatrical dialogue and silence. But he's very funny trying to tamp down Walters's spasms of anger, and he brings off the extraordinary climax, a soft rendition of Madness's "It Must Be Love" ("… love love … nothing more, nothing less, love is the best") that quivers with suppressed feeling.
The Lovers needs Winger's rawness: The dialogue holds her in check but doesn't tame her. It also needs Tyler Ross as the couple's son, Joel, who comes to dinner with his new girlfriend and the old chip on his shoulder over what he sees as the lie at the heart of his parents' marriage. He talks himself into such a frenzy that he ends up smashing the furniture. With its waltz-like score and farcical symmetry, The Lovers is about as full as a movie can be with a premise so thin.