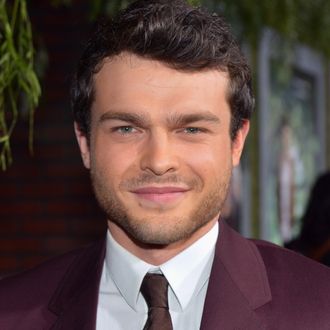 Alden Ehrenreich, with a just-okay hairdo.
Photo: Alberto E. Rodriguez/Getty Images
Look: It's Friday night and the world is pretty meh, so forgive us if we're inclined to lean a little harder into a haircut than we normally would. As io9 is reporting, some Instagram photos from the young Han Solo movie are materializing and they're your standard famous-people-being-famous-and-adorable fare — save one key detail: Alden Ehernreich's hair.
Sure, yes, hair is just hair. But it's also a lot more when we're talking about an iconic character whose perfectly '70s coif can be conjured in the minds of millions at a mere blink. Although we've known Ehrenreich was stepping into the Solo space boots for a good long while, this photo is the first definitive proof that he is, indeed, the Han Solo. (Put another way: This is the Han Solo you're looking for.) There's also something beautifully poetic about all these pretty people gathered around Woody Harrelson (whose casting in the film was announced a few months back), while Mr. Millennium Falcon himself stands to one side, decidedly lonely. That, friends, is method acting.