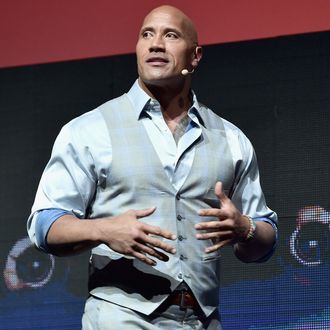 He'd certainly be our swolest president.
Photo: Alberto E. Rodriguez/Getty Images for CinemaCon
Ever since America elected a reality-TV host to the White House last fall, it's been a lot easier to imagine that future celebrities might occupy the highest office in the land. Our most viable celebrity candidate right now seems to be Dwayne "the Rock" Johnson, who's talked about running before and has the endorsement of Michael Moore, however much that matters. A new GQ profile takes the whole President Rock idea to its logical extreme, directly confronting the wrestling star turned movie star with the question of whether he wants to run someday. "A year ago," he says, "it started coming up more and more. There was a real sense of earnestness, which made me go home and think, 'Let me really rethink my answer and make sure I am giving an answer that is truthful and also respectful.' I didn't want to be flippant — 'We'll have three days off for a weekend! No taxes!'" Pressed further about whether this really might happen, the Rock adds, "I think that it's a real possibility."
Still, if this presidential bid is really going to happen, the Rock's policy platform needs more work — or really, it needs to actually exist. As GQ's profile establishes, the Rock is a big fan of the troops and would like "better leadership," though he mostly speaks in generalities about that. He's absolutely against Trump's travel ban, as he believes in "inclusion." But he hasn't pledged himself to a specific party — he's registered as an independent; he spoke at both the Republican and Democratic conventions in 2000; he decided not to endorse either candidate last year, despite the fact that both campaigns reached out to him. But then again, policy experience can be taught; a smile like the Rock's cannot. Clearly, all America needs right now is a big movie-star smile.