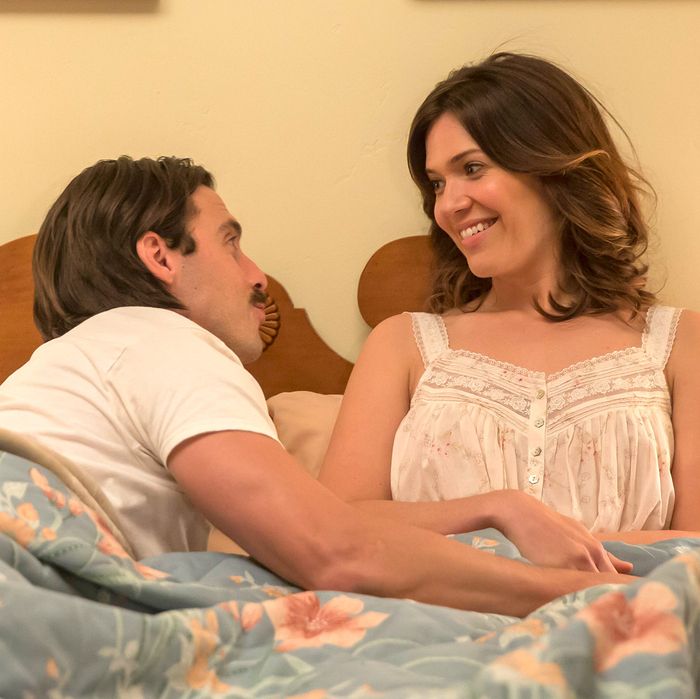 NBC is shifting breakout hit This Is Us to Thursday nights next fall, pairing it with the Will & Grace revival, the Tina Fey–produced Great News, and Dick Wolf's Menendez Brothers docudrama — an old-school scheduling power play that can only be seen as a full-frontal assault on ABC's fading Shonda Rhimes–produced TGIT drama lineup. On Sunday, Peacock execs didn't try to downplay the significance of their Thursday makeover: "Our hope is to create the return of Must-See TV on Thursday," NBC Entertainment chair Bob Greenblatt told reporters this morning, referring to the network's once-dominant 1990s and early 2000s end-of-week lineup. Given the significant audience declines for at least two of ABC's Thursday shows (the soon-to-end Scandal and How to Get Away With Murder), and CBS's own troubles on the night outside of The Big Bang Theory, NBC seems well-positioned for success.
While not entirely unexpected, the decision to move This Is Us away from its protective post-Voice cocoon on Tuesday nights is still slightly audacious at a time when caution and stability have become mantras at broadcast networks, which of late have become more concerned with limiting the extent of their audience declines rather than trying to expand their share of the pie. But all available evidence suggests Us should do just fine without the help of a big lead-in, given its consistent ability to improve upon its reality-show lead-in last fall. And, as Greenblatt noted, NBC is making sure to "not just throw it out there and hope for the best." While it's hardly guaranteed Will & Grace will be a massive success in the long-term, it's very likely the show's first few weeks will do very well, if only because of curiosity about its return. Greenblatt also said plans are underway to have Fey appear multiple times on Great News, bringing the former 30 Rock star to Thursdays, adding to the night's buzz factor. And while it's not clear Edie Falco starring in an eight-week miniseries about the Menendez Brothers will do as well as FX's O.J. Simpson opus, the program — which will carry Law & Order branding — should have a leg up over a standard-issue new drama. Greenblatt's confidence in the new schedule is such that he said NBC will bring back the "Must-See TV" branding to promote the lineup. "We want to do it … organically," he said. But, "it's as close to Must-See TV as we've had in our history." NBC will try to boost the profile of This Is Us even more by airing a special episode after its February broadcast of the Super Bowl.
With Us headed to Thursdays, NBC will shift longtime Thursday night player The Blacklist to Wednesdays at 8 p.m., bumping the barely renewed Blindspot to Fridays at 8 p.m. And with Will & Grace now anchoring Thursdays, young comedies Superstore and The Good Place will get a promotion to Tuesdays from 9-10 p.m., where they'll follow The Voice, "rather than just hanging out [on Thursdays] without a lead-in." While W&G is currently set to just run 12 episodes (including a possible hour-long Christmas special), Greenblatt said he's hoping to convince the producers and cast to do more, assuming the show works in the ratings. He also hinted at the possibility of a This Is Us Christmas special to air between the show's fall hiatus and its midseason return.
The big Thursday play also means NBC is keeping most of its new series for later in the season, with four new dramas and two new comedies currently without time-slots. Greenblatt said the goal was to have more new programming to roll out through the spring and summer and to minimize reruns even more than now. Here's NBC's new fall schedule:
MONDAY
8-10 P.M. — The Voice
10-11 P.M. — The Brave
TUESDAY
8-9 P.M. — The Voice
9-9:30 P.M. — Superstore
9:30-10 P.M. — The Good Place
10-11 P.M. — Chicago Fire
WEDNESDAY
8-9 P.M. — The Blacklist
9-10 P.M. — Law & Order: SVU
10-11 P.M. — Chicago P.D.
THURSDAY
8-8:30 P.M. — Will & Grace
8:30-9 P.M. — Great News
9-10 P.M. — This Is Us
10-11 P.M. — Law & Order True Crime: The Menendez Murders
FRIDAY
8-9 P.M. — Blindspot
9-10 P.M. — Taken
10-11 P.M — Dateline NBC
SATURDAY
8-10 P.M. — Dateline Saturday Night Mystery
10-11 P.M. — Saturday Night Live (encores)
SUNDAY
7-8:20 P.M. — Football Night in America
8:20-11 P.M. — NBC Sunday Night Football