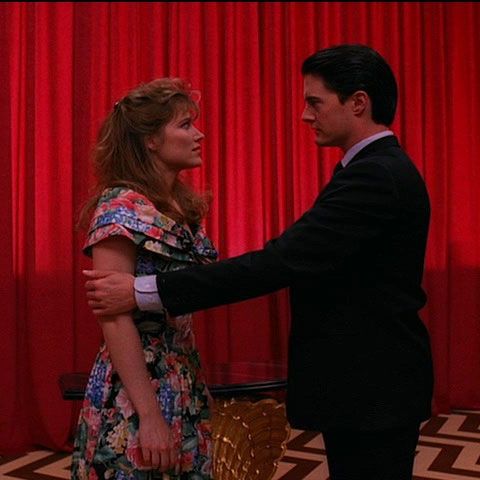 Brenda E. Mathers as Caroline, and Kyle MacLachlan as Agent Dale Cooper.
Photo: ABC
For all of the eccentric characters that David Lynch and Mark Frost created during Twin Peaks' original two-season run, it's understandable if you've forgotten a detail or two about the robust cast that occupies the quirky Northwestern town. (And some of them aren't even coming back. Phew!) Ahead of Showtime's premiere of the third season, we've recapped the final small-screen moments of every character who's returning. You have until Sunday to wildly speculate what's happened to them in the 25 years since.
FBI Special Agent Dale Cooper (Kyle MacLachlan)
In an image that single-handedly caused an uptick in psychiatrist visits in 1991, Agent Cooper woke up in his Great Northern hotel room, surrounded by Sheriff Truman and Doc Hayward, and went into the bathroom to brush his teeth. ("How's Annie?") He proceeded to squeeze a tube of toothpaste into a sink and ram his head into the bathroom mirror, where his reflection revealed that the demonic entity of Killer BOB has taken Coop's doppelgänger form. The real Cooper is trapped in the Black Lodge.
Shelly Johnson (Mädchen Amick) and Bobby Briggs (Dana Ashbrook)
Shelly and Bobby watched his parents happily eating breakfast together, the sight of which caused Bobby to propose to her on the spot. Shelly told him she'd think about it, since she's technically still married to Leo.
FBI Regional Bureau Chief Gordon Cole (David Lynch)
He was finally able to give Shelly a smooch at the Double R, then departed with this delightful line when Bobby witnessed their fleeting romantic scene: "YOU ARE WITNESSING A FRONT THREE-QUARTER VIEW OF TWO ADULTS SHARING A TENDER MOMENT! TAKE ANOTHER LOOK SONNY, IT'S GONNA HAPPEN AGAIN!"
Audrey Horne (Sherilyn Fenn)
Audrey went to the Twin Peaks Savings and Loan to protest the branch's connection to the proposed Ghostwood project, chaining herself to a vault door. When Pete and Andrew arrived at the bank and opened a safety deposit box that was left behind by Thomas, it exploded and blew the entire bank up. It's revealed in Frost's The Secret History of Twin Peaks that Audrey survived the attack after being shielded by Pete.
Benjamin Horne (Richard Beymer) and Sylvia Horne (Jan D'Arcy)
He got punched in the face by Donna's father, Doc Hayward, after it's revealed to Donna that Ben is actually her biological father. Doc Hayward also slammed Ben's head on the fireplace, which appeared to knock him unconscious. (The Doc had some power!) Sylvia was present during this heated confrontation, and was clearly upset that their bottled-up past has resurfaced.
Jerry Horne (David Patrick Kelly)
After doing some Civil War reenacting to get his brother, Ben, out of his dreamlike state, Jerry attended a board meeting with Ben and John to hear about how the pine weasel could potentially stop the Ghostwood development plans.
The Log Lady (Catherine E. Coulson)
She presented Agent Cooper with a jar of oil that was given to her by her late husband, which she said will provide "an opening to a gateway." This "gateway" ended up being Glastonbury Grove in Ghostwood National Forest, where the entrance to the Black Lodge is located.
Denise Bryson (David Duchovny)
She and Agent Cooper completed their sting operation to take down Jean Renault and Preston King.
FBI Special Agent Albert Rosenfield (Miguel Ferrer)
Back in town to investigate the arrival of Windom Earle and the mysteries surrounding Josie, Agent Rosenfield delivered evidence to Agent Cooper that confirms Josie was indeed the one who shot Coop in his hotel room.
Doc Hayward (Warren Frost)
He, along with Sheriff Truman, were with Agent Cooper when he woke up in his Great Northern hotel room. The duo brought Coop to the hotel after the events that transpired at the Black Lodge.
Deputy Andy Brennan (Harry Goaz)
He accompanied Agent Cooper and Sheriff Truman to Glastonbury Grove, and the two of them kept an eye on Coop while he was in the Black Lodge for about ten hours. (They didn't actually see the inside of the Black Lodge themselves, though.) Unsure of how long Coop would be gone, Deputy Andy took a break to get breakfast and coffee for him and the sheriff.
Lucy Moran (Kimmy Robertson)
Lucy decided that the father of her child was Andy, not Dick. The two lovebirds kissed and said "I love you" for the first time, despite some brief anxiety on her end about giving birth.
James Hurley (James Marshall)
After that whole soapy (and murderous!) debacle with Evelyn, James chose to leave Twin Peaks and do a bit of traveling. We last see him in the form of a postcard, of which he sends to Donna from San Francisco, where he wrote of his intention to travel to Mexico.
Dr. Jacoby (Russ Tamblyn)
He mediated divorce proceedings for Nadine and Big Ed, and he later brought a possessed Sarah to the Double R to have a conversation with Major Briggs. In The Secret History of Twin Peaks, it's revealed Dr. Jacoby was suspended from practicing psychiatry in Washington and moved to Hawaii to write his memoirs.
Leland Palmer (Ray Wise)
Possessed by Killer BOB, Leland violently smashed his head against a mirror and died in the arms of Agent Cooper. When BOB left his body just before he died, Leland expressed remorse over killing his daughter Laura, as well as Maddy Ferguson and Teresa Banks. A few episodes later, Coop encountered Leland's doppelgänger in the Black Lodge, where he said that he didn't kill anyone.
Sarah Palmer (Grace Zabriskie)
Seemingly possessed by Windom Earle, Dr. Jacoby takes Sarah to the Double R to deliver Major Briggs an important message: "I'm in the Black Lodge with Dale Cooper. I'm waiting for you." She's disheveled and speaks in a distorted tone.
Jacques Renault (Walter Olkewicz)
He's smothered to death by Leland by a pillow in the hospital.
Nadine Hurley (Wendy Robie) and Mike "Snake" Nelson (Gary Hershberger)
After believing she was a teenager, Nadine got hit in the head by a sandbag at the Miss Twin Peaks contest, which caused her to revert to her adult self. She rejected the advances of her sort-of teenage boyfriend, Mike, because she couldn't remember him, and expressed confusion about why Norma was present when she "awoke" from her state. Mike apologized to Ed for the unusual chaos that surrounded their past few weeks.
Norma Jennings (Peggy Lipton) and Ed Hurley (Everett McGill)
Ed and Norma were present with Snake when Nadine returned to her old self, but prior to that, they both embraced and declared their love for each other. Obviously, this declaration was complicated by the events surrounding Nadine.
Deputy Tommy "Hawk" Hill (Michael Horse) and Ronette Pulaski (Phoebe Augustine)
Deputy Hawk brought Ronnette to the police station to smell the oil that the Log Lady presented to Agent Cooper. Distressed, she immediately recognized the smell from the night of Laura's murder.
Laura Palmer and Maddy Ferguson (Sheryl Lee)
Both Laura and Maddy were murdered by Killer BOB, who took the form of Leland Palmer. Laura appeared in the Red Room and Black Lodge when Agent Cooper was there, where she said, "I'll see you again in 25 years" (among other things). Maddy also appeared in the Black Lodge in front of Coop, where she implored him to "watch out" for her cousin.
Carl Rodd (Harry Dean Stanton)
Rodd only appeared in Twin Peaks: Fire Walk With Me. He helped various FBI agents investigate Teresa's trailer at the Fat Trout Trailer Park after her murder — he owned the trailer park — and last helped Agent Cooper by showing him Agent Chester Desmond's car. It had "let's rock" written on it.
Betty Briggs (Charlotte Stewart)
Before she and her husband, Major Briggs, shared a nice breakfast together at the Double R, she and her son, Bobby, had a tender moment in their home when they were both unsure if the Major would turn up safe after his mysterious disappearance.
The One-Armed Man, a.k.a. MIKE (Al Strobel)
He advised Agent Cooper how to unlock and decipher Laura's dream. He also detailed the perfect relationship he and BOB had when they were murdering people together: He called it a "golden circle."
The Giant (Carel Struycken)
The Giant appeared in the Red Room during Agent Cooper's visit in the final episode, where he took the form of the elderly waiter giving Coop a cup of coffee. Sitting next to the Man From Another Place, he said, "One and the same," and then disappeared.