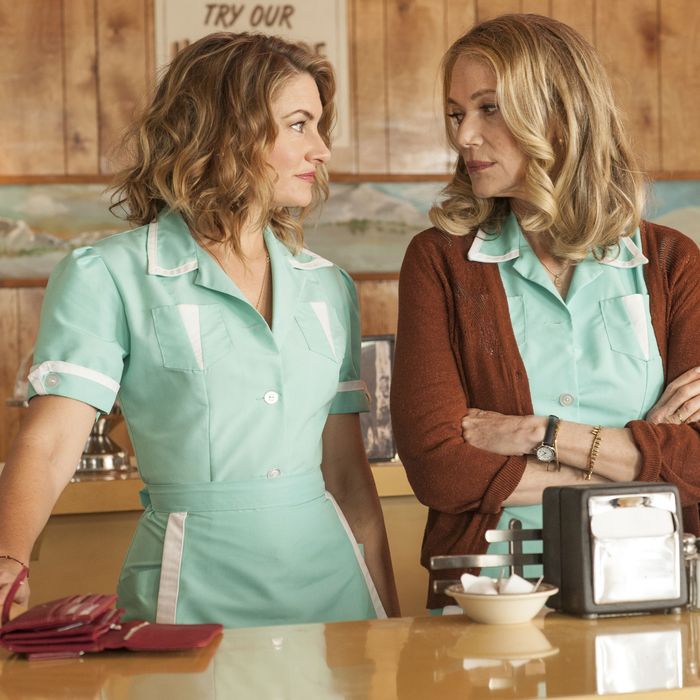 There's more than one way to judge the success of Showtime's revival.
Photo: Showtime
The owls are not what they seem, and neither was viewer interest in a Twin Peaks revival — at least if Nielsen ratings are your metric for success. Per the ratings giant, Sunday's quarter-century-in-the-making Twin Peaks: The Return attracted just 506,000 same-day viewers to Showtime via the network's main linear channel. That's on par with the 2014 premiere ratings for the network's critically acclaimed drama The Affair, and better than the opening numbers for the dead-on-arrival Roadies (348,000) and Happyish (430,000). But it's well below the initial tune-in for last year's Billions premiere (900,000) or 2013's premiere of Ray Donovan (1.4 million). What's more, none of those other shows arrived on Showtime with the brand awareness of Twin Peaks, nor the years of prelaunch hype which has accompanied Peaks since the revival was announced in the fall of 2014. It's a disappointing number for Showtime execs — but it's not necessarily a disaster.
First, it's worth remembering the 506,000 viewer number reported by Nielsen Tuesday represents only a fraction of the audience that will ultimately consume Peaks across various Showtime linear and digital platforms. When measured over the course of weeks, rather than a single night, it's quite common for premium cable series to end up with three, four, or even five times as many unique viewers as the same-day Nielsen ratings suggest. The actual audience for Sunday's Twin Peaks resurrection will likely end up in the 2–3 million viewer range — no doubt less than what Showtime execs hoped for when they green-lit the project, but not quite as minuscule as these early numbers suggest.
Trying to manage expectations in advance, Showtime put out a press release Monday night saying the network had its biggest single day and weekend of sign-ups for its streaming service, attributing the surge to interest in Peaks. (The network didn't attach a number to this self-declared record.) "In the world that we live in now, offering original programming that attracts new subscribers is our primary business objective," David Nevins, Showtime's president and CEO, said in the release. "By that standard, the Twin Peaks premiere is the biggest single-night driver we've ever had." Nevins is spinning hard with that last sentence, but he's also got a point: Nielsen ratings can still quantify how broad a show's appeal is, but they really aren't the best (or, at least, the only) way to measure its value to a network.
Fact is, even before Sunday's two-hour premiere, Peaks had already given the Showtime brand a major boost. While the nearly three-year buildup to the relaunch was filled with some potholes (including a few weeks in which creator David Lynch seemed to be painting Nevins as a Bob-like villain refusing to give him the money he needed to make the show he wanted to make), for the most part, the endless buzz surrounding the coming return of Peaks has been a nonstop advertisement for the network and its willingness to fund ambitious, even audacious, programming. Showtime has plenty of other shows that serve this purpose, most of which cost a lot less money to make (hello, Billions). But much as hiring Woody Allen to make a TV series let Amazon associate itself with one of film's most acclaimed (if, more recently, problematic) artists, being in the Lynch business reinforces the message to current and potential new subscribers that Netflix and HBO aren't the only networks willing to take creative risks. And now that it's finally here, the saturation coverage most major entertainment sites (including Vulture) are devoting to covering the actual episodes of the show amounts to even more free advertising for Showtime. The upcoming new season premiere of Ray Donovan will get three times the same-day audience as Peaks did this weekend. But it won't get — and never has gotten — the same sort of attention as Peaks. This doesn't mean Peaks is a "better" or more valuable series for Showtime, or that Donovan is less successful because it isn't the subject of a dozen think pieces every episode. It simply underscores the dangers, particularly in 2017, of attributing too much weight to Nielsen numbers.
There's also this: In the age of Netflix, Hulu, and Amazon, linear subscription-based networks such as Showtime, HBO, and Starz ought to be given a break when it comes to ratings. The linear channels are, for the most part, in the very same business these days as their digital counterparts, particularly now that you don't need to go through a cable company to subscribe to them. But when Hulu puts on an amazing series such as The Handmaid's Tale to near-universal acclaim, there's no Nielsen report the next day to weaken the halo surrounding it. Twin Peaks didn't get the same glowing reviews as Handmaid's, but it got a lot of (qualified) critical love. Twitter went crazy for the show, making it the most-tweeted-about TV series on Sunday, with nearly 5 million impressions. A single statistic from Nielsen shouldn't change the perception of the show's "success" at a time when Netflix and its new-media peers regularly declare their programs "hits" based on zero publicly available consumption data.