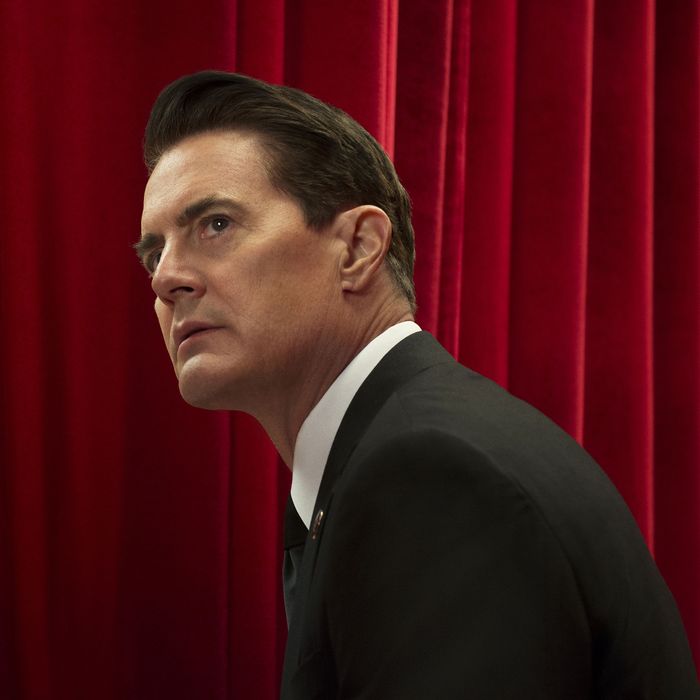 Kyle MacLachlan as Agent Dale Cooper.
Photo: Suzanne Tenner/SHOWTIME
Anticipation about David Lynch's long-awaited revival of Twin Peaks has reached a fever pitch ahead of its May 21 premiere, with each hint of information stoking the fire for one of the year's most anticipated TV events.
Trying to predict what's to come from the Showtime revival may hardly be worth the effort, given how tight-lipped Lynch and the cast has been since it was announced two-and-a-half years ago. But we can speculate on what fans hope to see in the new, 18-episode season, ranging from casual viewers' expectations to the deep-dive hopes of superfans who pored over The Secret History of Twin Peaks, a recent book by series co-creator Mark Frost. Needless to say, spoilers abound here, so if you're digging into the show for the first time — on Showtime, Hulu, or the Blu-Ray set released in 2014 — maybe bookmark this until you've caught up on the show's two seasons, along with its 1992 movie, Twin Peaks: Fire Walk With Me, which answered almost as many questions about the series as it raised.
Will the new Twin Peaks season even work?
Below, Vulture asks the questions we hope the revival will address.
"How's Annie?"
This one's a given. Answering the creepy final question of the original series — which ended with the revelation that Special Agent Dale Cooper (Kyle MacLachlan) was possessed by "Killer BOB," the demonic presence that killed Laura Palmer — would seem the thing that a sequel demands most as far as unanswered questions. However, Heather Graham, who played Cooper's girlfriend Annie, was reportedly not asked back for the new Twin Peaks, making it less certain that the solution to this mystery will be addressed in a significant way. Unless, of course, Lynch casts a new Annie.
Is Cooper still possessed by Killer BOB?
As for Cooper's possession — with the real Cooper's soul left trapped either in the so-called "Red Room" or the Black Lodge — there's no doubt the show will reveal what's happened to him since season two. The big question is how much will we see in flashback? While time has been kind to MacLachlan and many of his co-stars, the whole cast playing their younger selves seems like a recipe for disaster. But talking about the events in the immediate aftermath of the original series rather than showing them could be tricky as well.
Which characters are really dead?
Several beloved figures from Twin Peaks are returning for the revival, with actors Sherilyn Fenn (whose Audrey Horne sparked an early-'90s fascination with saddle shoes and cherry stems you had to be there to fully appreciate), Sheryl Lee (who played both Laura Palmer and her cousin, Maddy Ferguson), and Ray Wise (who, as Leland Palmer, did some very impressive ugly crying over the death of his daughter) chief among those joining MacLachlan in the new season. The mystery is how any of them, apart from MacLachlan, will fit into the modern-day series, given that Lee, Wise, and Fenn's characters were all killed in the original series. Fenn's return is easiest to explain, as Frost's Secret History of Twin Peaks reveals that she miraculously survived the bank explosion in the series finale. But Wise's Leland Palmer definitively died in season two (there was a body and a burial), and Lee's two characters both died in the course of the series. While Lynch isn't above going for the absurd — perhaps he'll introduce yet another Laura Palmer doppelgänger — anything other than Lee hanging out in the Red Room might be a tough pill to swallow.
Who will replace Sheriff Truman?
Apart from the aforementioned Graham, a remarkable number of the original cast members are coming back for the Showtime revival. Most conspicuously absent are Michael Ontkean, who declined to reprise his role as Sheriff Harry S. Truman (Robert Forster is reportedly stepping into the role); Joan Chen, whose lumber-mill owner Josie Packard died during the show's second season; and, most unexpectedly, Piper Laurie, who scored a Golden Globe and two Emmy nods for her performance as Josie's nemesis Catherine Martell. Though both Chen and Laurie's lumber-mill story line ranked low among things fans talk about when they talk about Twin Peaks, Laurie's acclaim in the role, not to mention her infamously bizarre season-two plotline where Catherine passes herself off as a Japanese businessman, makes her absence a surprise.
Which other roles will be recast?
Sadly, several Twin Peaks actors have passed away in the quarter-century since the show's last episode. While Miguel Ferrer (Special Agent Albert Rosenfield) managed to reprise his role before his death last year, it's less certain whether the late Catherine E. Coulson filmed scenes as the much-beloved Log Lady before her death in 2015, or if David Bowie recurred as his time-jumping FBI agent from Fire Walk With Me. (Whether Bowie's fellow FBI agents Chris Isaak and Kiefer Sutherland will make an appearance in the new Peaks is unknown, but unlikely.) Other actors passed away before the revival was announced, including Jack Nance (who played beloved lumberjack Pete Martell, the man who found Laura Palmer's body in the pilot), Don S. Davis (who played Major Briggs, which makes it less likely we'll learn more about his role in the Air Force's Project Blue Book extraterrestrial research), and Frank Silva, the set dresser who was cast as Killer BOB after Lynch accidentally caught him on-camera in a scene. (The odd capitalization would be another good question for Lynch to answer.) Since BOB can live on as an unseen force possessing others — and Silva's image can likely be recycled in reflections — it's a safe bet that iconic figure will recur one way and another, however macabre it may be. Meanwhile, BOB's one-armed partner Mike is a surer bet, as actor Al Strobel has confirmed his return.
What happened to Donna?
Donna Hayward, Laura Palmer's best friend, was a prominent figure in both Twin Peaks and Fire Walk With Me. Initially played memorably by Lara Flynn Boyle, she was replaced by Moira Kelly in Fire, reportedly due to scheduling conflicts, though discomfort with the film's R-rated content and fallout from her romantic breakup with co-star MacLachlan have also been cited as possible reasons. Neither Kelly nor Boyle are attached to the Showtime revival, but given that the actors who played Donna's parents and her not-so-secret boyfriend James are returning, it's been speculated that the role might go to its third actress to date. (Possibly Ashley Judd, who's one of the newcomers to the show.) That might also allow resolution to the question of who Donna's biological father really is, though that mystery is probably of less interest to casual viewers than why Boyle didn't come back last time around. Also, for what it's worth: It's a decent bet that Donna's father is Ben Horne.
Will we finally meet Diane?
From the very first moments of Agent Cooper's arrival in the town of Twin Peaks, viewers were introduced to "Diane," the woman all of his tape-recorded progress reports were addressed to. Diane never actually appeared on the show, leading some to speculate that she might not even exist, and could instead be some sort of hallucination or mental-illness manifestation from the eccentric FBI agent. Rumors abound that Laura Dern will be playing the role for Lynch's revival, though it's certainly possible that it could go to Jennifer Jason Leigh, who's also a newcomer to the series.
What is a "Blue Rose" case?
Although Lynch has never given a concrete definition for these cases, which are only mentioned in Fire Walk With Me, the term seems to refer to unusually challenging cases farmed out by FBI honcho Gordon Cole (played by Lynch himself) to agents with a knack for solving the unsolvable. Hard-core fans are hoping for an explanation of what the "Blue Rose" classification means — is there always something supernatural or extraterrestrial involved? — and it's not unreasonable to expect that a few more of those cases will be introduced, especially as Lynch is set to reprise his role as the famously hearing-challenged Cole.
Will we learn the fate of Cooper's former partner turned nemesis, Windom Earle?
While Lynch seems unlikely to revisit some of the more bizarre tangents from season two, Earle's destiny (after his soul was taken by BOB in the series finale) is a pretty major dangling plot point, as is whether or not TV's worst husband, Leo Johnson, was killed by Earle's tarantula trap in the series' penultimate episode.
Will oversize chess pieces be used in another revenge plot, as seen in the Earle story line?
It's best not to speculate, but … no. Just no.