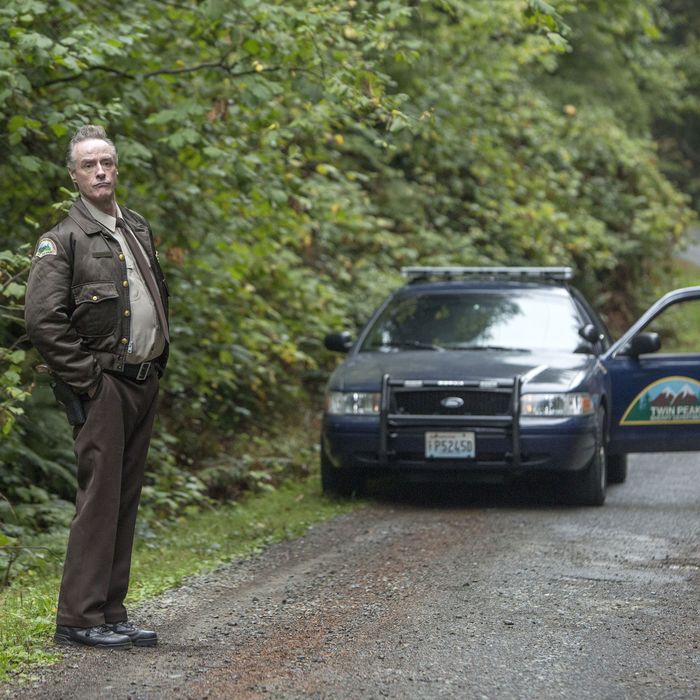 Looking for the new Twin Peaks?
Photo: Patrick Wymore/SHOWTIME
It is happening again. Twenty-five years after David Lynch and Mark Frost ended Twin Peaks' two-season run with a literal bang (of a mirror!), the seminal surrealist extravaganza will be back for 18 new episodes on Showtime this Sunday. We've certainly waited long enough to revel in a new season of Northwestern delights, but when it comes down to actually watching the revival on the small screen, how would one go about doing just that? It's pretty easy, but unfortunately, there aren't too many options. Allow Vulture to break down what to expect.
To watch Twin Peaks' original series in its entirety, you have three options: Netflix, Hulu with the Showtime add-on, and Showtime all have it available if you have the appropriate subscriptions for each. Additionally, Twin Peaks: Fire Walk With Me (which Lynch has stressed is very important to understanding the revival) is available to watch on Hulu with the Showtime add-on, Amazon Prime with a Showtime add-on or rental option, or Showtime. Both Hulu and Amazon Prime offer free trials, which can be taken advantage of to watch any of the above.
Unsurprisingly, Showtime isn't granting another streaming service access to the new batch of episodes. They will be available on its own streaming services, Showtime Anytime (free with a Showtime subscription) and Showtime on Demand (which can be purchased separately, without a cable subscription). A Showtime subscription can be purchased either in a package with an cable provider you already have (e.g.: Verizon, Spectrum, etc.), or as a stand-alone monthly option that can be added to devices or services you already own. (Showtime can readily stream from many services, such as Roku, Apple TV, Hulu, Amazon, and Sling.) However, if you don't want to pay money, Showtime offers a short free trial that can also be used — just know that you have to put your credit card information in, and if you don't want to be charged at the end of the trial, you have to cancel it prior to its final day. However, there's one additional option that's not strictly Showtime, per se. If you have Hulu, you can buy the additional Showtime add-on and watch the new series there.

Right after the Twin Peaks two-part premiere on Sunday, May 21, at 9 p.m. ET, the third and fourth episodes will be made available to stream on Showtime Anytime and Showtime on Demand. The latter two installments won't air on live TV until the following Sunday, May 28, at 9 p.m. ET, followed by single episodes thereafter.