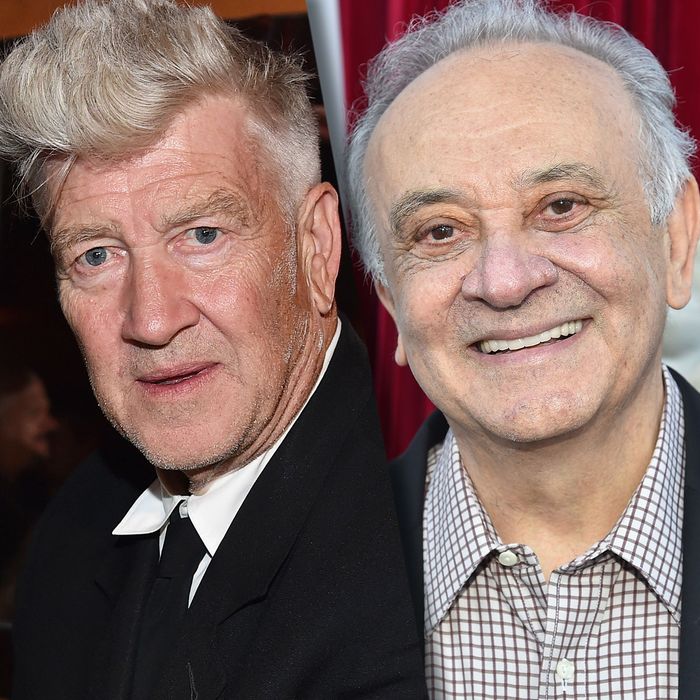 Director David Lynch and composer Angelo Badalamenti.
Photo: Getty Images
Since the mid-1980s, director and noted coffee enthusiast David Lynch and composer Angelo Badalamenti have together conjured some of the most visceral cinematic worlds, from Blue Velvet's sinister, sunshined streets to the seemingly serene Pacific Northwest logging town of Twin Peaks. The dynamic between Badalamenti's sound and Lynch's vision makes the world of Twin Peaks — where slinky jazz, soap-opera cliff-hangers and rumbling reverb co-mingle amid sawmills and waterfalls — feel real beyond the screen.
It's especially evident in how the musical linchpin of Twin Peaks, "Laura Palmer's Theme," was written — even before the series started shooting back in 1989. The story goes that one day Badalamenti was at his Fender Rhodes, with Lynch sitting to his right. "Okay, Angelo, we're in the dark woods now," Badalamenti recalled Lynch saying in the 2007 documentary Secrets From Another Place: Creating Twin Peaks. "And there's a soft wind blowing through some sycamore trees. And there's a moon out and there's some animal sounds in the background, and you can hear the hoot of an owl." From there, Badalamenti began to play a monotone, low-register C note that gradually rose into an A-flat, G, B-flat, and, finally, a high E that would become the lilting theme tune of Twin Peaks' deceased heroine, Laura Palmer. Badalamenti wrote the song in 20 minutes and in a single take, according to Clare Nina Norelli's Soundtrack of Twin Peaks book.
Yet the creative symbiosis between Badalamenti and Lynch goes even deeper beyond what we hear and see, says Dean Hurley, Lynch's music supervisor. Over the phone, Hurley tells Vulture that once, while studying Badalamenti's MIDI notation for "Laura Palmer's Theme," he noticed something astonishing. "The MIDI notation of 'Laura Palmer's Theme,' you look at it and you're like, 'What's this a picture of?'" Hurley says. "You look at it and it's actually … Twin Peaks. Fucking eerie." That's right: The image below illustrates how Badalamenti unconsciously conceived the song to open in a low-voiced motif, climb upward, peak, cascade downward back to the low motif, once again climb, then fall in the very same shape as the show's namesake.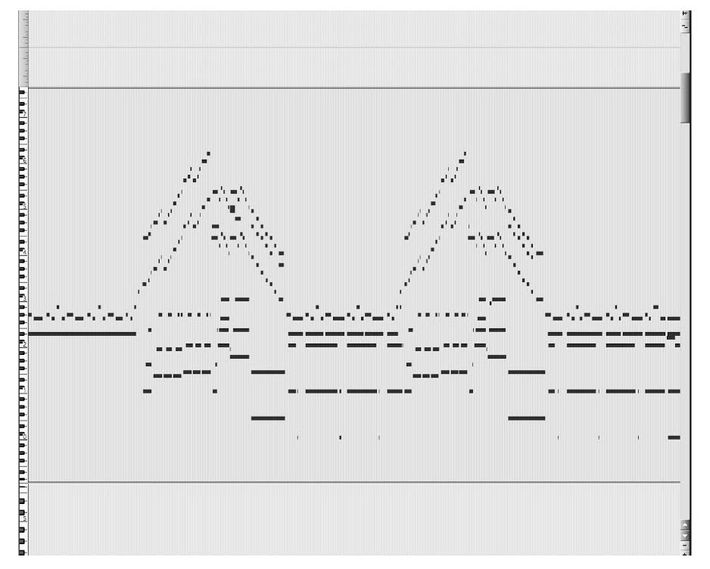 Lynch and Badalamenti were just as flabbergasted with the discovery, Hurley says. "I showed David the photo and I was like, 'What does this look like to you?' and he said, 'Yeah, twin peaks. What about it?'" Hurley says. "And I told him what it was, and he just started shouting, 'It's cosmic! It's cosmic! It's cosmic!' and then he was like, 'That would make a great T-shirt.' And then I sent it to Angelo, and Angelo was just like, 'Whoa … this is scary … but very cool!"
"When I originally saw this it was like, 'Man, this really speaks to what's going on here,'" Hurley says. "It's ethereal, it's spiritual, it is cosmic. The whole show and the whole concept is literally in the DNA of the music that was written before it was even filmed." It's also evocative of the near-telekinetic collaborative relationship between the two. "Angelo is amazing … the connection is just straight from his brain to his hands and he can play in real time, you know, whatever David's talking about," Hurley says, adding: "I can't think of a better poetic representation of their collaboration than that image."