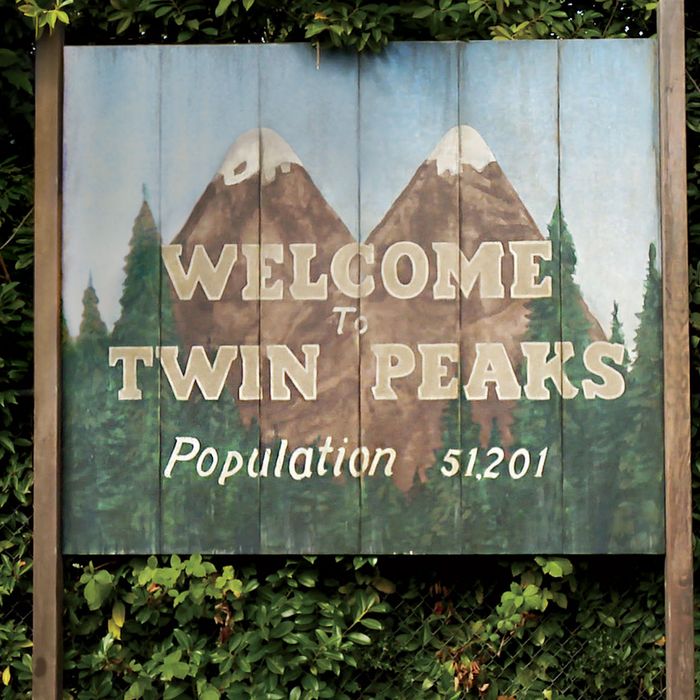 Welcome to Twin Peaks.
Photo: Courtesy of SHOWTIME
On Sunday, May 21, we'll finally return to the town of Twin Peaks, though the trip has been a long time coming. Twin Peaks first premiered in April 1990, but went off the air in June 1991 after the ratings plummeted in a divisive second season. A 1992 film, Fire Walk With Me, followed, and then a couple of decades of silence. David Lynch went on to other projects, and so too did co-creator Mark Frost. So, how did Showtime's revival happen all these years later? Let's break down the timeline.
1990–1991: Twin Peaks airs on ABC
The series was immensely popular in its eight-episode debut season, but fell in the ratings during its sophomore outing, when Laura Palmer's murderer was revealed. Midway through that second season, ABC put Twin Peaks on indefinite hiatus, in what seemed to be a sign that it would be cancelled. After a letter-writing campaign, ABC aired the last few episodes, but did not renew the series.
1992: Twin Peaks: Fire Walk With Me premieres
The prequel film, which is set just before Laura Palmer's murder, was met with critical derision, though some of that has since dissipated.
2012: Lynch and Frost start discussing a possible revival
According to Variety, this is when the collaborators started talking about the revival, inspired in large part by the 25-year time jump Agent Cooper experiences in the show's famous "Red Room." They reach out to Showtime, as the network's president of programming Gary S. Levine had known them when he was back at ABC. In an interview with Deadline, Frost mentioned that he and Lynch had had the idea in mind since the release of the Twin Peaks DVD set in 2007.
July 29, 2014: Twin Peaks: The Entire Mystery premieres on Blu-ray
The collection included both seasons of the show, Fire Walk With Me, and bonus material that featured a tantalizing segment in which Lynch interviews Twin Peaks actors in character decades after we left them. Though he interviewed some long-dead characters, the collection is otherwise free of references to a revival.
October 2014: Showtime announces the revival
The cable network announces that Twin Peaks will return, that Lynch and Frost will write and produce all nine episodes, and that Lynch will direct them all. The revival is supposed to premiere in 2016, marking the 25th anniversary of the show's last airing.
January 2015: Contract negotiations carry on
Lynch delivers a 400-page document outlining his plans for the series to the Showtime offices, according to Variety. As negotiations continue, the creators start to fight with the network over the budget.
March 6, 2015: Lynch takes his complaints public
He references "complications" in contract negotiations while talking to an Australian news outlet, and makes it sound like the Showtime revival may not happen after all.
April 5, 2015: Lynch drops out
The director tweets that "not enough money was offered to do the script the way I felt it needed to be done."
April 7, 2015: The cast rallies behind Lynch
Mädchen Amick shares a video tribute from the Twin Peaks cast members. Showtime insiders indicate that they might be open to raising the budget, but things seem to have stalled. In later interviews, Showtime CEO David Nevins said many of the discussions — which came down to expanding the length of the season — hit a rough patch while he was out of the country. After Lynch's tweet-announcement, the parties met for cookies and tried to hash things out once again.
May 16, 2015: Lynch returns
June 29, 2015: Frost says the revival will air in 2017
During a visit to the National Baseball Hall of Fame, the co-creator says that he and Lynch have finished the scripts and plan to start shooting in September.
September 2015: Filming begins
The revival is still aiming for a 2016 air date, according to Nevins, but signs indicate that it may not air until 2017.
October 8, 2015: The search for Harry S. Truman
Michael Ontkean, who played the small-town sheriff in the original series, had retired from acting and TVLine confirmed that the role would be recast. Showtime hasn't announced which actor will play Truman, though recent rumors suggest he might be played by Robert Forster.
November 3, 2015: Showtime confirms a 2017 release date
CBS chief Les Moonves confirms the news during a quarterly earnings call.
December 18, 2015: The first teaser is released
January–February 2016: Casting announcements
As shooting continues, the news breaks that Sherilyn Fenn, Miguel Ferrer, and Sheryl Lee will all return to the series, alongside newcomers Naomi Watts, Ashley Judd, and Laura Dern.
April 25, 2016: Showtime releases the full cast list
The 217-member lineup, which includes 37 returning actors, features everyone from Michael Cera, Eddie Vedder, and David Duchovny to Amanda Seyfried and Jennifer Jason Leigh.
June 1, 2016: Showtime confirms a release date in the second quarter of 2017
Nevins tells reporters the news on a conference call.
October 18, 2016: Mark Frost publishes The Secret History of Twin Peaks
The novel digs into the backstories of characters like Dr. Jacoby and the Log Lady, while tying up a few loose ends from the season two-finale, especially related to the bank explosion. Finally, some new material!
January 9, 2017: Showtime confirms the May 21 premiere
At a TV Critics Association panel, Lynch also drops a few cryptic hints about the series: "Who killed Laura Palmer was a question we did not really want to answer. That Laura Palmer mystery was the goose that laid these little golden eggs."
January–May 2017: Showtime releases a slew of new teasers
As with all things Twin Peaks, we seem to know everything and nothing at once.
April 13, 2017: Twin Peaks joins the Cannes lineup
The festival, which takes place from May 17 to May 28, will premiere two episodes from the series, likely just before they air on Showtime. Hopefully Lynch will get a warmer reception than the one for Fire Walk With Me.
May 21, 2017: Twin Peaks premieres on Showtime
It is happening again.