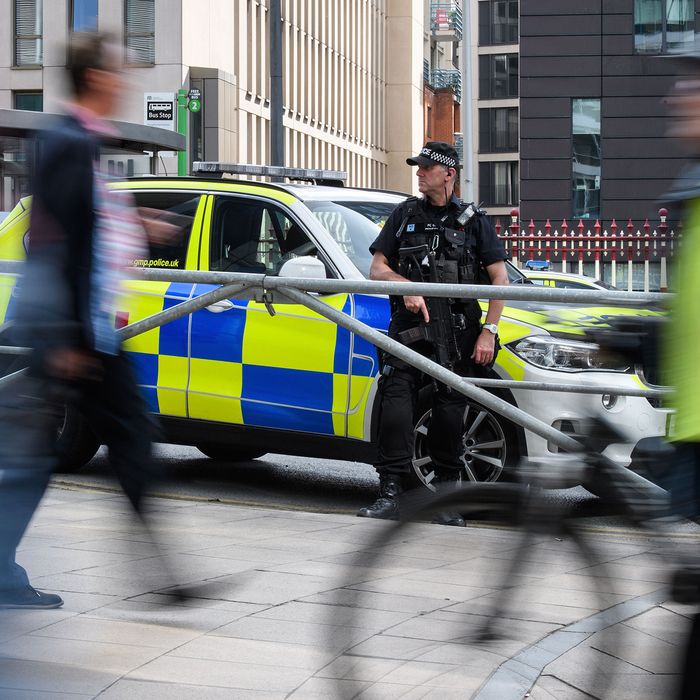 What's been canceled, postponed, or going ahead as scheduled.
Photo: Getty Images
As the United Kingdom continues to process the aftermath of the May 22 terrorist attack at an Ariana Grande concert at Manchester Arena that left 22 people dead and nearly 60 injured, it still remains to be seen how the region's entertainment industry will be immediately affected. On Tuesday, British prime minister Theresa May raised the U.K.'s threat level to "critical" for the first time in a decade, indicating that another attack could be "imminent." Meanwhile, the police investigation into the Manchester bombing is ongoing. Below are all the entertainment-related events in the U.K. that have been canceled, postponed, or going forward as scheduled in the wake of the attack.

Ariana Grande's Dangerous Woman Tour
As her tour was the target of the attack, Grande has since suspended all her performances indefinitely. Her two shows at London's O2 Arena this week have been canceled, along with the current European leg of her tour through June 5 in Switzerland. "Due to the tragic events in Manchester the Dangerous Woman tour with Ariana Grande has been suspended until we can further assess the situation and pay our proper respects to those lost," her management said in statement. "We ask at this time that we all continue to support the city of Manchester and all those families affected by this cowardice and senseless act of violence. Our way of life has once again been threatened but we will overcome this together." Despite the cancellation, the O2 has said it will remain open with "enhanced security checks."

Manchester Arena
The venue at the center of the bombing has canceled all its events this week, which includes three Take That concerts, due to the police investigation. It is unclear when the arena will reopen; KISS are still set to perform there on May 30. "There are no further cancellations at this point. We are working with the police and promoters about other upcoming concerts, in particular Kiss on 30th May," the venue's website says. Future cancellations could have a big impact: The venue is the largest indoor arena in the U.K. with a capacity of 21,000, one of the busiest arenas in the world, and is the second-highest-grossing venue in the U.K. (fourth in the world).

Live Nation
Live Nation, which has promoted Ariana Grande's Dangerous Woman tour as well as hundreds of other tours worldwide, is reportedly issuing refunds on certain U.K. concerts to anyone who no longer feels safe attending. Some of those tours include Iron Maiden, Katy Perry, KISS, Robbie Williams, Phil Collins, Depeche Mode, and James Arthur. Live Nation also told TMZ that it is considering opening up those refunds to other countries, though the company notes it hasn't received many requests for refunds yet.

Wonder Woman London Premiere
On Wednesday, Warner Bros. canceled its London premiere of Wonder Woman that had been planned for May 31. All press junket activities for the film in London have also been canceled. "Our thoughts are with those affected by the recent tragedy in the U.K.," the studio said in a statement.

The Mummy London Premiere
Universal has also canceled the London premiere of Tom Cruise's The Mummy, which had been scheduled for June 1. "All of us at Universal have been devastated by the terror attack in Manchester and continue to stand with the community and country as it recovers, " the studio said. "Out of respect to those affected by this tragedy we have decided not to move forward with the London premiere for 'The Mummy' scheduled to take place next week."
Netflix
The streaming giant has canceled the London premieres of two of its upcoming shows from Jenji Kohan, the fifth season of Orange Is the New Black and her new series GLOW. Both shows were set to be screened at an event at London's Curzon Mayfair Cinema on May 30. Netflix said it was a personal decision to cancel and not a request from local authorities. "Our thoughts are with all of those affected by this tragedy," Netflix said in a statement.

Take That's Tour
In addition to the Manchester natives' three canceled shows at the Manchester Arena, the band canceled a show in Liverpool scheduled for the day after the attack "out of respect to all of the people and their families that were affected."
Blondie Tour
The day after the attack, Blondie canceled their show in London scheduled for that same night, also out of respect for the victims.

Liam Gallagher
The Oasis member announced that his first-ever solo show at Manchester's O2 Ritz on May 30 will be a charity concert to raise money for the We Love Manchester Emergency Fund, set up in the wake of the bombing. All proceeds from his show will go to the victims of the attack. "I just knew I had to. We all have to do what we can. I want to try and help pick people up," he said in a statement. At a public memorial on May 25, a large crowd in Manchester broke into a singalong of Oasis's "Don't Look Back in Anger" during a moment of silence.

BBC Radio 1's Big Weekend Festival
Every year BBC Radio 1 hosts a music festival in a different part of the U.K. This year's, to be held in Hull, will go forth as planned this weekend. Katy Perry, Lorde, Lana Del Rey, HAIM, Shawn Mendes, Little Mix, Rita Ora, and the Chainsmokers are all set to perform. According the BBC, "extra armed officers and explosive sniffer dogs" will be brought in as an extra precaution. BBC Radio 1 is also working closely with police, who say "there was no intelligence to suggest the event would be targeted." Attendees will also have to go through at least two rounds of searches before being admitted into the festival.

Parklife Festival
The city of Manchester says it will still host the annual Parklife Festival on June 10–11, with hometown band The 1975 set to headline. "We are certain we will not be defeated by such cowardice," the festival said in a statement. Its social-media accounts went dark for 48 hours following the attack as a show of respect for the victims.

Dot to Dot Festival
This weekend's festivals in Nottingham, Bristol, and even Manchester are still on. "In solidarity with the resilience of the amazing people of Manchester and the power of live music, Dot to Dot Manchester will be going ahead," the festival says. "We can't forget what's happened, but we don't want to let fear and hate stop us." Searches will be increased and attendees have been asked not to bring a bag to the festival "unless absolutely unavoidable."
Wembley Arena (London), SSE Arena (Belfast) Barclaycard Arena (Birmingham), SSE Hydro (Glasgow), First Direct Arena (Leeds), Old Trafford Cricket Ground (Manchester)
All these venues are staying open and going forward with all scheduled events, most with heightened security. "We believe in the current circumstances it is important that we continue to operate as normal," the general manager of SSE Arena said in a statement.

Liverpool Sound City
This weekend's festival will go ahead as planned and the festival is working with local police on security and safety measures.

Slam Dunk Music Festival
This weekend's festivals in Birmingham, Hatfield, and Leeds will also all go forward. However, the festival organizers say there will be "intensive bag searches" at all locations at every gate and, like the Dot to Dot Festival, attendees are advised to bring a bag only if "absolutely necessary."
We Are FSTVL
This weekend's festival in Essex is still happening as planned and the festival will work with local authorities on reviewing its security plan.

Nicki Minaj
When asked by paparazzi if she would be hesitant to perform in Manchester again, Nicki Minaj said she plans on returning to the city on her next tour "because we don't operate in fear."

Aerosmith
Though Aerosmith say they initially considered canceling their European tour, the band have decided to proceed with the remaining dates as a show of solidarity to their fans. "I think that when we play now, it is one more strike against the other side, and it is almost like it has notched our show up another bit," Joe Perry told the Associated Press. "It is like a celebration of freedom and we're not going to stop." They next play Munich on May 26.

This post has been updated throughout.