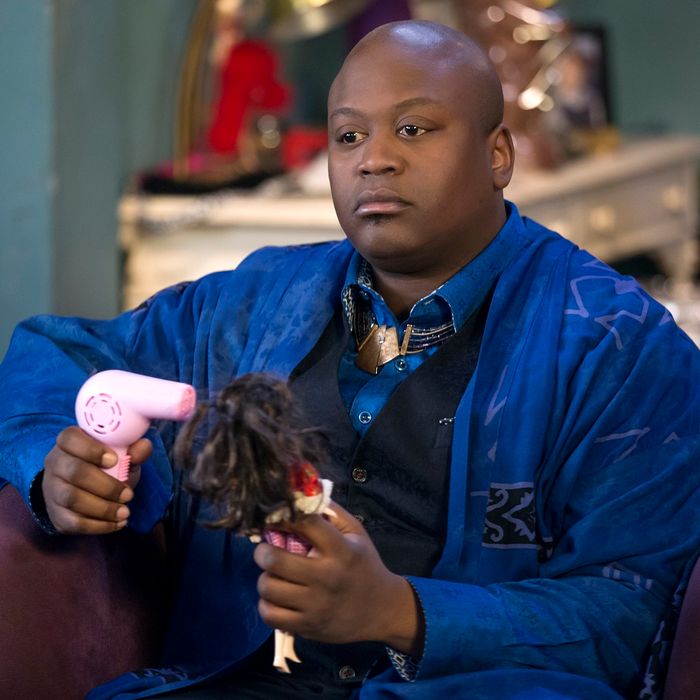 Tituss Burgess as Titus.
Photo: Eric Liebowitz / Netflix
A bottle episode might seem like a quaint throwback for a Netflix show, but I suppose the hefty price tag for Titusade had to be made up somewhere. In true Unbreakable Kimmy Schmidt style, "Kimmy Does a Puzzle!" is actually more of a bunker episode, with Kimmy transforming the apartment into a "funker" while Hurricane Tammi-with-an-i rages outside. Her guests for the evening are Lillian and Artie, who can't keep their hands off each other, and Titus, still heartsick with guilt over his experience at sea, where he "did the worst thing any human can do: I ate Dionne Warwick."
In actuality, Titus hallucinated that meal after days at sea in a lifeboat with only $10,000 in paychecks and a copy of Hot Beef magazine for sustenance. The "five-time Grammy winner and one-time Whitney Houston cousin," played in a brilliant bit of casting by Maya Rudolph, is still alive, well, and not-so-coincidentally hosting a telethon for New Jersey hurricane relief. ("We've raised over $200,000, five Cars for Kids, and a 10-foot party hoagie with extra gabagool.")
But Titus still has a lot to answer for when it comes to his behavior aboard the Ocean Skank. In flashbacks, we learn that after cozying up to Warwick, he got to be her understudy for a few days while she recovered from a hot tub–related gastrointestinal issue. But rather than return to the chorus, Titus lets his ego get the better of him, going full All About Eve by poisoning the baby corn Warwick eats to massage her vocal cords. The plan works, but when he's found out, he ends up getting tainted hot tub water in the ventilation shaft, sickening the whole ship. He has no choice but to escape on the lifeboat.
Between the cruise ship flashbacks and modern-day telethon interludes, the episode is cleverly engineered to create maximum screen time for Rudolph, who, for my money, is the season's best single-episode guest and should get Emmy consideration. Her wonderfully weird delivery makes nearly every line laugh-out-loud funny. (My favorite: "You know, some people say global warming is a hoax perpetrated by the Chinese, but I say, 'Show me the receipts!' Because why would Xi Jinping want to flood my basement and rust my Bowflex? [sings] To what end?")
Titus unburdening himself also poses a problem for Kimmy, who's starting to question how much of his behavior she can forgive after his brush with cannibalism. Desperate to create a version of the bunker that can erase all her negative memories, she tries to escape via board games, but a lot of the pieces are mysteriously missing. (Lillian: "This Game of Life has no baby pegs. And those are worth money at the end, because you sell their organs or something.") When she discovers Titus has used the last piece of her sealed puzzle to recreate Madonna's Philip Treacy hat on one of his dolls, it's the last straw.
Justifiably pissed at Titus, Kimmy storms out to move in with her friends at Columbia, which quickly merits some reflection from Titus and Lillian, who've grown to depend on her. "If Kimmy was here right now, she would tell you to beg Kimmy to come back," Lillian tells Titus, reminding him that before she moved in, "We screamed at each other two to three hours a day, and you never had a nice boyfriend, and you never had a good job, and people thought you were autistic 'cause you wore those New Years' glasses everywhere … That sweet dummy, if she loves us, there must be something good about us."
So Titus goes to win Kimmy back from her rowing pals, who are ready to adopt her in their dorm as an "emotional support animal." There, he correctly confesses that she's all he has when it comes to having a conscience, and he needs her to develop one of his own. "I'm a moral fetus, Kim. I absorb niceness from your umbilicals. Don't abort me! … This is taking a weird turn." As a means of atonement, he gives her something she's long sought and been denied every time: a high five. (And even some low-fives and chest bumps.) It's the little things that make a funker a funker, you know?
Other Notes
• I straight-up yelled "LUTZ!!" when John Lutz appeared as the cruise director. With Frank and Pete also having appeared this season, all we need to complete the set are Cerie and Toofer.
• Artie understands Kimmy's need to make new bunker memories: "I went back to Vietnam in the early '80s and had a lovely time. Now, when I wake up screaming, it's about how good the food was!"
• You may recall Titus's vocal warm-up while recording with Judah Friedlander: "Welcome to the singing laundromat / We are not responsible for theft." Turns out he stole it from Miss Dionne.
• In a fun reversal of a classic Kimmy joke, she guesses that "PDA" means "Porno with Dead Animals." ("What? I'm always wrong the other way!")
• I could watch Maya Rudolph's telethon bits forever. On getting her head stuck inside her dress: "You know, we were trying to do one of them quick changes that they do at a Katherine Perry concert. But you know what? Wriggling up in here, I'm having a sense memory of my own birth … just how eager I was to leave the vaginal canal and enter East Orange, New Jersey."