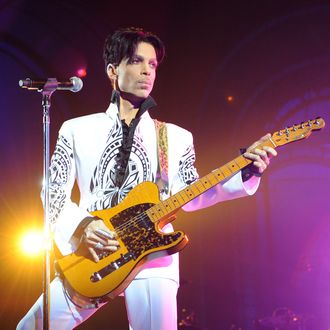 Prince.
Photo: Bertrand Guay/AFP/Getty Images
Universal Music Group's lucrative $31 million deal for the rights to Prince's music might already be dead in the water. According to Billboard and court documents filed by Prince's estate, Universal wants its deal with Prince's estate voided and the millions the company paid for Prince's music returned on the grounds that Prince's estate committed fraud. The deal, which was reached last November after intense competition from all the major labels, made Universal the exclusive publishing administrator of Prince's vast oeuvre, meaning it would get to work with Prince's estate on how best to release the findings from his Paisley Park vault as well as licensing the rest of his catalog. But now, Universal is claiming that Prince's estate lied about which parts of Prince's music history Universal could touch.
Under the terms of the deal, Prince's estate promised Universal some access to Prince's music under Warner Bros. — the crème de la crème of his work — by 2018. Universal has reportedly now learned that the rights to Prince's past work under Warner Bros. don't even expire until 2021. According to Billboard, parts of Universal's own deal with the estate would be close to expiring by then, giving the label more urgency to have the contract nullified. Representatives for Prince's estate had previously denied misrepresenting when and if Universal could have the rights to Prince's Warner Bros. collection. So, once again, the future of Prince's life's work is up in the air.