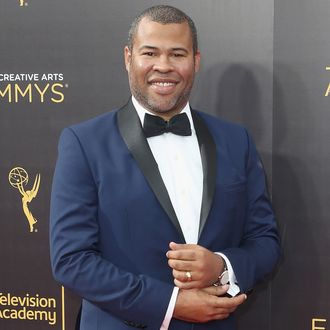 Jordan Peele.
Photo: Frederick M. Brown/Getty Images
The people of the world have spoken, and they love Get Out. Jordan Peele's directorial debut is on the doorstep of making $200 million, and that makes Universal Pictures, which produced the movie in conjunction with Blumhouse, happy enough to make a big commitment to the new filmmaker. In announcing their new first-look deal with Peele, the chairman of Universal Pictures called him "disruptive and provocative," and added that Universal takes pride in Peele's "incomparable filmmaking debut." The deal links up Peele's Monkeypaw Productions with Universal and Blumhouse, and according to Variety, it includes his next movie, another "social thriller" that Peele will once again write and direct, as well as "a wide range of movies for the studio" and a number of micro-budget projects made with Jason Blum.
Blum is Hollywood's small-budget specialist, and his "don't lose" philosophy of putting modest money into high-potential small features is exactly what's made Blumhouse one of the industry's hottest production houses. It's a strategy that gives filmmakers a chance to swim in the studio pool early in their careers without strapping massive budget obligations to their backs. Blum and Universal bet just under $5 million (which is even a high number for a non-sequel Blumhouse picture) and have made back their investment by orders of magnitude. Peele told Vulture when he was promoting Get Out that he already had a few more movies kicking around in his head, all of them in the same "social thriller" category. Jason Blum said in his own interview that Blumhouse was prepared to make all of them, and now the ink is drying on contracts that will ensure audiences get more of Peele's trope-smashing horror for "many years to come."
Talking about representation is vital, but the dollar is king in Hollywood. Peele's new deal with Universal and Blumhouse shows they understand how much money stands to be made from funding smart black creators who are willing to threaten genre conventions and deliver biting social commentary. Of course, Peele had been well-established as a successful comedian and creator before Get Out thanks to Key & Peele, but this should be good news for budding filmmakers who don't fill out the cis white male character profile that defines most people in director's chairs. Giving Peele a pipeline for his content for the foreseeable future is an investment in the right direction.