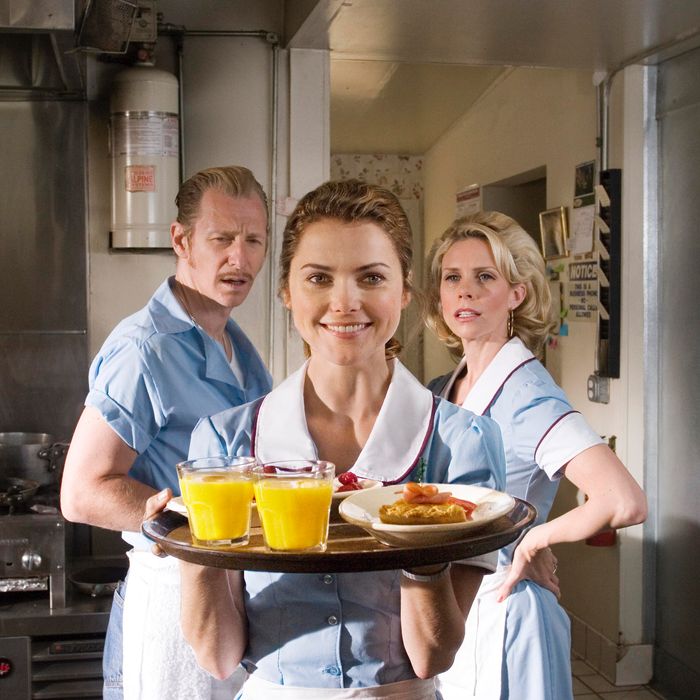 Keri Russell in Waitress.
Photo: Fox Searchlight/Everett Collection
In both the Keri Russell film Waitress and the Sara Bareilles–written musical it inspired, pie is a means of self-expression. As our heroine Jenna, an unhappily married woman with an abusive husband, falls into a relationship with a doctor, we see her emotional state through the kinds of pies she makes — all delicious, all with very silly names. As her affair gets more complicated, so do her absurdly monikered pies. In the recipe below, excerpted from the musical's new cook book Sugar, Butter, Flour: The Waitress Pie Book, you can learn how to make one of the show's most memorable dishes.
I Can't Have an Affair Because It's Wrong (and I Don't Want Earl to Kill Me) Marbled Chocolate-Cheesecake Pie
Makes one 9½-inch pie
Here's one of those things you know in your heart you shouldn't do. I mean, just look at this thing: velvety white-chocolate cheesecake with ripples of devilishly dark chocolate swirled right in. It tastes like sin, like the kind of satisfaction you maybe haven't felt in way, way too long. If this pie doesn't do you in, it might just save your life. At the very least you'll go out with a big old smile on your face.
Ingredients:
Chocolate Cookie Crumb Pie Shell
1 ¾ cups chocolate wafer cookie crumbs (about 36 cookies)
6 tablespoons (¾ stick) unsalted butter, melted
Filling
4 ounces bittersweet chocolate, chopped
¾ cup heavy cream
4 ounces white chocolate, chopped
1 ½ (8-ounce) packages cream cheese, at room temperature
1/3 cup sweetened condensed milk
1 ½ teaspoons pure vanilla extract
Directions:
1. For the pie shell: Preheat the oven to 350°F. Toss together the crumbs and butter in a medium bowl to moisten. Press the mixture onto the bottom and up the sides of a 9½-inch deep-dish pie pan. Refrigerate for at least 15 minutes to firm up the butter. Bake in the center of the oven for about 10 minutes, or until just set and fragrant. Place on a wire rack to cool to room temperature.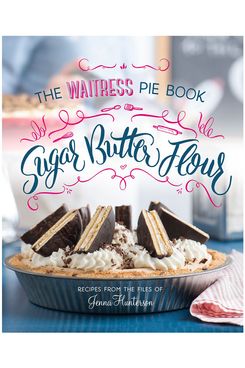 2. For the filling: Place the chopped chocolate in a medium heatproof bowl. Warm ¼ cup of the cream in a small saucepan over medium heat until small bubbles form around the edge. Pour over the chocolate and let stand 1 minute to soften, then whisk until smooth.
3. Melt the white chocolate in a large glass bowl in the microwave at 50 percent power in 20-second increments until the pieces begin to lose their shape, and then stir until smooth. Let stand to cool to room temperature.
4. Add the remaining ½ cup cream, the cream cheese, sweetened condensed milk, and vanilla. Beat with a mixer on high speed until smooth. Pour into the pie shell.
5. Pour the chocolate mixture over the cream cheese mixture and then swirl slowly with the end of a spoon to marble the filling. Refrigerate for 4 hours or until firm.
Reprinted from Sugar, Butter, Flour by arrangement with Pam Krauss Books/Avery, a member of Penguin Group (USA) LLC, A Penguin Random House Company. Copyright © 2017. Text by Daniel Gercke. Recipe by Sheri Castle. Photos © Evan Sung.