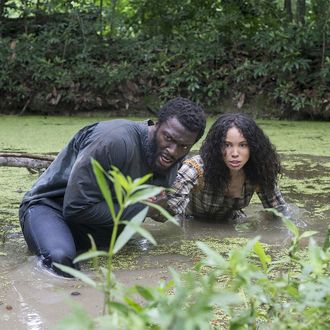 Underground.
Photo: WGN America
After a prolonged period of will they, won't they?, WGN America announced today that it will not renew Underground for a third season. This comes after the network canceled its longest-running series, Salem, in December, and its highest-rated one, Outsiders, in April. Peter Kern, the president and CEO of WGN's parent company, Tribune Media, issued a statement giving the show a rather sterile send-off: "As WGN America evolves and broadens the scope and scale of its portfolio of series, we recently announced that resources will be reallocated to a new strategy to increase our relevance within the rapidly changing television landscape." Adding, "Despite Underground being a terrific and important series, it no longer fits with our new direction and we have reached the difficult decision not to renew it for a third season."
In a different statement issued with the cancellation of Outsiders, Kern emphasized WGN's continued commitment to scripted programming, saying, "We intend to expand our original and unique content to continue growing our relevance and appeal to the widest possible audience," but with each of the burgeoning network's original series now sitting in the discard pile, it seems likely that the future of WGN will not include high-end scripted dramas. Tribune Media is in the process of being acquired by Sinclair Broadcast Group, and according to reporting by Variety, that company's CEO, Chris Ripley, is not keen on wasting money on prestige TV.
"The ratings WGN America (delivers) doesn't justify the type of spending they do on the original programming side," Ripley said. "The channel could be run much more profitably on a fraction of what they spend on programming." The network recently completed production on a pilot for the series Scalped, a Native American–centered drama based on the graphic novel of the same name, but that doesn't seem like it will jibe with the Sinclair strategy of "repositioning WGN America for profitable growth."
Update: The one shred of hope for Underground fans is that the series is produced by Sony Pictures Television, a studio with a stellar track record for "saving" shows and pilots — Community, Damages, Sneaky Pete — teetering on the verge of death. An industry insider familiar with the situation says Sony is once again mounting a full-court press, trying to see if any other cable networks or streaming services would be willing to fund production of a new season of Underground.
The bad news: That same source indicates the odds may be particularly long for a last-minute resurrection of Underground owing to a preexisting streaming deal Sony made with Hulu that gives the latter service exclusive subscription video-on-demand rights to the show. The agreement makes it more difficult for any new network that might adopt Underground to justify the cost of acquiring the show. As a historical drama, Underground is not cheap to produce, and with Sony already deficit-financing a large portion of the production cost of the series, there may not be a lot of room for the studio to make a financially attractive deal with another outlet. The show's only hope is that there's a cable net or streamer out there convinced the prestige associated with keeping Underground alive will justify the cost.
Reporting was contributed to this story by Josef Adalian.