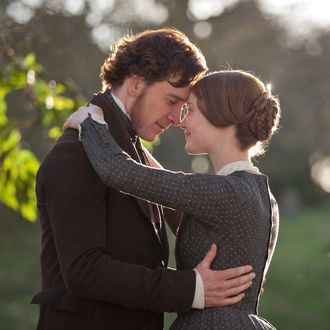 Each month, several films and TV shows leave Netflix's catalogue. We provide a list of departing titles and recommend a few standouts so you can watch them before they're gone forever (or are just available on a different site). For more comprehensive coverage of the best titles available on Netflix and elsewhere, check out Vulture's What to Stream Now hub, which is updated throughout the month.
For those who love secrets and old mansions: Jane Eyre
Before he made True Detective's first season, director Cary Fukunaga mined the darkness of Charlotte Brontë. His take on the definitive layered Gothic romance features Mia Wasikowska as the poor, shy employee who falls under the erotic aura of Michael Fassbender's older, wealthy landowner, even as she begins to suspect he is hiding sinister motives. The performances are excellent, as you would expect, and the lush production never outshines the deep moral questions at the story's center. This is a worthy supplement to your high-school English class. Leaving June 16.
For those who live off competition: The Hustler
Hollywood has never produced an actor with as much pure magnetism as Paul Newman in his prime. As the cocky, brash pool shark known as Fast Eddie, Newman storms into the pool hall with enough swagger for a cabinet meeting with Hamilton, which is what makes his fall from grace and subsequent shedding of moral scruples so fascinating to watch. In this wonderfully complex meditation on success, Eddie challenges the reigning pool champ Minnesota Fats (a cool and collected Jackie Gleason) to an epic marathon series that lasts over a day, like something out of the Bible, before collapsing under his own pride. Embarking on a romance with a damaged alcoholic (Piper Laurie), he sells his soul to a dangerous manager (George C. Scott), and will have to break a lot of shots to find inner peace. Leaving June 1.
For those who devoured I Am Not Your Negro: The Black Power Mixtape 1967–1975
For three decades, Swedish TV footage of the key figures at the height of the Black Power movement sat untouched in a vault. Those years have finally been edited together, and the result is revelatory: an outsider's perspective on America's deep racial divisions, featuring stunningly intimate footage of everyone from Stokely Carmichael (who interviews his mother) to Angela Davis (who makes mincemeat of her interviewer while in prison on bogus charges stemming from the Marin County courthouse incident). The film is brilliantly supplemented by music from Questlove and Corey Smith, and modern-day musings from the likes of Talib Kweli and Erykah Badu. Leaving June 1.
Noteworthy selections in bold.
TV
Leaving June 1
The Good Guys: Season 1
Las mágicas historias de Plim Plim: Season 1
Leaving June 6
Private Practice: Seasons 1–6
Leaving June 14
Bob the Builder: Season 1
Leaving June 29
CSI: NY: Seasons 1–8
Leaving June 30
Killer Couples: Season 1
Killer in the Family: Season 1
Murder Files: Season 1
MOVIES
Leaving June 1
L'Auberge Espagnole
The Black Power Mixtape 1967–1975
The Blair Witch Project
D2: The Mighty Ducks
Honey, I Shrunk the Kids
The Hustler
Heterosexual Jill
House of Wax
Kidnapped
Knuckleball!
The Little Rascals
The Prince & Me
Serendipity
The Teacher Who Defied Hitler
This Is Spinal Tap
The Three Musketeers
Two Step
The Way of the Dragon
We Are the Giant
Leaving June 8
Xenia
Leaving June 9
4:44: Last Day on Earth
Farewell Herr Schwarz
Free the Nipple
Remote Area Medical
Secrets: The Sphinx
Tough Being Loved by Jerks
Leaving June 14
Boys of Abu Ghraib
Leaving June 15
The Lazarus Project
Leaving June 16
Jane Eyre
Leaving June 19
Daddy's Home
Grand Piano
The Right Kind of Wrong
Leaving June 23
Jimmy Goes to Nollywood
Leaving June 24
Agent F.O.X.
Breath of the Gods
Dragon Guardians
Leaving June 30
Murder on the Social Network
My Online Bride