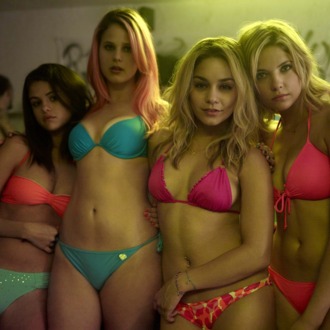 Each month, several films and TV shows leave Showtime's catalogue. We provide a list of departing titles so you can watch them before they're gone forever (or are just available on a different site). For more comprehensive coverage of the best titles available on Showtime and elsewhere, check out Vulture's What to Stream Now hub, which is updated throughout the month.
For a sobering look at police corruption: The Seven Five
There tend to be two distinct audiences for depictions of New York City at its bygone grittiest: natives with reluctant nostalgia for an era of graffiti-scrawled subways and scrappy squalor, and those intimidated and compelled from afar after watching Taxi Driver and The Warriors. Tiller Russell's The Seven Five won't disappoint either group. It's the true story of how a crooked cop named Michael Dowd marshaled several of his colleagues in East New York into a spiral of criminal conspiracy that would humble Training Day's monstrous Alonzo Harris. Not surprisingly, a feature-length dramatization of Seven Five is reportedly in the works, but its source material — a compilation of eyewitness testimony from Dowd and others, along with time-capsule video and photo footage — is nothing short of arresting.
For the ultimate James Franco experience: Spring Breakers
Director Harmony Korine envisioned Spring Breakers as a "sensory" experience, anchored less in story than the surreal experience of living vicariously through a group of college-aged revelers whose misadventures set off a chain of dizzying consequences. James Franco's riff on real-life rapper Riff Raff is one of his more memorable pieces of performance art, and the immediate shock of watching Vanessa Hudgens, Selena Gomez, and others shoot, rob, and debauch their way across Florida still resonates. Spring Breakers holds up for all the reasons Kormine hoped — it's trippy, moody, upsetting and hilarious — and proves once and for all that Franco can suck a mean dick.
For quintessential '80s angst: River's Edge
There was no better, more overlooked '80s teen movie misfit than Joshua Miller, whether he was pestering Robin Lively in Teen Witch or playing a sadistic child vampire in Kathryn Bigelow's Near Dark. Miller did his best, most uncomfortably mature work as Keanu Reeves's rebellious little brother Tim in River's Edge — and standing out amid a cast of adolescent ne'er-do-wells including Reeves and Crispin Glover is no small feat. The story centers on the fallout from a teen girl's murder, so it isn't surprising that director Tim Hunter would later helm a few episodes of Twin Peaks. Perhaps Hunter and River's Edge's knack for capturing the stuff of small-town nightmares helped embolden Twin Peaks co-creators David Lynch and Mark Frost. Or maybe that's just what Tim would call a "pothead fuckbrain."
Noteworthy selections in bold.
Leaving in June
Crime and Punishment in Suburbia
The D Train
Good Kill
Bobby
Spring Breakers
Casino Royale (2006)
Home of the Brave
National Lampoon's Van Wilder: The Rise of Taj
Rocky Balboa
The Seven Five
Ginger & Rosa
Song One
Blue Crush 2
The Forger
A Murder in the Park
Last Knights
The Alamo (2004)
Bad Ass 3: Bad Asses on the Bayou
Beyond The Law
Breaking Point (2010)
Chappie
Congo
The Crying Game
Danger Zone
Darkness Falls
The Day
The Descent
The Duff
Jesus' Son
Man About Town (2006)
Open Your Eyes
Poltergeist II: The Other Side
Poltergeist III
The Presidio
River's Edge
Rosemary's Baby
The Ruins
Scrooged
Spy Kids: Game Over
Tapeheads
Ticker
The Young Americans