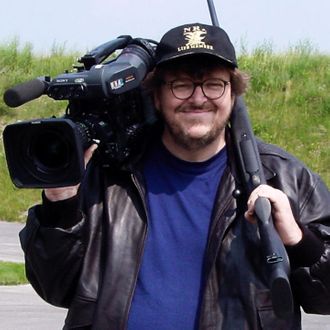 At the beginning of (and throughout) every month, Amazon Prime and Amazon Video add new movies and TV shows to their libraries. Some of these may also have previously been on Amazon, only to have been removed and then added back. For more comprehensive coverage of the best titles available on Amazon and elsewhere, check out Vulture's What to Stream Now hub, which is updated throughout the month.
For a recent history of America's gun crisis: Bowling for Columbine
As Michael Moore readies a documentary that aims to speed along the impeachment of President Trump, it's a fine time to circle back to 2002, when Bowling for Columbine took aim at rural America's obsession with firearms. Moore's tactics, from trolling gun-abiding citizens to baiting an aging and unsuspecting Charlton Heston, were and are a bit cringe-worthy, but the film's illustrated point was and is clear: Millions of U.S. residents equate access to guns with power and representation. Fifteen years and dozens of Columbine-scale tragedies later, that stance has not flagged. And long after Heston's death, a congressional majority still walks the NRA's talk — which means Bowling for Columbine is essential viewing.
For those who want to believe: Fire in the Sky
Director Robert Lieberman's adaptation of supposed alien abductee Travis Walton's book ultimately gets bogged down in blue-collar drama, but its dramatization of Walton's remembrances are among the eeriest extraterrestrial encounters committed to screen. D.B. Sweeney sells the kooky Walton as aptly spooked and sensitive, while James Garner, Robert Patrick, and Peter Berg are among the solid supporting cast of friends and skeptics. Really, though, come for Walton getting tractor-beamed out of the Arizona mountains and stay for some seriously unsettling, otherworldly set pieces and flashbacks to an unshakable series of invasive interspecies experiments.
When you're finished with all those guns and aliens: Mr. Mom
Swaths of this beloved 1983 marital comedy — in which Michael Keaton takes over stay-at-home-dad duty when he's sacked and wife Teri Garr returns to the ad industry — feel shockingly fresh. Of course, some of that is owing to the achingly slow progress of gender equity in the workforce. But credit is still due to a young screenwriter named John Hughes and to Keaton as a stand-in for a self-effacing window into the average American man's sense of entitlement. Plus, it's got plenty of dad antics, a slimy Martin Mull aiming to steal Garr away, and Christopher Lloyd, Ann Jillian, and Jeffrey Tambor as assorted friends, neighbors, and creeps.
Noteworthy selections in bold. Only complete TV seasons listed.
TELEVISION
Available on Prime
Daniel Tiger's Neighborhood: Tiger Family Trip (June 8)
An American Girl Story: Summer Camp, Friends for Life (June 9)
Le Mans: Racing Is Everything (June 9)
Suits, Season 6 (June 12)
Arthur: D.W. & the Beastly Birthday (June 29)
All or Nothing, Season 2 (June 30)
Danger & Eggs (June 30)
Turn: Washington's Spies, Season 4 (June 17)
Kendra on Top, Season 6 (June 23)
MOVIES
Available on Prime
2 Days in the Valley (1996) (June 1)
Aeon Flux (2005) (June 1)
All Over the Guy (2001) (June 1)
Apocalypse Now (1979) (June 1)
Apocalypse Now Redux (2001) (June 1)
Black Rain (1989) (June 1)
Blow Out (1981) (June 1)
Blue Velvet (1986) (June 1)
Bolero (1984) (June 1)
Bowling for Columbine (June 1)
Bruce Lee Superstar (June 1)
Bullwhip (1958) (June 1)
Burnt Offerings (1976) (June 1)
Chaos (2008) (June 1)
Chinese Hercules (1974) (June 1)
City of Gods (June 1)
Commando 2: The Black Money Trail (June 1)
De-Lovely (2004) (June 1)
Desperate Hours (1990) (June 1)
Dragon Eyes (2012) (June 1)
Drunken Arts and Crippled Fist (1979) (June 1)
Drunken Monkey, Floating Snake (1979) (June 1)
El Gringo (2012) (June 1)
The Fatal Flying Guillotine (1977) (June 1)
Fighting of Shaolin Monks (1976) (June 1)
Fire in the Sky (1993) (June 1)
Fled (1996) (June 1)
Gone Baby Gone (June 1)
Hammett (1982) (June 1)
The Hanoi Hilton (1987) (June 1)
Heartbreakers (2001) (June 1)
Ingenious (2009) (June 1)
The Invincible Armour (1977) (June 1)
Invincible Obsessed Fighter (1982) (June 1)
Lady of Burlesque (June 1)
The Lady Says No (June 1)
Lady Windermere's Fan (June 1)
Little Man Tate (1991) (June 1)
Madame Behave (June 1)
Magnolia (June 1)
The Mandarin Mystery (June 1)
Marihuana (June 1)
The Mechanic (1972) (June 1)
The Medicine Man (June 1)
The Memphis Belle (June 1)
Merry-Go-Round (June 1)
Million Dollar Kid (June 1)
Mind Over Murder (June 1)
Miss Polly (June 1)
Mission to Glory (June 1)
The Monster Walks (June 1)
The Most Dangerous Game (June 1)
Mr. Mom (1983) (June 1)
Mrs. Scooter (June 1)
Murder at Midnight (June 1)
Murder with Music (June 1)
Night at the Follies (June 1)
Nomads of the North (June 1)
The Old Corral (June 1)
One Exciting Night (June 1)
One from the Heart (June 1)
The Out-of-Towners (1999) (June 1)
Outlaws of Sonora (June 1)
Over the Top (1987) (June 1)
Palooka (June 1)
The Patchwork Girl of Oz (June 1)
Payoff in the Pacific (June 1)
The Philly Kid (2012) (June 1)
Pinto Rustlers (June 1)
The President's Mystery (June 1)
Prison Break (June 1)
Private Buckaroo (June 1)
The Queen (June 1)
The Racketeer (June 1)
Reaching for the Moon (June 1)
The Red Rope (June 1)
Regarding Henry (1991) (June 1)
Revolt of the Zombies (June 1)
Rex the Devil Horse (June 1)
Riders of Destiny (June 1)
Riders of the Whistling Pines (June 1)
The Road to Hollywood (June 1)
Roarin Lead (June 1)
Robin Hood of the Pecos (June 1)
Romola (June 1)
Rough Book (June 1)
The Royal Bed (June 1)
Saddle Mountain Roundup (June 1)
The Savage Wild (June 1)
The Scarlet Letter (June 1)
Shadows (June 1)
Shaolin Drunk Fighter (1983) (June 1)
Shaolin vs. Lama (1983) (June 1)
Shivers (1975) (June 1)
Silver Blaze (June 1)
Silver Horde (June 1)
Six Gun Trail (June 1)
Slightly Honorable (June 1)
St. Benny the Dip (June 1)
Stash House (2012) (June 1)
The Strange Woman (June 1)
Strategic Air Command (1955) (June 1)
Submarine Warfare (June 1)
Svengali (June 1)
Swing High, Swing Low (June 1)
Target for Tonight (June 1)
Tarzan and the Green Goddess (June 1)
Tarzan of the Apes (June 1)
The Tank (June 1)
The Thief of Bagdad (June 1)
Those We Love (June 1)
Tomake Chai (June 1)
Tormented (June 1)
Tracker (2011) (June 1)
Transit (2012) (June 1)
True Heart Susie (June 1)
Tumbleweeds (June 1)
Wanderers of the West (June 1)
War Comes to America (June 1)
Way of the West (June 1)
West of Nevada (June 1)
White Orchid (June 1)
Winterset (June 1)
Within Our Gates (June 1)
The Woman in Green (June 1)
The Woman of the Town (June 1)
World Trade Center (2006) (June 1)
Yellowstone (June 1)
Zis Boom Bah (June 1)
Dead Ahead (June 2)
Noor (June 2)
So Far (June 2)
The Closing of Winterland (June 2)
The Grateful Dead Movie (June 2)
Long Strange Trip (June 2)
Truckin' Up to Buffalo (June 2)
Urge (2016) (June 4)
20th Century Women (June 5)
Arbitrage (2012) (June 5)
Ocean's Eleven (2001) (June 5)
Ocean's Twelve (June 5)
Aftershock (June 7)
Brand New Testament (June 7)
Art of the Steal (June 8)
I Am Not Your Negro (June 8)
Girl Most Likely (2013) (June 9)
Transpecos (2016) (June 11)
Star Trek Beyond (2016) (June 17)
Paterson (June 22)
David Lynch: The Art Life (June 29)

Available for Rental or Purchase
Beauty and the Beast (June 6)
CHIPS (June 6)
The LEGO Batman Movie (June 13)
John Wick: Chapter 2 (June 13)