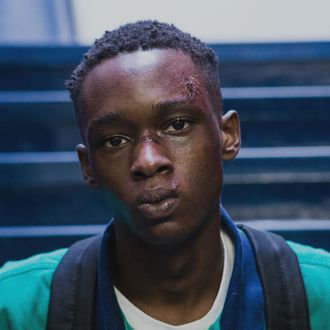 At the beginning of (and throughout) every month, Amazon Prime and Amazon Video add new movies and TV shows to their libraries. Some of these may also have previously been on Amazon, only to have been removed and then added back. For more comprehensive coverage of the best titles available on Amazon and elsewhere, check out Vulture's What to Stream Now hub, which is updated throughout the month.
If you missed Oscar season: Moonlight
After that whole Oscar debacle, everything ended up in the right place. Barry Jenkins has crafted an American drama for the ages, a triptych saga of a boy in Miami public housing who slouches toward manhood without ever truly revealing himself , shot in a dreamlike color scheme and staged like a symphony. The film's best-known line ("Who is you, Chiron?") is a thesis for our identity-crisis times, reflected through the silent gaze of a gay man terrified to be who he is. Of the film's many brilliant performance moments, the fact that none of the three actors playing Chiron can rarely ever look the other characters in the eye may be the most heartbreaking. Available May 21.
If you've got a box of Kleenex handy: Manchester by the Sea
There are two possible responses to Kenneth Lonergan's transcendent family drama about a Massachusetts loner who must raise his nephew after his brother dies: "I loved it even though it made me cry," or "I hated it because it made me cry." But tears are not something to flee when they come by so honestly. Don't be afraid of losing your emotions to such a bighearted depiction of grace within grief, particularly one so precisely calibrated and affectionately scripted. An Oscar winner for screenplay and acting, Manchester mixes conversational dialogue with brutally effective flashbacks. In other words, it works for those tears. Available May 5.
If you love Transparent: I Love Dick
Jill Soloway is to television in the 2010s what David Simon was in the aughts: a singular force redrawing the artistic boundaries of the medium to fit our cultural times. Amazon has smartly decided that all those Emmy wins for Transparent were worth rolling the dice on its creator again, even for a project as flagrantly noncommercial as I Love Dick. Based on the epistolary novel by Chris Kraus, the comedy follows a filmmaker (Kathryn Hahn) who takes a residency in Marfa, Texas — the land of macho neo-Westerns No Country for Old Men and There Will Be Blood — and falls under the psychosexual spell of the titular artist-cowboy played by Kevin Bacon. The pilot went online last year, and early word is that, like Transparent, I Love Dick promises to use the language of serialized storytelling to push against the contours of gender theory. Available May 12.
Noteworthy selections in bold. Only complete TV seasons listed.
TELEVISION
Available on Prime
WellieWishers: Season 1 (May 1)
Vikings: Season 4B (May 2)
I Love Dick: Season 1 (May 12)
Boardwalk Empire: Season 5 (May 21)
Dino Dana: Season 1 (May 26)
Poldark: Season 2 (May 27)
MOVIES
Available on Prime
A Christmas Story (May 1)
A View to a Kill (May 1)
Amhi Jaato Amucha Gava (May 1)
Anolkhi (May 1)
Arrowhead (1952) (May 1)
Asha Jaoar Majhe (Labor of Love) (May 1)
Bad Influence (1990) (May 1)
The Bad News Bears (1976) (May 1)
Bait Shop (2008) (May 1)
Bala Gau Kashi Angaai (May 1)
Cabin Fever (2003) (May 1)
Cabin Fever 2 (May 1)
Catacombs (2007) (May 1)
Cecil B. Demented (May 1)
Chuck & Buck (May 1)
Daagdi Chaawl (May 1)
Dark Blue (2003) (May 1)
Devta (May 1)
The Doors (May 1)
Dr. No (May 1)
Fatal Instinct (May 1)
For Your Eyes Only (May 1)
From Russia With Love (May 1)
Goldeneye (May 1)
Gone With the Wind (May 1)
Jyotibacha Nawas (May 1)
Khichdi (May 1)
Law of the Lawless (1964) (May 1)
License to Kill (1989) (May 1)
Life Is Beautiful (May 1)
Maximum Security (1990) (May 1)
Monkey Shines: An Experiment in Fear (1988) (May 1)
Moonraker (May 1)
Mumbai Pune Mumbai 2 (May 1)
The Naked Gun (May 1)
Naked Gun 2 &1/2: The Smell of Fear (May 1)
Naked Gun 33 1/3: The Final Insult (May 1)
Nick of Time (May 1)
No Way Out (May 1)
On Her Majesty's Secret Service (May 1)
Planes, Trains and Automobiles (May 1)
Pride (May 1)
Race for Your Life, Charlie Brown (May 1)
Repo! The Genetic Opera (May 1)
School Ties (May 1)
Siddharth (May 1)
Small Soldiers (May 1)
Star Kid (May 1)
Sucker Punch (May 1)
Teenkahon (May 1)
Thunderball (May 1)
Tomorrow Never Dies (May 1)
Winter's Bone (May 1)
The Wizard of Oz (May 1)
Denial (May 3)
A Fistful of Dollars (May 4)
Youth in Oregon (May 4)
Manchester by the Sea (May 5)
The Ardennes (May 6)
Jackie Brown (May 7)
A Hologram for the King (May 12)
Me Before You (May 19)
Teenage Mutant Ninja Turtles: Out of the Shadows (May 20)
Moonlight (May 21)
Paradise Lost 2: Revelations (May 21)
Seasons (May 24)
Tomake Chai (May 24)
The Duel (May 28)
Available for Rental/Purchase
Resident Evil: The Final Chapter (May 2)
Rings (May 2)
The Space Between Us (May 2)
XXX: Return of Xander Cage (May 2)
Collide (May 9)
Fifty Shades Darker (May 9)
The Great Wall (May 9)
T2: Trainspotting (May 23)