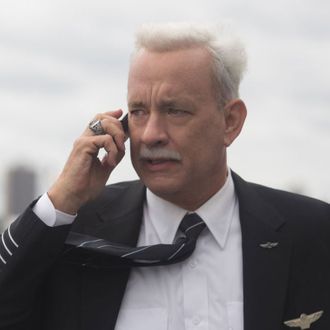 Photo: Keith Bernstein/© 2015 Warner Bros. Entertainment Inc. All Rights Reserved.
At the beginning of (and during) each month, HBO adds new movies and TV shows to HBO Go and HBO Now. Below, you'll find our May 2017 recommendations. For more comprehensive coverage of the best titles available on HBO and elsewhere, check out Vulture's What to Stream Now hub, which is updated throughout the month.
For the dads and dads at heart: Sully
Clint Eastwood has never been one for nuance, but even by his standards there's not much to this one. Yes, Sully lands the plane — but what a landing. Sully stages the Miracle on the Hudson in a way that really emphasizes the miraculous, with that U.S. Airways flight descending into the river as the whole city looks on at the grand public spectacle. And Tom Hanks has so perfected his everyman charm that he can make the Eastwoodian cornball salutes to "heroism" seem heartfelt. You may wish the film took better advantage of its intriguing structure, in which the feat of derring-do itself is intercut with a National Transportation Safety Board investigation on whether Sully really did take the safest course of action. But your dad won't mind. Available May 6.
If you can't wait for Cannes: The Beguiled
It's Clint Eastwood Month on HBO, so start your digging with The Beguiled, a 1971 film that's about to come back in vogue. In this slow burner of a thriller from director Don Siegel (Dirty Harry), an injured Union soldier (Eastwood) seeks refuge in an all-girls Confederate boarding school during the height of the Civil War. The clench-jawed hero played against type by allowing the audience to see his character's vulnerability at the hands of a bunch of teenaged girls, an inversion of the dynamic that positioned Eastwood as the heroic rescuer of helpless women in the rest of his filmography. Sofia Coppola will premiere her buzzy remake of the 1971 original at Cannes later this month. Available May 1.
If you want a dark, disturbing documentary: Mommy Dead and Dearest
It's a tale too sordid to be made up, although no shortage of things were made up in this story. For 25 years, Missouri mother Dee Dee Blanchard kept her perfectly healthy daughter, Gypsy Rose, sedated under an avalanche of fictive ailments, everything from leukemia to muscular dystrophy to mental disability, using her to eke sympathy from charities and convincing doctors to prescribe gobs of unnecessary medication. Then Gypsy Rose fled town with her secret online boyfriend, who murdered her mother, and the two bragged about the crime on Facebook. In Erin Lee Carr's documentary, which premiered at SXSW earlier this year, the lurid nature of this true-crime story reveals deeper themes about psychological disorders, life in poverty, and a communal blindness to the truth. Available May 15.
Noteworthy selections in bold.
Available May 1
15 Minutes
Aliens in the Attic
Appaloosa
Babylon A.D.
The Beguiled
The Borne Ultimatum
Caught in the Crossfire
Dying Young
The Eiger Sanction
Frank Miller's Sin City
Good Will Hunting
High Plains Drifter
Inventing the Abbotts
Joe Kidd
Macarthur
The Man with Two Brains
Monday
Nothing But Trouble
Notorious
On Deadly Ground
Quick Change
Scream 2
Scream 3
The Sweetest Thing
Tender Mercies
Toenail
Warning: This Drug May Kill You
Wonderland
Available May 3
Legend
Available May 6
Chris Gethard: Career Suicide
Sully
Available May 12
HBOAccess Short Films: F**ked Up, Lady Bouncer, Manic
Available May 13
Jason Bourne
Available May 15
Mommy Dead and Dearest
Available May 19
Juanes Concert Film
Available May 20
The Wizard of Lies
Available May 27
Storks