Get New on Netflix delivered every month.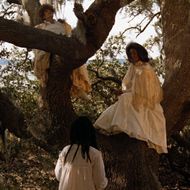 At the beginning of (and during) each month, Netflix adds new movies and TV shows to its library. Below, you'll find our June 2017 recommendations along with a full list of new titles. For more comprehensive coverage of the best movies and TV shows available on Netflix and elsewhere, check out Vulture's What to Stream Now hub, which is updated throughout the month.
For the Beyhive: Daughters of the Dust
The thing about lost masterpieces is they don't stay lost forever. Although the world may have set aside Julie Dash's lyrical 1991 drama about several generations of Gullah women in South Carolina, it never really disappeared. The historical-fiction film about early-century migration was also the first feature-length movie directed by an African-American woman to be released in the U.S. Dash's vision finally saw a resurgence when Beyoncé's Lemonade made reference to it. Newly restored last year, the film's singular sensibilities are waiting for you to rediscover them. Available June 10.
For fans of Snowpiercer and The Host: Okja
They were the boos heard 'round the world: When Bong Joon-ho's latest social commentary/genre hybrid premiered at Cannes, the Netflix logo in the opening was met with a chorus of jeers. But don't let the impending death of cinema keep you from enjoying this tale of a humongous, genetically engineered pig, the little girl who loves him, and the war fought over him between a giant, Monsanto-like food corporation (headed by Tilda Swinton) and animal-rights activists (led by Paul Dano). Picture a bloodier E.T. crossed with Food, Inc. and you're halfway there. Available June 28.
For those in need of a good laugh: Young Frankenstein
In 1974, the mad scientist duo of Mel Brooks and Gene Wilder met in a lab underneath an ancient castle and concocted the formula to one of the funniest films ever made. Their loving homage to Universal monster movies, in which Wilder's cautious "Dr. Frankhen-shtein" can't help but be pulled back into the family madness, imbues every silly gag with a kind of wistfulness that guarantees its immortality. Peter Boyle's monster just wants to be kind and helpful, but can't for the life of him pronounce "Puttin' on the Ritz." Even if you know what'll happen every time someone says Frau Blücher's name, you can't not laugh at the punch line. Have a roll in ze hay yourself, you'll see. Available June 1.
For those who still miss In Treatment: Gypsy
If you can't get enough of those blurry psychologist-patient relationships, Netflix's new original drama may be for you. It stars Naomi Watts as a therapist who pries open her patients' lives and strolls into them, perhaps with some steamy affairs thrown in. Sam Taylor-Johnson is involved behind the camera, and the always magnetic Watts is best when she uses her aura of innocence to mess with our heads (see also: Mulholland Drive, and her current role in the new Twin Peaks). Just be glad this isn't some ill-advised TV adaptation of the Broadway musical of the same name. Available June 30.
Noteworthy selections in bold.
TV
Available June 1
Arrow: Season 5
Intersection: Season 2
Mutant Busters: Season 2
Off Camera With Sam Jones: Series 3
The 100: Season 4
West Coast Customs: Season 3
Available June 2
Comedy Bang! Bang!: Season 5, Part 2
Flaked: Season 2
The Homecoming: Collection
Inspector Gadget: Season 3
Available June 4
Turn: Washington's Spies: Season 3
Available June 9
My Only Love Song: Season 1
Orange Is the New Black: Season 5
Available June 14
Quantico: Season 2
Available June 15
Agents of S.H.I.E.L.D.: Season 4
Available June 16
Aquarius: Season 2
El Chapo: Season 1
The Ranch: Part 3
World of Winx: Season 2
Available June 17
Grey's Anatomy: Season 13
Scandal: Season 6
Available June 18
Shooter: Season 1
Available June 21
Baby Daddy: Season 6
Young & Hungry: Season 5
Available June 23
Free Rein: Season 1
GLOW: Season 1
Available June 30
Chef & My Fridge: Collection
Gypsy: Season 1
Little Witch Academia: Season 1
Movies
Available June 1
1 Night
13 Going on 30
Amor.com
The Ant Bully
The Bucket List
Burlesque (2017)
Catfight
Catwoman (2004)
Chingo Bling: They Can't Deport Us All
Days of Grace
Devil's Bride
Full Metal Jacket
How the Grinch Stole Christmas (2000)
Kardashian: The Man Who Saved O.J. Simpson
Little Boxes
My Left Foot
Playing It Cool
The Queen
Rounders
The Sixth Sense
Spring (Primavera) (2016)
Vice
Yarn
Young Frankenstein
Zodiac
Available June 2
Lucid Dream
Saving Banksy
Los Últimos de Filipinas
Available June 3
Acapulco La vida va
Blue Gold: American Jeans
Headshot
Three
Tunnel
War on Everyone
Available June 5
Suite Française
Available June 7
Disturbing the Peace
Trolls
Available June 9
Shimmer Lake
Available June 10
Black Snow (Nieve Negra)
Daughters of the Dust
Havenhurst
Sword Master
Available June 13
Oh, Hello on Broadway
Available June 15
Marco Luque: Tamo Junto
Mr. Gaga: A True Story of Love and Dance
Available June 16
Counterpunch
Available June 17
The Stanford Prison Experiment
Available June 20
Amar, Akbar & Tony
Moana
Rory Scovel Tries Stand-Up for the First Time
Available June 23
American Anarchist
Nobody Speak: Trials of the Free Press
You Get Me
Available June 26
No Escape (2015)
Available June 27
Chris D'Elia: Man on Fire
Available June 28
Okja
Available June 30
It's Only the End of the World
The Weekend (2016)
Get New on Netflix delivered every month.