Get New on Netflix delivered every month.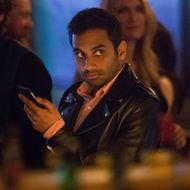 At the beginning of (and during) each month, Netflix adds new movies and TV shows to its library. Below, you'll find our May 2017 recommendations. For more comprehensive coverage of the best titles available on Netflix and elsewhere, check out Vulture's What to Stream Now hub, which is updated throughout the month.
For fans of socially conscious sitcoms: Master of None
After a long hiatus, Aziz Ansari is bringing back his heady, semiautobiographical series for another mix of buddy humor and monologues about racial politics. Ansari's willingness to take his ideas just about anywhere will surely continue; this season was at least partially shot in Italy, where his character Dev was heading at the end of season one, tossing aside his acting aspirations to pursue a dream of becoming a chef. But the true victory will be if Ansari lets his dad steal a few more scenes this go-around. Available May 12.
For comedy nerds with a sensitive side: Don't Think Twice
Bob Dylan might want a word with Mike Birbiglia, but the writer/director/star of this 2016 dramedy about a struggling improv troupe has nothing to second-guess when it comes to his second feature. Birbiglia pulls off a delicate balancing act, blending the contours of live improv performance with the consequences of a standout member of the group making it big on the national stage. The cast (including Keegan-Michael Key, Gillian Jacobs, and Chris Gethard) is aces, the "unscripted" live shows are genuinely funny, and there is insightful commentary about the way the medium of show business encourages talented people to think only of themselves. Available May 1.
For those who watch In the Loop on repeat: War Machine
How serious is Netflix about securing quality original films without just sneaking them into its catalogue? We'll find out with this darkly comic, $60 million war picture heavily modeled on the trials of the infamous Army general Stanley McChrystal. The film stars none other than Brad Pitt, and is based on the Rolling Stone article and book by Michael Hastings that got McChrystal fired from his role overseeing operations in Afghanistan under President Obama. It could be one of the boldest, strangest artistic statements yet to come out about our military presence in Afghanistan … if you know it's there. Available May 26.
Noteworthy selections in bold.
TELEVISION
Available May 1
American Experience: The Big Burn
American Experience: The Boys of '36
Under Arrest: Season 5
Available May 5
Kazoops!: Season 3
The Last Kingdom: Season 2
Sense8: Season 2
Spirit: Riding Free: Season 1
Available May 9
Queen of the South: Season 1
Available May 11
The Fosters: Season 4
Switched at Birth: Season 5
Available May 12
All Hail King Julien: Exiled: Season 1
Anne with an E: Season 1
Master of None: Season 2
Available May 15
Sherlock: Series 4
Available May 18
Riverdale: Season 1
Royal Pains: Season 8
Available May 19
The Keepers: Season 1
Unbreakable Kimmy Schmidt: Season 3
Available May 26
Bloodline: Season 3
Available May 28
Bunk'd: Season 2
Available May 30
F Is for Family: Season 2
House of Cards: Season 5
MOVIES
Available May 1
Anvil! The Story of Anvil
Blood on the Mountain
Chaahat
Chocolat
Decanted
Don't Think Twice
Drifter
Forrest Gump
Happy Feet
In the Shadow of Iris
Love
Losing Sight of Shore
Malibu's Most Wanted
Nerdland
Raja Hindustani
Richard Pryor: Icon
Available May 2
Bodyguards: Secret Lives From the Watchtower
Hija de la Laguna
Maria Bamford: Old Baby
Two Lovers and a Bear
Available May 5
Handsome: A Netflix Mystery Movie
The Mars Generation
Simplemente Manu NNa
Available May 6
Cold War 2
When the Bough Breaks
Available May 7
LoveTrue
Stake Land II
The Host
Available May 8
Beyond the Gates
Hunter Gatherer
Available May 9
Norm Macdonald: Hitler's Dog, Gossip & Trickery
All We Had
Available May 10
The Adventure Club
El Apóstata
Available May 12
Get Me Roger Stone
Mindhorn
Sahara
Available May 15
Cave
Command and Control
The Intent
Lovesong
Available May 16
The Break-Up
The Place Beyond the Pines
Tracy Morgan: Staying Alive
Available May 19
BLAME!
Laerte-se
Available May 21
What's With Wheat
Available May 22
Inglourious Basterds
They Call Us Monsters
Available May 23
Dig Two Graves
Hasan Minhaj: Homecoming King
Available May 24
Southpaw
Available May 26
Believe
I Am Jane Doe
Joshua: Teenager vs. Superpower
War Machine
Available May 29
Forever Pure
A New High
Available May 30
Doctor Strange
Masterminds
Sarah Silverman: A Speck of Dust
Get New on Netflix delivered every month.