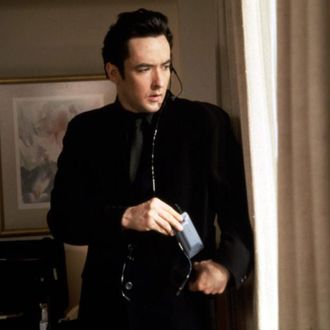 Each month, Showtime adds new movies to its library. Below, you'll find our June 2017 recommendations along with a full list of new titles. For comprehensive coverage of the best TV shows and movies available on Showtime and elsewhere, check out Vulture's What to Stream Now hub, which is updated throughout the month.
If graduation season makes you sentimental: Grosse Pointe Blank
What could be more '80s nostalgic than John Cusack heading back to his Michigan high-school reunion to hook up with his alt-goddess flame Minnie Driver, as new wave icons including the Cure and Echo and the Bunnymen boomerang around the picture? Even the plot is deliriously convoluted enough to serve as tribute to the decade preceding the movie, but the music, the pairing of Cusack and Driver, and a winking approach to its heady mix of daft romantic comedy and hyper violence make it tick. Cusack hasn't really had as winning a part since, and that goes twofold for Dan Aykroyd's porcupine 'do.
If you're confused by the new Twin Peaks: Fire Walk With Me
More than the landmark ABC series that started it all, David Lynch's prequel film appears to be a truer precursor to his and Mark Frost's latest installments in the franchise — at least in mood, and at least thus far. Fire Walk With Me is straight horror, building to the iconic moment in which a murdered Laura Palmer gets wrapped in plastic and sent drifting down the lake. Like Showtime's Twin Peaks revival, Fire Walk With Me is two parts atmosphere, one part plot, and the former may even redeem its forerunner in the view of many unsettled by its tonal shift. It's a hard watch, with or without any attachment to Laura, but highly encouraged as a bookend to the artful nightmare currently playing out on Sunday nights.
Noteworthy selections in bold. Only complete TV season releases listed.
Available June 1
The Free World
Bad Ass
Bad Ass 2
Beaches
The Best Offer
The Boondock Saints
Fried Green Tomatoes
Grosse Pointe Blank
It Runs in the Family
Open Water 2: Adrift
The Program
Rosemary's Baby
Three Men and a Baby
Twin Peaks: Fire Walk With Me
Zombie Honeymoon
More Than T
Available June 2
Free State of Jones
Andrew Santino: Home Field Advantage
Available June 9
Becoming Cary Grant