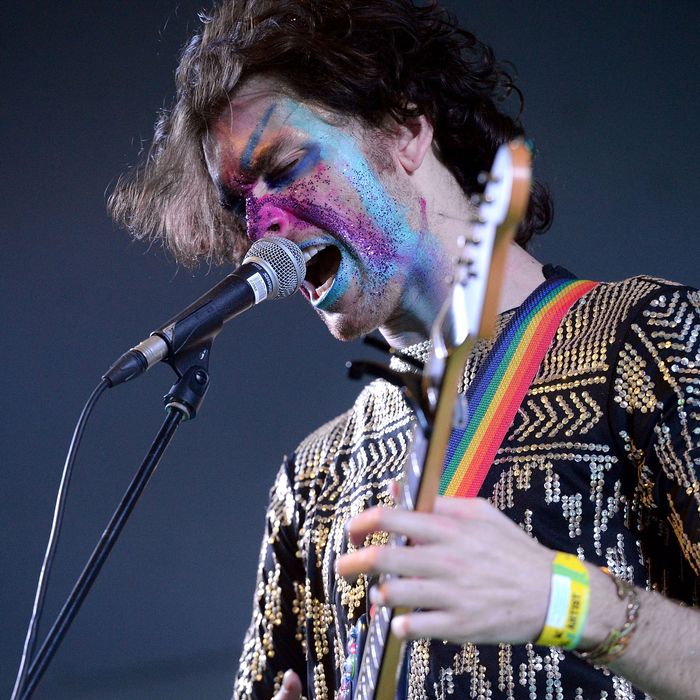 PWR BTTM's Ben Hopkins, who's been accused of multiple counts of sexual assault.
Photo: Scott Dudelson/WireImage
Last week, one member of the queer punk duo PWR BTTM, Ben Hopkins, was accused of multiple incidents of sexual assault in a private Facebook group posting that spread online. Days later and with only small warning, PWR BTTM's digital footprint has been wiped off the internet — their two albums, and in some cases all of their music, have been removed from streaming services at the request of their former record label Polyvinyl. It's the latest and possible final blow after a domino fall of consequences from the allegations: PWR BTTM have been dropped by their management company and record label and reportedly have canceled their upcoming tour. In the immediate fallout from the first wave of controversy, PWR BTTM's Hopkins and Liv Bruce put out a joint statement saying they were unaware of the allegations — a claim that was disputed by those who worked with the band — and that the accusations were not "representative" of Hopkins. They've since released various new statements that "strongly contest the account" of at least one accuser, who anonymously shared the details of Hopkins's alleged abuse against her with Jezebel, and have revealed that Bruce privately knew about the woman's allegations since February.

PWR BTTM have been a band for just four years, but saw quick success in the DIY and queer communities, which championed Hopkins and Bruce as nonbinary role models. (Both members are gender nonconforming and accept the pronouns they/them/theirs; Bruce also accepts she/her/hers.) As their sophomore album, Pageant, approached this year, music tastemakers positioned PWR BTTM as "America's next great rock band." (Vulture interviewed both members at SXSW back in March and has recommended their music.) But the album that was meant to propel the band to the next level of their career has now vanished, leaving Pageant the collateral damage in the band's downfall. It was released on Friday, May 12, two days after the allegations went public, and, as of May 16, there's no legal way to stream Pageant. A basic search for PWR BTTM on Apple Music, for example, turns up empty. The last remaining trace that the album ever existed is a playlist PWR BTTM curated for Spotify including songs that inspired the album. Their 2015 debut album, Ugly Cherries, has also disappeared from the internet, removed at the request of the band's previous label, Father/Daughter Records. The only way to presently listen to Pageant is if you already downloaded or purchased it prior to the boycott — in their statement, Polyvinyl said it would no longer "sell or distribute" PWR BTTM's music, and would honor refunds.

It's not uncommon for albums or songs to be pulled from streaming services, but the reasons are usually tied to licensing disputes, as was the case when a label attempted to distribute an unreleased Prince EP without proper authority last month. The removal of artists' music against their will on the grounds of morality, however, is a rare and gray area. Questions that could extend to the entire music industry — particularly the side that operates at a small, independent level and, therefore, represents most working musicians — remain about the kind of precedent the move to rid the internet of artists' work so swiftly after they've been embroiled in a scandal could set the tone for how future incidents of this nature play out. What rights do artists have over their music when a record company deems that music no longer fit to be heard? Vulture spoke to an entertainment lawyer who wishes to remain anonymous about how PWR BTTM can rehabilitate their career in the immediate future, starting with how the band get their music back online.

Though it might seem paradoxical, the process of restoring PWR BTTM's music on streaming services might have started with its removal. When Polyvinyl parted ways with PWR BTTM, our legal expert says the record label could have relinquished its rights to Pageant if those were the terms of the band's contract, which is usually the case with indie labels. With Polyvinyl out of the picture, PWR BTTM may now have full ownership of and the rights to self-distribute Pageant if they so choose. "My assumption would be the label isn't trying to keep the record and not let PWR BTTM release it. That would be a crazy position to take. I think they're just cutting their losses and are willing to say, 'We're out, here's your record back, and we want nothing to do with you,'" our expert says. Polyvinyl artist Xiu Xiu's Jamie Stewart told Vulture over email that he believes the label had no choice but to act fast on following through with its original statement: "Would it have been better if they did it slowly and went against a moral decision they made? Obviously not." Even if Polyvinyl does own Pageant or have an exclusive license to it, our expert thinks it's likely the label consulted its lawyer and transferred all ownership over to the band. (Polyvinyl was "not at liberty to discuss" the specifics of the band's removal from streaming services for this piece.)
The next steps for PWR BTTM to reclaim their music are fairly straightforward: They have the option to sign up with an alternative distributor for independent artists, like TuneCore or Stem (the latter of which Frank Ocean used to release Blonde), which would then act as the band's liaison with all the major streaming services and get their music back online. According to our expert, if the band has already prioritized such a move, their music could return to Spotify and its competitors "within a week or two" without running into red tape like they might with another record label. "I would be shocked if any of these distributors took a stance against taking PWR BTTM on as a client based on personal issues that have not been proven in any court of law," our expert notes. "There's no morals clause to have your music on Apple Music. Plenty of horrifying people are on there."
But the damage control doesn't just begin and end with PWR BTTM's music. There's also a possibility for this to end up in court — and that's not including what could come of the allegations against Hopkins. In our expert's legal opinion, PWR BTTM have a strong case to sue their former record labels, or any entity that has ceased doing business with the band on the basis of these allegations, for "damages, defamation, and breach of contract." No longer having Pageant available for wide release or being able to tour the record as the publicly stated result of these allegations is a loss of profit that the band could fight to recoup. However, doing so would be an uphill battle that might not be worth the trouble. "They've got their record back, they can release it themselves, and I'm sure they can empathize with anyone wanting to distance themselves from the band on some level, whether it's true or false. [Lawsuits are also] expensive," our expert says.
Even with all that's at stake here, others in the music industry watching this unfold shouldn't panic. For another artist to have their music pulled for this specific reason, our expert says, they'd have to both be facing a terribly similar hypothetical and be signed to an indie label, which are more likely than the majors to yield to online outrage. According to our expert, the closest example of someone in the music industry losing their career over allegations of this sort that also originated online is former music publicist Heathcliff Berru, who was accused in 2016 by several popular female musicians of sexual harassment and abuse, and later resigned and entered rehab. Though another similar case could be brewing: The exit of L.A. Reid at Sony's Epic Records has reportedly stemmed from allegations of sexual harassment.

PWR BTTM regaining control over their music and getting a win in court against their former business associates could be small gratification for the band, but it's uncertain if that would be enough to sway public opinion back in their favor, especially without knowing the outcome of these allegations. "I think it would be very, very difficult for them to rebound from this situation," our expert says. "Just knowing what the internet and indie culture are like and where PWR BTTM sat in it — supposedly being a part of a movement for transgender, gay, and feminist rights — people feel that much more betrayed because of the hypocrisy." Restoring their fans' trust will be the biggest challenge for PWR BTTM going forward, but their newest statements suggest that they intend to continue their music career: "We love playing music, we love sharing music with others, and we want nothing more than to be back performing together soon."