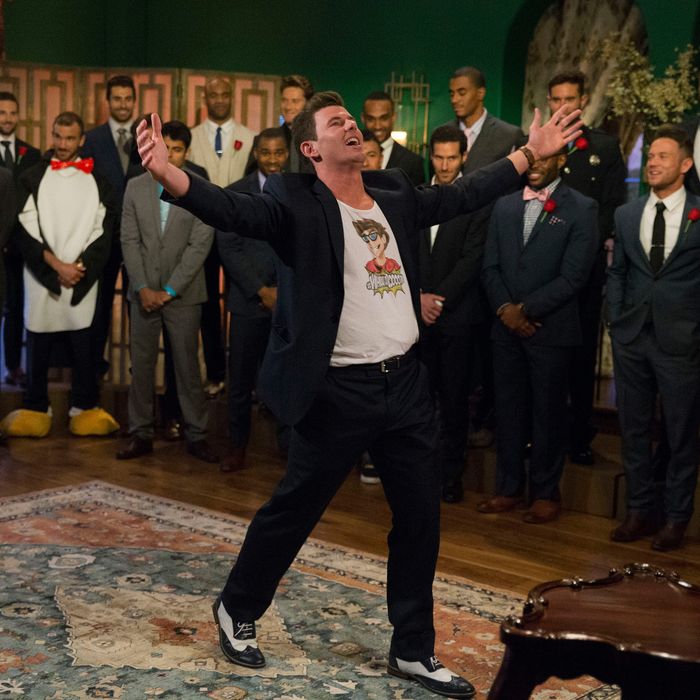 Lucas Yancey.
Photo: Paul Hebert/ABC
The Bachelor franchise always has its fair share of crazies who stick around for a few episodes over some less-loud, well-deserving contestants who fail to make a big impression. The setup is always the same: There's voice-over about how "If I go home over contestant X, that would be humiliating," as the final rose is handed to the controversial contestant, to everyone's chagrin. But even to this veteran viewer of the franchise, it seems that when it came to devoting screen time to some of The Bachelorette's nuttier contestants, last night's episode came dangerously close to jumping the shark.
Don't say you weren't warned about Lucas. He is, after all, that guy who claims his occupation is "Whaboom" in his bio (which also features an off-color joke about how the dead person he'd most want to have lunch with is Bruce Jenner). And on night one it was clear that Lucas, with his megaphone and his muscle tee sporting his already infamous catchphrase, is primed to become the guy this season who everyone loves to hate for his unique ability to be relentlessly irritating.
It's not shocking that Lucas Yancey, professional whaboom-er, is actually a real estate investor and developer who dabbles in acting and comedy. His reel's most high-profile clip is one in which Rob Riggle yells at him while he's tied to a chair, and his occasionally racist early stand-up is easy to find, as is a video in which he slathers himself in crumbled Doritos. It's also not Lucas's first stint on reality TV: He appeared on WeTV's Ex Isle in 2016, on which he feuded with fellow Bachelorette contestant Blake E., so the beginnings of a fight between the two over who's here for "the right reasons" last night feels even more hollow.
All this showboating also begs the question: Can someone the audience knows can't possibly be a serious contender on the show actually be a villain? The franchise's most effective villains from seasons past — who can forget Courtney Robertson, Corinne Olympios, and of, course, the CHAD, to name a few — all at one point were serious contenders (Courtney even won) and therefore were enough of a threat to the other contestants that they were able to exercise their power and act out for the camera. We knew they were acting ridiculous to some extent, but they also caught the lead's interest enough to stick around despite their villainous qualities, which allowed any crazy thing they did — like eating piles of lunch meat or forcing the Bachelor to lick whipped cream off their boobs — to feel just a tiny bit more humanized as the lead tried to rationalize their behavior. But it's highly unlikely that Lucas lasts more than a few episodes — he's virtually absent from the all-important preview of the season ahead, and it would take a lot for him to suddenly stop screaming and go legit. So where does that leave us?
Watching the Bachelor franchise requires a well-calibrated suspension of disbelief. We know that contestants these days don't go on the show purely to find love, and we also know that even the winning couple doesn't have a great shot at lifelong commitment. And yet we watch for the entertainment while keeping alive the tiniest hope that maybe, just maybe, this time will be different. While it would be unrealistic to say that wanting to pursue a career in Hollywood and going on The Bachelorette should be mutually exclusive (last season's Bachelor winner Vanessa Grimaldi, a teacher, was unnecessarily slammed for having an IMDb page), Lucas's blatant attention-getting techniques, coupled with his easily traceable aspirations to a career in showbiz, make for an extremely cynical casting move for the show. It's funny for a minute when someone brings a megaphone to your face to scream for a rose, but your ears are definitely going to ring afterward.