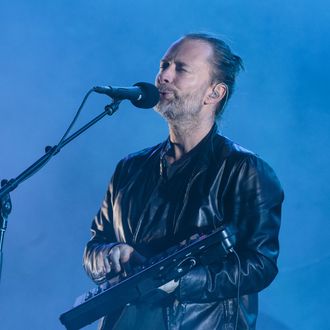 Whatever you say.
Photo: Suzzane Cordeiro/AFP/Getty Images
Today in lies we tell ourselves, Radiohead have finally given an explanation for why they waited until June to finally release the studio version of "Lift" after its 2o-year existence. Guitarist Ed O'Brien tells BBC Radio 6 that it was simply a case of humbling themselves because the song is just too good. Before OK Computer was released, Radiohead played "Lift" on tour with Alanis Morissette, who was at the peak of her popularity at the time. And after seeing what a frenzy the song caused among her fans, they got gun-shy about potential fame. "Suddenly you'd see them get up and start grooving. It had this kind of infectiousness about it. It was a big, anthemic song," he remembers. "If that song had been on that album, it would have taken us to a different place, and we'd have probably sold a lot more records, if we'd done it right. Everyone was saying this."
So, naturally, Radiohead listened to no one and sabotaged themselves to keep at just a moderate level of success and visibility. "We kind of subconsciously killed it, because if OK Computer had been like a Jagged Little Pill, like Alanis Morissette, it would have killed us," O'Brien says. Performance anxiety also helped: "We didn't do a good version, because when we got to the studio and did it on that record, it was a bit like having a gun to your head. It felt like so much pressure." Nice to see Radiohead are finally allowing themselves a shot at their big break.