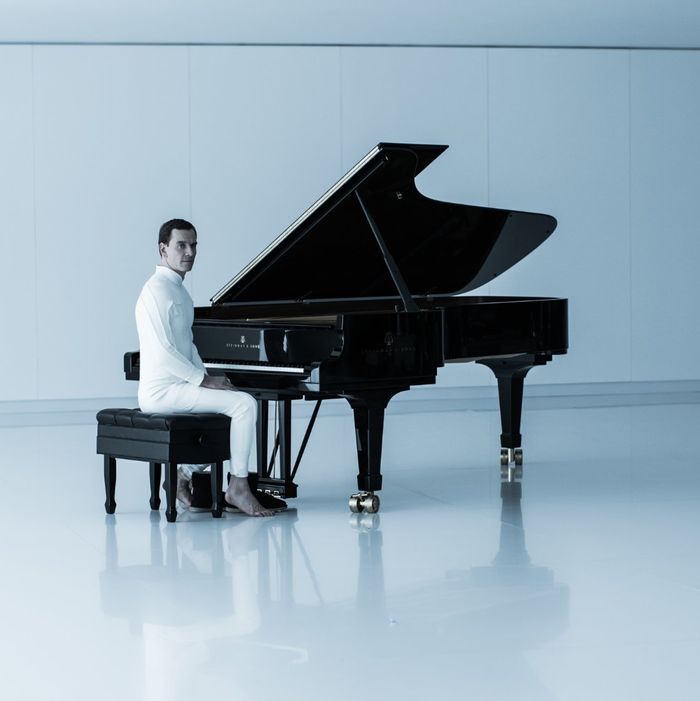 From Alien: Covenant.
Photo: Mark Rogers/Fox Film
The Alien films never produced a musical theme that infiltrated pop culture the way their spacefaring peers Star Wars or Star Trek did, but the scores did make a mark. Jerry Goldsmith's floating, clock-ticking flutes from Alien (1979) instantly evoke that film's eerie atmosphere. James Horner's anvil-clanging battle music from Aliens (1986) became a staple of action movie trailers for a decade. In each of the six proper entries in the series, music has played a critical role in establishing the claustrophobia, the terror, and the strange, compromised beauty of space. For some reason, though, the music department of the series has also been unusually fraught for the revolving door of composers and directors involved, beginning with Goldsmith and Ridley Scott on the first film. With Scott's newest, Alien: Covenant, in theaters now — with a score by Australian newcomer Jed Kurzel — it's time to look back at the wreckage.
"Of all the arts, I guess, music is the most abstract you can possibly have, right?" Scott told me in 2014. "Apart from mathematics — and even that adds up, or should add up. Music just doesn't add up. It's all intuition, and it's all wonderful smoke and mirrors."
Scott's "intuitive," mix-and-match approach to music was cultivated in his early career making TV commercials. It has led to a collaboration with a parade of 11 different composers, as well as some truly iconic scores (Blade Runner and Gladiator are just a couple) — but also plenty of drama. Alien was only his second feature, and he got lucky by landing the seasoned Goldsmith, who had just won an Oscar for The Omen and that same year created a defining theme for Star Trek: The Motion Picture. Goldsmith was already inspired when he began the assignment. "I was sitting in a projection room all by myself and I was absolutely terrified," he recalled later. "I kept saying, 'It's just a movie, it's just a movie,' but it really scared the shit out of me."
Scott and his editor, Terry Rawlings (who came back to the series for Alien 3), had cut the film to a "temp track," a stand-in soundtrack using existing music that included Howard Hanson's Symphony No. 2 and pieces from other Goldsmith scores (namely the 1962 John Huston drama Freud). Temp tracks are both common practice and the bane of many composers' existence (they're often asked to copy it but not copy exactly), and Goldsmith, equally stubborn and brilliant, decided to ignore it completely and write the score his own way. He conjured a modern masterpiece that begins in grandeur, with a romantic tune on solo trumpet over cosmic chords, and descends into a new alien musical vocabulary — using didgeridoo, conch (a wind instrument made from a seashell), serpent (a deep, brassy wind instrument), and a tape-loop device called an Echoplex, which he used to create the echoing trumpets in Patton, along with classic effects like bows smacking the wooden bridge of their string instrument (col legno) and lots of 20th-century orchestral mayhem.
He recorded the score in February 1979, but when Scott heard it against picture, he immediately asked Goldsmith to rewrite five major cues — including the main title, which Scott found inaptly romantic. Goldsmith complied and wrote more minimalistic, creepy alternatives. When he saw the final film, though, he realized that Scott and Rawlings had treated his score willy-nilly, splicing and placing his music where they pleased. They also left in the Hanson symphony for the finale and end credits, along with the Freud cues. Audiences were none the wiser, of course, and to this day that soundtrack is as integral to Scott's haunted spaceship classic as H.R. Giger and Sigourney Weaver — but Goldsmith was scarred. He reluctantly reteamed with the director six years later on the fairy tale Legend … an experience that out-disastered Alien. "I told Ridley that working on Alien was one of the most miserable experiences I've ever had in this profession," Goldsmith said in 1985. "Personally it was a really trying time for me. And he said, 'What was the problem?' I said, 'Ridley, you can't communicate. I was on the picture for four months and I talked to you three times. All during the recording you didn't say a word to me, and I need some feedback.' So on Legend we communicated like crazy and the score went right out the window." (Tangerine Dream ultimately wrote the replacement score.)
Seven years — and a regime change at Fox — later, a long-gestating sequel was offered to a new young director, James Cameron, hot off the success of The Terminator. With Cameron in the captain's chair, Aliens welcomed an entirely new crew, including composer James Horner, but the curse of the chestburster continued. It was another lack of communication, and a severe lack of time. Horner went to London with only six weeks to write his score — but had nothing to score to, since Cameron was still shooting and editing. "It was a nightmare," he later recounted. He started recording before writing the whole score, including the critical finale. (That balls-to-the-wall set piece, so familiar from late-'80s trailers, was written overnight.) Cameron heard the music for the first time when Horner had the entire orchestra on the scoring stage … and immediately felt like it was all wrong. But it was too late. The release date was set and Horner had to run off and score another film (The Name of the Rose), so Cameron used it like raw material, chopping and placing it where he thought it worked best.
"It was my first orchestral score. I didn't really know what to expect," Cameron said in 2016. "James had done great music. I thought, okay, we're going to get great music. I didn't know what his process was. He didn't know what my process was — I didn't have a process. On The Terminator I listened to synth cues that were done by Brad Fiedel, and I commented on them and he changed them. It was pretty simple, and it was very flexible and interactive. I thought, oh, well, this will be the same thing — just with an orchestra. Not at all. When the composer walks in with stacks of sheet music, and the orchestrator's already been working on it for weeks, and it gets handed out to the band … that's it. So there was zero interactivity. I blame myself. To a certain extent, I think James was willing to take responsibility, years later, for the fact that he was a little bit overbooked at the time. I was standing there with a bunch of music that I didn't feel fit the movie particularly well."
"I love the music," Cameron clarified. "It just didn't seem to support the scenes very well. So I just got with the music editor and we moved it around a little bit. I think James got his nose out of joint that we moved it around, but he was unavailable to be part of that process, so I think he felt kind of stung by it. I mean, he got an Academy Award nomination for it, because the music is brilliant. It's unquestionably fantastic film music. So I think it was, on the one hand, kind of triumphant — on the other, we both were really unhappy with the process."
Composer Elliot Goldenthal didn't suffer the same exact fate as his predecessors when he joined virgin film director David Fincher on Alien 3. "He was really, really great, and really supportive," says the composer. "He said, basically, 'I hired you because you know what you're doing.'" Goldenthal had a luxurious seven months to write his score, and visited the Pinewood Studios sets and had regular conversations with Fincher. For the director's decidedly bleak turn with Ripley and her perpetual predator, Goldenthal spun a heavy fog of sadness and despair, which opens with a boy soprano singing the words of "Agnus Dei" ("Lamb of God"). "If there's no hope, you feel very meek — you feel like a prey animal, like a lamb or a deer. Very, very vulnerable. I wanted to have a little boy express that feeling," he said. As the sadness turns into a hopeless chase, Goldenthal used various musique concrète and avant-garde techniques, including brass tricks he'd been developing since the 1970s (half-valve effects, double and triple tonguing, use of different mutes), making the horns bark and howl in unsettling ways. He also sampled the sound of scissors to imitate the clacking of alien nails. The final score was a hybrid of electronics, samples, and full orchestra that culminates in a grand requiem as Ripley sacrifices herself to destroy her violent parasite. Fincher was weathering a hurricane of stress throughout the production, but it didn't really affect Goldenthal … until the final stage of postproduction. The L.A. riots were raging nearby, Fincher abandoned the editing room (leaving Terry Rawlings in charge of incorporating the music), and the studio forced 30 minutes to be cut.
"The movie was getting shorter and shorter," Goldenthal says. "That's difficult to do, especially if you're specifically composing to a very little gesture, something in the eyes. All of a sudden if that's in another place, it sets up a strange house of cards that you have to change everything. Even if it's the same composition, it has to be re-tailored. Making a suit for one person who's 150 pounds, and the second one for a 250-pound, 6'7" guy … you have to make lots of adjustments." Goldenthal was also asked to write a new, "more heroic," version of the self-sacrificial ending. "It was beyond the eleventh hour. I think they actually sent out two prints of the final reel. And the decision wasn't made until after the reels were sent out to theaters."
Alien: Resurrection was helmed by yet another new director, Jean-Pierre Jeunet, and a new composer, John Frizzell. It was largely free of such behind-the-scenes drama, although Frizzell did spend an entire month working on the underwater chase sequence to satisfy his director. The result, for a forgettable chapter in Ripley's saga, is a fairly forgettable score that is mostly cacophony without personality.
After his famous creature was farmed out like some Burger King franchise, in cinematic turds bearing only its bankable name and character design, Scott swooped back in to revive the Alien cycle with Prometheus in 2012. He'd burned through several composers in the intervening years, including his longest-running partner Hans Zimmer, and was then working with Zimmer acolyte Marc Streitenfeld. By all accounts, that experience was free of conflict. Streitenfeld had been Scott's music editor on several films, and was perfectly comfortable with the director's slice-and-dice approach to music. But Scott did enlist a second composer, Harry Gregson-Williams, to compose two pieces of the score, including the film's key theme — a searching solo trumpet melody that seems to be asking the story's central question about the origin of human life.
Which brings us to Alien: Covenant. We can only guess at any turmoil behind the scenes, but Gregson-Williams (who scored Scott's last picture, The Martian) was hired to write the score and had begun work on it, when, last November, Jed Kurzel was brought in as a replacement. (Gregson-Williams declined to be interviewed for this piece.) The 40-year-old Australian is a blues-rock musician, and founder of the band the Mess Hall, who "fell into" film scoring when his brother, Justin Kurzel, hired him to score Snowtown in 2011. His subsequent assignments — which include The Babadook, Slow West, and Assassin's Creed — have quickly escalated in scale. In an echo (Echoplex?) of Goldsmith's experience, Kurzel found that Scott and his editor, Pietro Scalia, had used several pieces from his previous scores in their temp track, along with — in a beautiful bit of irony — several cuts from Goldsmith's Alien score. "They're very instinctive people, both Ridley and Pietro," Kurzel says, echoing Scott's own comments. "They really go with their gut on things."
Kurzel and Scott decided to treat the film's first third, set aboard the colony spaceship, with liberal, newly recorded versions of Goldsmith's floating flutes and elegant trumpet, and to orchestrate any original score in that vein. "For me, it wasn't like a Star Wars sequel or something like that, where really the entire score you're using the original as your blueprint," he says. "You can use it as a kind of lure for the audience, to bring them in right from the beginning and go, 'Well, you're in a Ridley Scott Alien film.' Those themes are familiar, but underneath those themes was a kind of dread and hint of impending doom. Even though there was this kind of majestic, romantic feel about the first third of the film, there was always something unsettling underneath. And when they hit that next planet in the second half, you just take all of the Goldsmith references away and it becomes a completely different score."
"There were certain words that [Scott] would emphasize, like birth and creation and dread," says Kurzel, who unleashes his musical monster in the turning point Med Bay sequence, a cue that uses organ distorted through guitar pedals and a reversed mandolin effect that Scott gleefully referred to as the "swinging gate." "I was interested in this idea of, what if you put a stethoscope up to that egg," Kurzel says. "What would it sound like inside? I thought I could use those elements even under the Goldsmith stuff, and then they come into their full being in the Med Bay scene — that kind of pulsing, primal heartbeat feel. That's where the full horror really opens out and was birthed, and it's almost like that piece of music birthed the rest of it." When a main character gets chest-bursted late in the film, Kurzel's music is airy and beautiful, scoring the miracle of birth from David's (Michael Fassbender) perspective. "It's about seeing perfection," says Kurzel. "Your life's work, and your only reason for being, is to create something as beautiful as that. That was a really cool idea on Ridley's part, to go with what that scene is actually about, but against what you're actually looking at."
Scott has already announced his plans to go full bore into another Alien film. It's anyone's guess who he'll hire to write the music, or how traumatic the experience might be. Much like android David, the director loves to fiddle with his creations in the quest for perfection and beauty. He plants one composer in the host of another's music and delights as some new mutation emerges, even if violently. "We tend to get a pretty great temp score," Scott said. "Because you're able to choose from anything you want, you can stick in all your favorite stuff, either present or past or just made. And it drives them nuts, because they say, 'Oh damn.' I always remember my first experience with one of the biggest of all composers early on," — that being Jerry Goldsmith — "and I had this terrific score for him. He went, 'Goddamn it, I don't want to hear it! I want to hear the film silent.' So I had to knuckle under and do that, and I watched the film silent, and thought, 'Jesus, the film plays 20 minutes longer.' The thing that music can do — it's like adding blood. It becomes like a mainstream thrust through the film … if you get it right. If you don't, it can kill you."