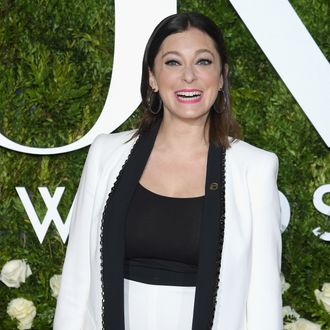 Rachel Bloom at the 2017 Tony Awards.
Photo: Dimitrios Kambouris/Getty Images for Tony Awards Productions
It took a few years, but it seems Rachel Bloom finally has found somebody to watch the "F*CKING TONY AWARDS" with her. Several somebodies, in fact. Acting as a backstage host at the 2017 Tony Awards, Bloom — with a mic in her hand and tiny red hat on her head — quipped to the camera with performers and casts, joking about everything from being more excited about the show than she was at her wedding, to not getting accepted at Carnegie Mellon University, to absolutely losing her mind upon spying Patti LuPone. (The War Paint star recently told Vulture that Bloom "is the only person in film today that knows how to do musical numbers.")

Thank you, Rachel, for offering us a few brief laughs amid an evening of terrible impressions from host Kevin Spacey.