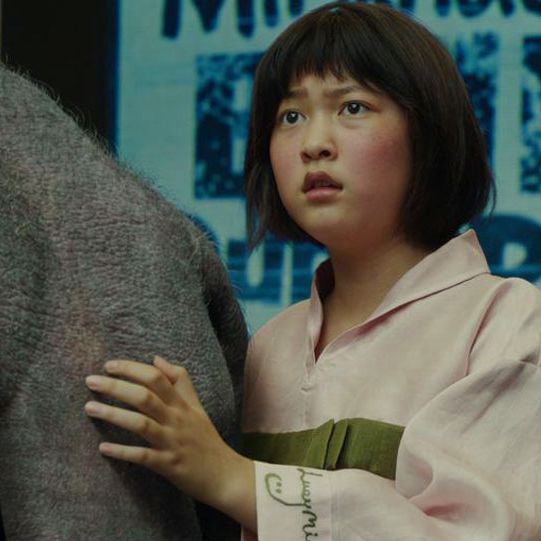 The Big Sick
and
Okja
.
Photo: Lionsgate/Netflix
July Fourth weekend is upon us, and that means fireworks, barbecues, and escaping the arctic tundra of the office. In the chance that a breezy Hamptons getaway isn't in the cards for you, and you hate both fireworks and barbecues, why not escape into the air-conditioned paradise of the movies? Here, we've rounded up the best new films in theaters (or, in one case, streaming) this weekend.
The Big Sick
Come for Judd Apatow's signature rambling bro humor, stay for the pathos of this Pakistani-American girlfriend-in-a-coma romantic-comedy-drama. "Like many long-term relationships, it's the kind of thing you relax into, certainly not thinking at the outset that you're in for anything monumental," writes Vulture's Emily Yoshida. "Maybe you even take for granted all the things that aren't difficult or frustrating about it, until two years (or two hours) have passed and you look up and realize you're in love." Based on the true story of writer and star Kumail Nanjiani and his wife cum comedy partner Emily V. Gordon (played by indie darling Zoe Kazan), the film treats its characters with nuance, never succumbing to the broad stereotypes of other "comedian films."
Baby Driver 
Vulture's David Edelstein calls this highly anticipated heist movie a "cinematic joyride." Ansel Elgort stars as the designated driver of an Atlanta crime boss (Kevin Spacey), gliding in and out of traffic with geometrical genius. Though it lacks the delirium of director Edgar Wright's other films (Scott Pilgrim vs. the World, The World's End), Baby Driver maintains a strong vision with shape and tempo. And what tempo!
Okja
Only Netflix could produce a film so freewheeling, in open defiance of logic and convention. Bong Joon-ho's Okja is a mashup of kid-creature family film à la E.T., sincere ecodrama, and something else altogether. It centers around an astoundingly cute CGI super-pig being raised in South Korea, part of a contest for farmers around the world to grow the biggest of its kind, and Tilda Swinton is a villainous delight as a platinum-blonde corporate prima donna. As Yoshida raves, the film is sprinkled with strange gems of moments — not to mention stunning cinematography worthy of the big screen — and the result is a wonderful mix of the bizarre and the humane.
The Beguiled
Sofia Coppola's Civil War–set erotic thriller, a remake of Don Siegel's 1971 film, reframes the story with a "female gaze," according to Edelstein. Colin Farrell plays a wounded Union corporal taken in for treatment at a southern girls' boarding school, where the characters of Nicole Kidman, Kirsten Dunst, and Elle Fanning vie for his attention. Coppola is no stranger to subtlety, and though she could have gone full gore, her camera prefers to focus on character relations through glances, sighs, and signals.
Beatriz at Dinner
From Enlightened writer Michael White and director Miguel Arteta comes a truly Trump-era film, anchored by Salma Hayek's great performance as a Mexican immigrant who finds herself at the sprawling Orange County home of Connie Britton's wealthy housewife. The film follows Beatriz as she starts to embrace her status as an outsider throughout a dinner scene. Though the ambiguous ending doesn't quite land, Yoshida says the central clash between characters remains poignant long after the credits have rolled.
Wonder Woman
Though the film can be clunky and disjointed, Edelstein says Wonder Woman's saving grace is its star, Gal Gadot, who is a joy to watch as her lasso catches bad guys and squeezes the truth out of them. Patty Jenkins's blockbuster explores the origins of the superhero on an all-female Amazonian island, with the arrival of Chris Pine's American spy bringing her to London to save the day. Expect excessive computer-generated slo-mo leaps and midair freezes, but also screwball humor and charismatic performances.
The Little Hours
Edelstein calls Jeff Baena's film a "deliciously deadpan sex farce played by some of the deftest clowns in the English-speaking world" — those are Aubrey Plaza, Dave Franco, Nick Offerman, Fred Armisen, and Alison Brie, among others — a lineup that will make any comedy nerd's knees weak.
Though it takes place in a medieval Tuscan monastery and castle, its 21st-century language and risqué boldness make it a must-see for summer.
Transformers: The Last Knight
Narratively, The Last Knight remains barely coherent. But it's more fun than Age of Extinction, according to Yoshida, "though both movies are so drunk on money and effects they accidentally go weird." Michael Bay's predilection for stereotypes and general disdain for women don't help elevate the story about Nazi-killing World War II Autobots. But the film has more visual and sonic imagination than most of its blockbuster peers, and Yoshida didn't hate it.